LeBron James is going to go down as one of the best players to ever play the game of basketball, possibly being the all-time leader in points scored, top-five ever in assists, and undisputed leader of sorry teams he dragged to the Finals.
But that is not the entirety of LeBron's legacy. Nowhere near it. Perhaps just as great as his plays on the court is the impact he has off the court, in charitable deeds for communities around the world and in brokering power and freedom to athletes.
In 2010, when "The Decision" aired and LeBron took his talents to South Beach, he received immense backlash. There were constant videos of Cleveland fans burning his jersey, the famous "Gilbert letter" that was complete with racial undertones and ridiculous, ungrateful statements by Cavs owner Dan Gilbert.
LeBron himself even adopted a villainous attitude, trying to use the hate to feed his motivation and drive for his first and long-awaited NBA championship.
But the Heat lost. LeBron was never meant to be a villain, he was born to be a charismatic crowd-pleaser.
The unfair hits he took from his move to Miami even affected his play, and it took a long and honest vacation with teammate Dwyane Wade that summer for him to realize he couldn't adopt that villainous "me against the world" mentality.
"The Decision" was nine years ago. Just a few days ago, when the free agency started, we NBA fans saw the fruits of LeBron's struggle. Free agents signed for money that would make your eyes bulge out of your head. Kawhi Leonard was leading a wild goose-chase before he signed to the LA Clippers and no one slandered him for it.
Players switched teams like never before. Jimmy Butler turned down huge money because he wanted to be in Miami. Kyrie Irving moved to Brooklyn because the Nets are the team he rooted for when he a child and Kevin Durant joined him because he wants to play with his homie.
"People thought 'The Decision' ruined LeBron's image and ended Maverick Carter's career. Flash forward a decade: Maverick Carter is a mogul, LeBron's en route to being a billionaire and already the greatest player of all time."

— @getnickwright on Kawhi extending his FA decision pic.twitter.com/LdHBB6frtE

— Herd w/Colin Cowherd (@TheHerd) July 3, 2019
The threat of players switching teams also changes the direction and attitude of the front office. Tobias Harris, an above-average, but not superstar player, just got the five-year max contract from Philadelphia because the Sixers knew he could have left them and gotten other massive money elsewhere.
LeBron didn't just take unwarranted scrutiny so that players now can play where they want. He also ensured that everyone was going to get a BAG.
Bearing a small resemblance to factory owners losing power to their workers (and labor unions) sometime during the Industrial Revolution, the owners in the NBA have seen their power completely diminish over these past few years. LeBron James and his all-encompassing brand are a giant part of this.
In 2018 LeBron opened the IPromise School, a public elementary school in Akron, Ohio aimed at helping at-risk children. In its brief lifetime, this school already has shown results and looks to be a seed of growth for education in the future.
The kid from Akron with his kids from Akron. #IPROMISE #WeAreFamily pic.twitter.com/NbRp3BN4SY

— I PROMISE School (@IPROMISESchool) July 30, 2018
Maverick Carter is LeBron's childhood best friend and a massively successful businessman. Rich Paul, also one of LeBron's earliest and closest friends, is the founder of Klutch Sports Group and an agent for some of the biggest names in the NBA like Anthony Davis, Lebron James, Ben Simmons.
Having LeBron, the clear best player in the NBA as early as 2007 was only a jumping-off point. They are elite in what they do, and the trio of gentleman helped form the gigantic brand that surrounds James.
People around the NBA thought "The Decision" would hurt LeBron and crumple the careers of his two best friends, and the powers that be in the NBA wished this so. Instead, LeBron learned how to win in Miami, securing two championships, and Carter and Paul are, now, moguls and geniuses in their respective industries.
"Wouldn't it be cool if…?" That question has led us on a journey we only used to see on TV. It has led us to discovering & defining what being "More Than" is all about & empowering us to never settle for anything short of greatness. #MoreThanAnAthlete x @uninterrupted on @espn pic.twitter.com/wq69zQ6ib9

— Maverick Carter (@mavcarter) November 19, 2018
LeBron might be the most popular athlete in the world. In the brief years that Michael Jordan left Chicago and left the NBA in an awkward, "what's next?" period, LeBron emerged as the superstar ready to take the mantle of the best player in the world.
But who knew he could take the league to these heights? Who knew he would change the way fans see free agency and players are treated? Who knew he would start a school for the underprivileged, and have it be a benchmark for proper education methods to be installed into the foundations within at-risk areas?
LeBron's legacy will reach so far-and-wide when he is done that people have even whispered the possibility of him running for president in the future. That seems to be a tad far-fetched to me, but it only highlights how big and polarizing he has become.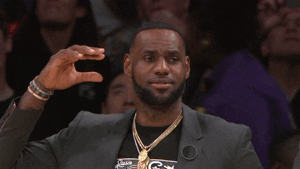 As Colin Cowherd has said, the first person to do anything is always the one that takes heat for it. LeBron took the heat that drastically affected his mindset so that players now are in a position to make bank and be happy.
Who knows what is left on LeBron's path in basketball, and in life. A few more championships? A son in the NBA? Playing a game with his son in the NBA?
LeBron has set up player-empowerment in the NBA and done even more good outside of the league, most notably through the IPromise School.
No one knows exactly what will happen with LeBron moving forward, but we shouldn't take him for granted and must realize how lucky we all are to be along for the ride.