For the past eleven years, Harry Potter fans have been relishing the fact that Albus Dumbledore, the wise, playful, unwed Headmaster of Hogwarts School of Witchcraft and Wizardry, was in fact gay.
Nine successful films later, Dumbledore's younger self is to make an appearance in the next installment of Fantastic Beasts: The Crimes of Grindelwald.
If you're as thirsty as I am as a Harry Potter fan, you know we take what we can get: Books, fan-fictions, spin-offs, films, merch, Harry Potter themed weddings — we want it all.
The only issue is that the sequel to Fantastic Beasts and Where to Find Them is missing one very important detail: Dumbledore's sexuality.
In one year, return to the Wizarding World with Fantastic Beasts: The Crimes of Grindelwald. #MagicInProgress #FantasticBeasts pic.twitter.com/8aWj8xhGj5

— Fantastic Beasts (@FantasticBeasts) November 16, 2017
When asked if Dumbledore's relationship would be included in the film, the film's director tells Entertainment Weekly,
"Not explicitly. But I think all the fans are aware of that. He had a very intense relationship with Grindelwald when they were young men. They fell in love with each other's ideas, and ideology and each other."  
Now, normally this wouldn't be such a big deal, since it's never stated or even hinted that Dumbledore is gay in the novels. However, it does become a problem when the main character of the movie is the man who was his boyfriend at the time.
It's safe to say the fanbase ain't happy.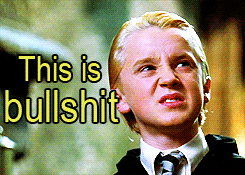 https://twitter.com/SarahSterling_/status/958791406293721088?ref_src=twsrc%5Etfw&ref_url=https%3A%2F%2Fwww.cnn.com%2F2018%2F02%2F01%2Fentertainment%2Fjk-rowling-dumbledore-gay%2Findex.html
If you're not going to make Young Dumbledore's sexuality explicitly clear in Fantastic Beasts then why even bother with this film at all tbh?

— Jill Pantozzi (@JillPantozzi) January 31, 2018
https://twitter.com/heidiheilig/status/958762633884327937?ref_src=twsrc%5Etfw&ref_url=http%3A%2F%2Fwww.telegraph.co.uk%2Ffilms%2F2018%2F02%2F01%2Fharry-potter-fans-slam-cowardly-decision-ignore-dumbledores%2F
J.K. Rowling has made her perspective on Dumbledore's sexuality clear (after all it is her character). When confronted why Dumbledore was gay by a fan, Rowling was the first to jump to his defense.
"I wonder why you said that Dumbledore is gay because I can't see him in that way," wrote a Twitter user.
"Maybe because gay people just look like… people?" Replied the author.
.@anakocovic21 Maybe because gay people just look like… people?

— J.K. Rowling (@jk_rowling) March 24, 2015
And although she has done nothing but support and shape the character of Dumbledore (which, come on people, without her, he wouldn't even exist) Ms. Rowling still has a lot of hate sent her way.
Harry Potter fans don't fuck around.
Being sent abuse about an interview that didn't involve me, about a screenplay I wrote but which none of the angry people have read, which is part of a five-movie series that's only one instalment in, is obviously tons of fun, but you know what's even *more* fun? pic.twitter.com/Rj6Zr8aKUk

— J.K. Rowling (@jk_rowling) January 31, 2018
But, before you grab your pitchforks and go after my favorite author on the planet, there is good news, people!
In 2016 at a New York press conference, Rowling suggested that there's more to the story than we have been lead on to believe.
"Well, I can't tell you everything I would like to say because this is obviously a five-part story, so there's lots to unpack in that relationship. I will say that you will see Dumbledore as a younger man, and quite a troubled man because he wasn't always the sage. He was always very clever, but we'll see what I think was the formative period of his life. As far as his sexuality is concerned, watch the space."
Guess we'll just have to wait and see what's in store for us.