It appears that Joe Budden's time with Complex's "Everyday Struggle" has come to an end after a dramatic series of tweets from the loudmouthed rapper who has become a sort of heel for the hip-hop world of late.
Initially, Complex tried to stay low, having DJ Whoo Kid fill in for Budden.
We're back and we have @djwhookid in the building. Lots to talk about. https://t.co/JNaZZjWrXa

— Everyday Struggle (@EverydayStrugg) December 18, 2017
Budden wasn't having it, retweeting "Everyday Struggle" with a simple "Lol."
— Joe Budden (@JoeBudden) December 18, 2017
DJ Whoo Kid himself tried to calm down fans complaining of Joe's absence by claiming the "Pump It Up" rapper was just on paternity duty.
.@JoeBudden will be back. He's on baby 👶🏽 duties this week. I'm not taking his spot on @EverydayStrugg lol. Holy shit. I'm just passing thru this week. Sheesh. Calm the hell down. Lol. And congrats to Joe on his newborn son 🙏🏽

— WHOOARMY LIVE (@DJWhooKid) December 18, 2017
That's when shit turned a little ugly as Joe tweeted "they should stop using my 3 day old child to mask internal chaos, thx."
I am not on paternity & they should stop using my 3 day old child to mask internal chaos, thx. https://t.co/ZRpvDDwFD1

— Joe Budden (@JoeBudden) December 18, 2017
The tea!
Budden went on to call out the powers that be at Complex over the fact that he "created that show" and that he'll "create another if need be."
I created that show… I'll create another if need be… & another & another….. it's when u CANT create that you move WITHOUT integrity… https://t.co/aZdMDI3eOG

— Joe Budden (@JoeBudden) December 19, 2017
The dispute appears to be over an expired contract and Budden not getting what he thinks is deserved compensation.
Yeah nah.. Creators will be properly acknowledged & compensated, or they won't create…. integrity. https://t.co/fqSfn9Oo5z

— Joe Budden (@JoeBudden) December 18, 2017
Budden is already directing fans to pay closer attention to his "Joe Budden Podcast".
Lol no the Joe Budden Podcast https://t.co/2JDbddOsa4

— Joe Budden (@JoeBudden) December 19, 2017
This is trash. While Joe Budden has definitely been out here being wild flagrant and obnoxious, he does offer an interesting perspective on the new generation of rappers, label deals, and where the culture is moving.
Budden had become this generation's greatest hip-hop heel. He's the angry old uncle who yelled at Yachty for being happy, walked off the set of a Migos interview, and clowned Chance The Rapper for being positive.
As easy as it is to write off Budden's critiques of young rappers, he always took time to listen to the music and form an eloquent opinion from the perspective of an older artist who's been in the game for a minute.
Hey man, ain't nobody watching Everyday Struggle with Akademiks' awkward ass asking questions and getting sonned by the guests. Budden is a polarizing guy but that show ain't gonna run without him.

— The Anonymous Nobody (@el_budget) December 19, 2017
Budden was an important source of antagonism in the hip-hop community. Noted cornball Russ dropped a diss track aimed at Joe Budden (Russ was mad that "Everyday Struggle" host Nadeska Alexis had previously said they weren't accepting guests (?)). The new Quavo and Lil Yachty song "Ice Tray" takes shots at Budden with the chorus "If a n**** hatin', call 'em Joe Budden."
The "Ice Tray" video, released earlier today, begins with a skit re-enacting "Everyday Struggle" as a Joe Budden impersonator rants angrily about Migos and Lil Yachty.
Just off the diss tracks alone, this is clearly a dude that was important to the culture, whether or not you actually agreed with him.
Perhaps most importantly, he joined the ranks of Vic Mensa, Erykah Badu (personal favorite), SZA, and Wale in clowning Budden's co-host DJ Akademiks.
On the June 28th episode of the "Joe Budden Podcast", Budden said of Akademiks after the infamous Migos altercation:
"DJ Akademiks is one of the biggest pussies I've ever seen in my entire life. He should never comment on anything that has to do with physicality. Well you gotta stop talking sometimes when you're a pussy… There's nothing wrong with being a pussy, but you got be a pussy to the corner sometimes. Just shut up."
That's a pretty wild thing to say about your own co-host.
More tea!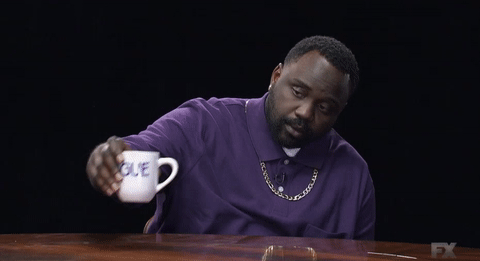 Regardless, it appears that the antagonistic duo of Joe Budden and DJ Akademiks is no more (shoutout to host Nadeska for keeping this show even somewhat structured).
Honestly, I didn't agree with a vast majority of the shit Joe Budden said on "Everyday Strugglele" (although the Chance being too positive take is fucking hilarious), but I'm gonna miss having his messy, trolly self in that format.
Surely this isn't the last we'll be hearing from Joe Budden. Troll on, King!