Actress Cynthia Nixon is running for NY governor and her candidacy is exactly what our country needs during these trying times.
Nixon on her gubernatorial readiness at the Wendy Williams Show:
"I am running as a New Yorker, a public-school parent . . . I'm running as a New York City subway rider, but also I have been fighting for better and particularly more equal funding of New York state's public schools for the last 17 years. And I've been going up to Albany talking to legislatures and speaking out, and this year I finally decided the definition of insanity is doing something over and over and over and expecting a different result. If you want it done you actually have to get in there and do it yourself."
YASSSS *CLAPS* QUEEN!
Don't recognize the gubernatorial candidate? You'll probably remember Nixon from her iconic role as Miranda in Sex and the City. It's all coming back to you now…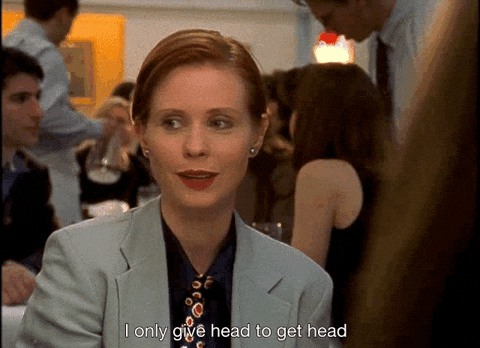 Although Nixon is a well-known star, she is far from what we define as a celebrity candidate. She is human AF and very, very out here in these streets.
In fact, she pulled up to the NYC Women's March this year in support of the femme forward movement, took part in National School Walk Out Day with her high school son against gun violence, and supports the LGBTQ community hard body karate.
High key,  she heavily supports Black women. Nixon believes that they are the cornerstone of this nation and that their voices are an essential part of the American government.
Remember that it was Black women who prevented a sexual predator from becoming an Alabama State Senator.
Still, she realizes that this is a two-way street. She commented on the Wendy Williams Show,
"Black women will stop showing up for the Democratic Party if the Democratic Party doesn't start showing up for them…"
Nixon made this comment after highlighting the fact Sen. Andrea Stewart-Cousins was left out of closed-door talks about the $169.3 billion budget that was passed last Sunday.
What more proof do we need from Nixon in order for her to win?
Her forward way of thinking and personality deserves to be enshrined on a gubernatorial throne.
Even her position on legalizing marijuana is worth supporting. She took to Twitter regarding her innovative stance on the green and sticky herb. Nixon said,
"There are a lot of good reasons for legalizing marijuana, but for me, it comes down to this: We have to stop putting people of color in jail for something that white people do with impunity…"
In another tweet, Nixon also promised that as Governor, she'll "make sure that it's not just rich white men who make billions off a product that sends thousands of black people to jail."
She wants to create jobs and opportunities for the communities most devastated by the racist War on Drugs.
A lot of you have been asking about my position on marijuana. Here it is. pic.twitter.com/iEKLHgClFN

— Cynthia Nixon (@CynthiaNixon) April 11, 2018
Of course, governing OG Andrew Cuomo is shaking in his boots. The two-term incumbent has never seen competition like this before. He defended his record on NY1, Tuesday night. He said,
"What you need is somebody who understands the process and understands how to get things done, and cut through the politics and cut through the blather… And I think that's what you see with me."
Gov. Cuomo, you were a great leader but I think it's time for a changeup and Nixon might just be the grassroots politician we need in NY at this time. To prove her woke way of thinking, even more, Nixon won't be accepting any corporate contributions during her campaign.
Stand with Nixon and make a light contribution to her movement by dropping $4.20. DONATE HERE!