It's a crime how so many people are clueless to the ingenious coming out of the east side of Chicago.
Back in the early 2010s, when both the legend of Chief Keef and the crime rate in Chicago simultaneously gained national attention, drill became the sound of the industry. Keef Dropped "300" while on house arrest and, for all intensive purposes, really opened the gates for other Chicago acts — drill and not.
Since then it's been a renaissance of sorts in the Chicago music scene.
There are too many to name but between Chance The Rapper, King Louie, Saba, Noname, BJ the Chicago Kid, Mick Jenkins, and others, one can argue that Chicago rivals, if not knocked off, Atlanta for the country's hottest hub for music.
Still, people seem to overlook the rapper formerly known as Lil Herb.
Though on pace with his peers — gracing 15 million views on YouTube back in 2012 with his and Bibby's "Kill Shit" as well as releasing Road to Fazoland, Road 2 Riches, Welcome to Fazoland, all within a three-year span — he never got the attention of other artists from his city. 
Herbo was so flagrantly slept on, in fact, that in XXL's 2014 Freshmen issue featuring Vic Mensa, Chance The Rapper, Lil Durk, AND his right-hand man Lil Bibby — an XXL record for artists who made it from the same city — Herbo was left off the list.
This led to Herb's diss track "XXL."
(G Herbo was selected the following year).
So it really shouldn't be a surprise that G Herbo is also the last of the bunch to drop his debut or that the title is Humble Beast.
Released this past Friday, Humble Beast features Lil Uzi, Lil Yachty, and Lil Bibby, with production credits that enlist Da Internz, Southside, C-Sick, and more. But what's been surprising is how mature the body of work is.
Drill does not have the same hold on the game as it did a couple of years ago, and a lot of Chicago drill artists have been leaning towards Durk's autotuned sound, which probably explains why Humble Beast may come off as refreshing or as a surprise for many, even though it's on par with Herbo's body of work.
Back in August, Herb said he wanted this album to be reminiscent of Jay's Reasonable Doubt and that's clear when you listen straight through.
From production to lyrical content, Humble Beast gives a perspective of what it's like to grow up in a war zone, make it and want better for those who haven't. It's soulful. It's hard. It's Chicago.
Some are even calling it the street 4:44.
So I offer you 10 bars from Humble Beast, not only to put you on but to provide a perspective of the Chicago streets from someone who has walked them.
"Man Now"
I've been stepped on
Pushed over, pissed at
Shot
I've been bitch slapped, only by the police with my handcuffs
I've been spit at, smell the piff all on me, know you got it
Where that shit at?
---
"Malcolm"
Stuck on probation on and off since thirteen, been in and out
Soon as he turned seventeen, shit got super wild
Still a juvenile, he just totin' Rugers now
He shootin' now, streets got him, Malcolm ruthless now
https://giphy.com/gifs/capo-g-herbo-lil-herb-ylX0MNQWoTH1e
"Malcolm" (again)
Sometimes he even pray to God and wish he die at night
He grown now, had to get it on his own and
He know nobody gon' be there when he alone and
So fuck it, he just gon' continue doing wrong then
---
"Street"
Street niggas, where they be?
Nowhere else but the streets
Only place some niggas been besides the block was custody
In the richest nation ever, that's just so fucked up to me
I'ma show my dogs the world, if they can put they trust in me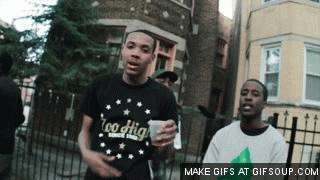 "Bi-Polar"
And I got love for a few, respect for a couple niggas
But ain't no fear in my heart for no man
---
"Lil Gangbangin Ass"
When Keef 'nem was out saying bang bang
We was on the 8 making Glocks do the same thang
Rolling got my shirt off let my chain hang
First niggas yellin out 'gang-gang!'
https://giphy.com/gifs/tmz-chief-capo-bvZ1RlGnaU1VK
"Crown"
I was flexin' everyday, ran through my little bread
You know young nigga never had it
Do what I want, now I got it
But that don't define you as man, what you gone do without it?
Know you ain't got a dime, now, what you gone do about it?
Whole family from the slums, how you finna move 'em out it
We need our crowns
---
"Mirror"
I come from where it's rob or be robbed, kill or be killed
The main goal just try and get home like Wrigley Field
Shells old, pop out revolvers, they hittin' me still
Can't trust a soul, they act like you owe 'em, don't hit 'em be still"
"Trial"
What you thought she was gon' do for ya?
Not time or support, nigga
She ain't waiting too for ya
She ain't come through on the books with the loot for ya
You go to trial, she won't even buy a suit for ya
Win or lose on that verdict, it's the finals, nigga
Pick a bitch, 'cause that jury ain't 'gon root for ya
---
"No Way Out"
We lost Lil Roc in February, White Folks was November
This was my freshman year of high school, we was
Just beginners
Skipped breakfast, woke up sliding
Loaded pipes for dinner