BROCKHAMPTON's Kevin Abstract dropped his EP today titled GHETTO Baby.  
The artist continues his solo career through his latest work featuring the three tracks from ARIZONA Baby. Jack Antonoff and romil hemnani produced the EP.
The six-track EP embodies much of what we know and love about BROCKHAMPTON's music style. With the boyband's hip hop type beat in "Big Wheels", Abstract gives us what we've grown accustomed to but adds some more jazzy overtones.
Also, the song addresses the accusations against Abstract for queerbaiting,
"My niggas back home ain't proud of me/They think I'm a bitch, just queerbaitin'/Quit bein' a bitch and quit hatin'/Y'all pump fakin'"
Trumpets continue through "Joy Ride" with a node to the Beastie Boys in the lyric,
"No sleep 'til Brooklyn, deportin' men."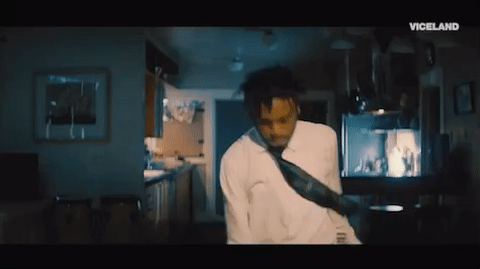 Abstract grows from his earlier solo work American Boyfriend but holds on to influences from jazz and R&B genres. With less focus on cartoonish-sounding high voice edits, the work definitely shows growth and expertise in mixing genres. "Georgia" has some light grunge-like sound when the drums are isolated.
Track four "Corpus Christi" brings the storytelling vocals we fell in love with to the forefront.
Additionally, the intimacy is needed as Kevin Abstract discusses his feelings about the departure of his childhood friend Ameer Vann from BROCKHAMPTON after sexual misconduct allegations.
Kevin Abstract has released an accompanying video for "Baby Boy", the fifth track on the EP. Furthermore, the music video has a deep art-film aesthetic. The zombie-like movements of the people in the video look a lot like the 1975 horror film Shivers.
The film centers around a parasite that transfers from human to human with the slightest sexual contact. The song "Baby Boy" fits well with this premise.
A repeating line signifies the lingering effects of love,
"At this point, you're pretty much out of my mind. But when I close my eyes I think about you every time"
Finally, "Mississippi" closes out the album with rainy day vibes. The song highlights the depressive state Kevin Abstract likely endured when trying to get away from it all at the Mission Inn Hotel in Riverside, CA.
Kevin's latest work is a good mashup of everything we love about his music. His mix of genres and honest intimate storytelling satisfy our anticipation and inspire us to want more. Peep it below.