GoT copped 32 Emmy nominations this year, smashing the single-season nomination record set by NYPD Blue in 1994, with 26. Some of those nominations came as a surprise to HBO, especially for Gwendoline Christie's (Brienne of Tarth), Alfie Allen's (Theon Greyjoy) and Carice van Houten's (Melisandre).
That's because the actors nominated themselves after the network declined to do so, paying the $225 submission fee themselves. HBO later confirmed to The Hollywood Reporter that they had not submitted the trio for awards.
While it's not that uncommon for actors/actresses or their reps to self-submit, it is rare for these self-submissions to garner nominations.
https://twitter.com/JulieDiCaro/status/1151495293369815042?s=20
First of all, what was HBO thinking to not nominate them– especially Gwendoline Christie?
In the much-maligned Season 8, Christie especially proved a bright spot. The depth of feeling she brought to season-highlight "A Knight of the Seven Kingdoms," where she achieved her lifelong dream of becoming a knight made viewers emotional.
this scene was one of the most important scenes in this episode. this was all brienne EVER wanted. AND HER SMILE AT THE END!!
i am so proud of her these are tears of joy. #GameofThrones pic.twitter.com/df1djH6YEl

— osha (@oshawildling) April 22, 2019
If you didn't tear up as BRIENNE OF FUCKING TARTH got knighted then you can sit on Arya's needle and twist #GoT pic.twitter.com/1CY9rye78f

— My Names Not Haley (@mynamesnothaley) April 22, 2019
It was a universal moment too. Imagine every girl watching who hasn't been able to do something because of her gender finally breaking the glass ceiling. I mean, it's not President, but becoming a Ser isn't too shabby.
Of course, GoT had to soon reduce Brienne– one of the fiercest fighters on the show, and that's including the men– to an out-of-character crying heap when she gets dumped by Jaime. Still, we'll take our wins where we can get them.
Displaying a level of joy similar to that of her character getting knighted, Christie took to Instagram and Twitter to express her disbelief.
https://www.instagram.com/p/Bz_Fqa9gupv/?utm_source=ig_web_copy_link
THANK YOU WORLD!!!!!!!!! https://t.co/C7TjzDlhzI

— Gwendoline Christie (@lovegwendoline) July 17, 2019
Her nomination also represents a win for unconventional female characters, for those who do not exist simply to prop up a man or to be his love interest and support him despite his flaws.
It is a win for female characters not defined by their attractiveness or femininity. In fact, Brienne was mocked by a variety of characters throughout the show's run for her towering stature.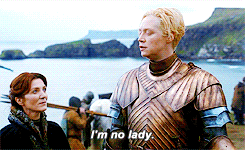 Christie recognized the transformative importance of showing this kind of female story, and said in an Instagram post, "Playing Brienne of Tarth has redefined the way I look at the world, women and particularly myself."
In an interview with Elle, she also noted:
"What I love about playing her is that she's the antithesis of a patriarchal society. She doesn't give into it; she's unashamedly herself."
Brienne was a warrior, who defeated one of the most lauded knights in Westeros (Ser Loras) as well as the fictional realm's feared henchman (The Hound) in single combat.
She was driven by honor, keeping all of her sworn promises long after the people to whom she had sworn these oaths were dead. To drive this point home, her sword was even named "Oathkeeper."
In a show populated by dishonorable men and truly evil women (looking at you, Cersei) propelled by bloodlust and a thirst for power– the show was literally a "game of thrones"– Brienne was truly one of the good ones.
Besides being a win for unconventional female characters, Christie's nomination shows that sometimes you have to be your own hype woman. Sometimes, when others don't believe in you, you have to fight for yourself.
Sounds a lot like Brienne.