While you may not think deeply about food photography as an art, you probably have experience as a food photographer. Since the improvement of smartphone cameras and the growth of social media, taking pictures of food has become second nature to many people.
Since the birth of photography in the 19th century, individuals have been capturing images of food. However, over the last hundred years, food photography experienced a rich evolution as an experimental and commercial art form.
---
Food photographers dazzle with flavor and ingenuity
Most commercial food photography aims to promote the marketability of food by making it look attractive, but experimental approaches look at it rather differently.
Experimental photographers throughout history have used food as props to achieve creative visions. Some notable food photographers who have defined the art include Irving Penn, Harold Edgerton, and Ronny Jaques.
Today's food photography is thought-provoking, entertaining, and alluring thanks to the artists behind the camera. So without further ado, here are some iconic food photographers to watch!
---
Nicole McLaughlin
In the world of design, few people embody as much ingenuity as Nicole McLaughlin. As a sustainable artist, McLaughlin asserts her artistic signature onto her designs through upcycling clothing, packaged goods, food, and more.
McLaughlin's work reminds us that clothing and accessories don't need to be brand-new or brand-name to turn heads.
Her success has also been seen through features on Vogue and Highsnobiety, to name a few. While interviewing for Hype Beast, McLaughlin discussed her creative sustainable process.
---
Henry Hargreaves
As a former fashion model and food industry employee, Henry Hargreaves marries his creative experiences into his food photography. Most notably, the New Zealand artist brings his pieces to life by tapping into the personality of his food subjects.
Hargreaves' images vary across experimental and commercial compositions. He's photographed for some of the hottest names in food like Flour Shop's Amirah Kassem and Jack Wife Freda's Maya and Dean Jankelowitz.
When asked about his creative process, Hargreaves' wrote:
I create visuals that appeal to me. Ideas can come from anyplace and usually if it makes me laugh or keeps coming back to my mind without writing it down I feel I should try to make it. Once I decide to execute something the only hurdle is my own motivation.

(Cred: Henry Hargreaves)
---
Gab Bois
Multi-disciplinary artist Gab Bois's work showcases elements of everyday life with a unique twist. She translates her criticism and comments on culture through intricate symbols in her photographs.
In an interview with VSCO, Bois grants audiences insight into her creative process. By finding inspiration in objects and her environment, her creative extents truly are limitless.
Bois's fascination with objects is evident in her art as she photographs objects in ways untraditional to their nature. This is mainly seen in her image compositions that swap everyday objects with items that have similar shapes or colors to the original.
---
Studio Furious
Thomas Weil and Quentin Weisbuch are the creative geniuses behind Paris-based creative studio, Studio Furious.
Through Furious, Weil and Weisbuch have made names for themselves in both experimental and commercial photography.
The artists use inventive means to create advertisements for luxury designers, consumer packaged goods, and food brands. Studio Furious's images use digital design to create food images that are as delicious looking as they are visually engaging.
---
Levi Brown
NYC-based photographer Levi Brown produces stop motion and still-life photography to give his subjects new meanings through his art. Common themes in his work include uniformity, deconstruction, and movement.
Brown pays homage to some of the greatest names in food photography history through his work. For instance, his image "FROZEN TETRIS" highly reminisces photographs by the late Irving Penn – perhaps the most revolutionary food photographer throughout history.
---
Michael Harlan Turkell
Some of the many ways Brooklyn-based artist Michael Harlan Turkell explores food is through photography, podcast hosting, and recipe writing. He explores the idea of eating with your eyes by photographing food throughout the process of its preparation.
To create his 2017 book "ACID TRIP: Travel's in the world of Vinegar," Turkell photographed and interviewed professionals throughout North America, France, Italy, Austria, and Japan. His passion for capturing food translates through his international and multimedia approach to his art!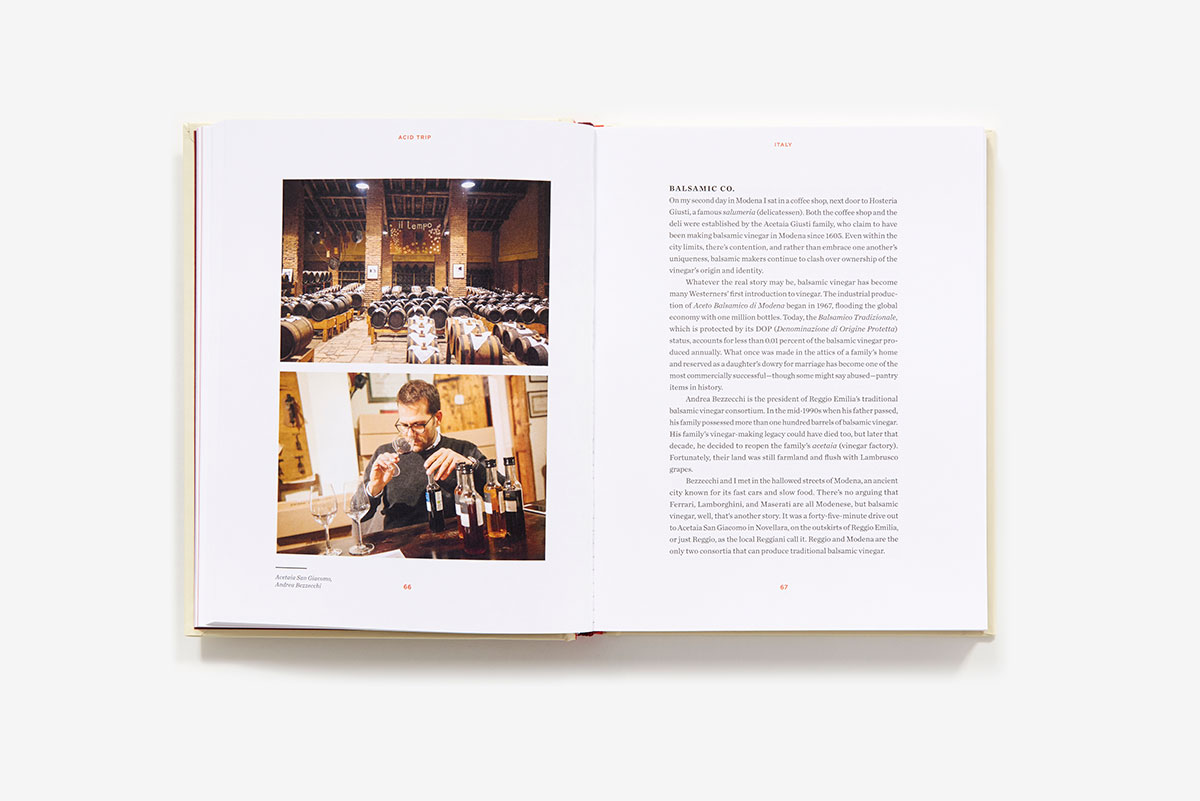 ---
Colors Collective
On brand with their title, the artists behind the Colors Collective play with hues, contrast, and fascinating composition in their photographs. The geniuses behind the studio are industrial designers and photographers Alexis Jesup and Max Hoffman.
The Colors Collective creates still lives and stop motion media that embody fresh and light-hearted feelings within their work. Many of their pieces are commercially produced, yet their work is so engaging and appealing it's easy to forget they're trying to sell you on a product.
---
Brandon Voges
As a creative at Bruton Stroube Studios, Brandon Voges photographs commercial food images for some of the most well-known American brands.
Manipulating depth and color in his images, Voges captures food as an editorial photographer would capture a fashion model.
Voges' client list ranges across Coca-Cola, McDonald's, and Nintendo, to name a few. He is particularly crafty in his creative approach to food photography, as seen in his team's use of colored construction paper in his Fanta rebrand project.
---
Food photographers set the standard for tastefulness in our lives
Whether abstract or just plain inviting, these food photographers make our mouths and imaginations water.
Photographers of all crafts must be innovative. Still, there is something specific about the way a food photographer captures their subject.
In this case, when the subject is food, food photographers shine brightly. Make sure to follow all of these talented artists' work going forward.