In the name of street art, legendary American artist Ron English copped Banksy's artwork "Slave Labour" for $730K. The piece was originally painted on the outside wall of a bargain shop in north London back in 2012, was removed a couple months later, and somehow resurfaced at an art auction in Miami.
Now, if you've ever seen the Netflix documentary Saving Banksy you would be aware that to take an artist's work out of context and put it on display without his/her permission is straight up garbage behavior.
Still, pompous collectors and gallery owners find it necessary to destroy an art form that was created for those who walk atop the earth's crust daily.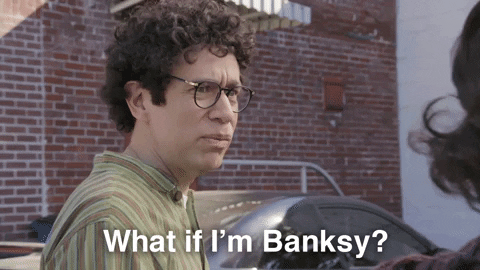 In regards to Banksy's "Slave Labour" piece which depicts a young child on his knees at a sewing machine producing a string of Union Jack bunting, fellow street artist English thinks that the selling of the piece is "a blow to street art."
In a statement to the Press Association, he said,
"We're tired of people stealing our stuff off the streets and reselling it so I'm just going to buy everything I can get my hands on and whitewash it." He added, "Then, of course, I'll sell the whitewash painting for a million dollars. I'm crazy but I'm not stupid."
https://www.instagram.com/p/BqNdmGuFj1B/
English who plans on whitewashing the $730K Banksy piece has truly made a boss decision. The move comes in lieu of Banksy shredding his "Girl With Balloon" piece last month, right after it was bought for $1.4 million at Sotheby's.
There are maneuvers being made against the undeserving upper echelon of the art world. Artists have a plan for the works that they show to the public and when it comes to street art those with an overload of bread in their bank accounts need to recognize that these pieces aren't made for just the rich.
How would you feel if you were a street artist and this was happening to you? Hopefully, what English and Banksy have done sets the tone for a very artsy future.