Imagine dedicating your entire life towards a craft where only the best are selected. You're handed nothing; nobody is looking out for you and if anything, because of your nationality, everyone doubts you can even play.
You go undrafted out of college, waived from your next two teams, and somehow become an overnight phenomenon. You journey from Charlotte to Los Angeles over the next couple of years and eventually find yourself in Brooklyn.
You're ready to play, ready to compete. You suit up. But an hour later you soon find yourself shedding tears, clutching your knee as you scream, "I'm done, I'm done." If only you knew you were going to rupture your knee in the first game of the season.
Jeremy Lin lives this life.
As the first Asian-American player to ever compete in the NBA, Lin has had a serpentine career. After playing for teams on one-year contracts, Lin signed with the Brooklyn Nets last year to spearhead the franchise's rebuilding era.
But due to a reoccurring hamstring injury, Jeremy was limited to play in only 36 contests averaging 18 points and 4 assists per game. This time, it's Lin's right knee that ended his season prematurely. Diagnosed with a ruptured patellar tendon, Lin will miss significant time for the second season in his contract with the Nets.
Slight tears in the knee are severe, but rupturing it is a completely different story. Both Antonio McDyess and the great Alonzo Mourning were forced to alter their games when they ruptured their knees; Jeremy Lin might be no different.
Although the road to recovery looks like a gruesome process, Lin is no stranger to unforeseen circumstances. When asked about his mentality towards rehabbing his hamstring, Lin, a vocal Christian, said,
"Just trusting and surrendering to God, and being able to go through the emotions of being 'healthy' [and immediately] 'hurt.'"
While he will be tasked with recovering from his worst injury to date, J-Lin has excelled in silencing the boisterous critics throughout his basketball career.
In 2012, as a player who received no athletic scholarships in high school, Lin went undrafted out of Harvard University, and was once again on the verge of being released from his third NBA team. Somehow, Jeremy Lin put together a string of magical performances that catapulted the New York Knicks into playoff contention, giving birth to the cultural sensation known as "Linsanity."
With Lin's meteoric rise to NBA stardom, he was consequently forced to deal with the skeptical and racist remarks concerning his game and ultimately his ethnicity. Since his days at Harvard, Lin heard a variety of racial slurs from "Can you even see the scoreboard," to "You chink!" and "take your ass back to China!"
As Jeremy's unforeseen success demanded national attention, when the Linsanity-inspired winning streak finally came to an end against the then-New Orleans Hornets, ESPN's Anthony Federico uploaded the headline "Chink in the Armor" to accompany the game story.
Federico's choice of "chink" acted as a double entendre, referring to the Knicks' first loss as a wrinkle in their streak, but more notably alluding to the racial derogatory slur for Asians.
As only Jeremy Lin could, he responded admirably and gracefully:
"They've apologized, and so from my end, I don't care anymore… You have to learn to forgive, and I don't even think that  was intentional."
Throughout his career, Jeremy's Chinese background has always generated doubts. Lin has previously stated that he believes his ethnicity has always overshadowed his identity as a professional basketball player. In his documentary Linsanity, Jeremy states, "I have always said if I was Black I would have got a D-1 scholarship."
Maneuvering as an Asian-American in a predominantly African-American sport has raised questions concerning Lin's ability to play. With his Asian descent acting as a double-edged sword for both curiosity and scrutiny, Lin's injury will likely attract more criticism towards his play.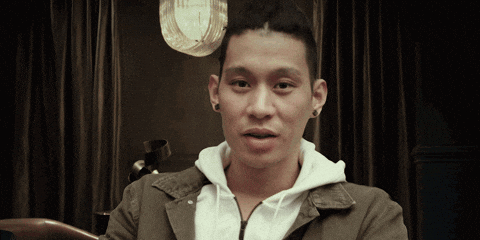 This past month, however, Lin seemed confident, as he held his first interview since he ruptured his knee back in October. Lin proclaimed,
"I feel like I am ready to take on this thing, and when I get healthy, I will be a new me."
The Nets point guard vowed to return to the court a quicker, more complete, and explosive player. As he undergoes a comprehensive rehab program in Vancouver, Jeremy told fans to expect the same style of play.
While he is aware of the physical strain he puts on his body, Lin told the press he'll be the same player, but more calculated in his landings and movements. Lin said,
"I am not going to change the bread and butter of who I am, which is downhill, attacking, dynamic playmaking. I will still be in the paint heavy, but I won't be landing on my legs the same way… A lot of other muscles will be absorbing impact that maybe joints shouldn't be."
Lin, who has grown quite adept at hurdling ill-opportune situations, will instead look to use the 2017-2018 season to come back stronger. Setbacks are unavoidable, but the comeback is where legends are born.
Motivated and hungrier now more than ever, NBA fans should look forward to Lin's vengeful campaign next season.