Swae Lee is the songbird of our generation and his latest single proves it
Dawning a soft, pastel pink fur coat in front of an inviting wall of green life, stands the future of sound as we know it; the songbird of our generation and the heir to R&B's throne: Swae Lee.
No, not Khalid. Not Daniel Ceasar, Kali Uchis, or SZA, but Swae Lee, who has the ear and vocals that will champion the R&B sound for years to come.
Today, that journey officially begins as Swae released "Hurt to Look", the mystical front runner to his upcoming debut studio album, Swaecation.
I am well aware that when it comes to the term "songbird" or when we get into the subject of singing, or even R&B, a rapper known for turning up with party anthems wouldn't be the first to come to mind. But with closer inspection you'd see that there isn't an artist out who pitches a tune that resonates more than Swae Lee's.
The rapper from Tupelo, Mississippi, who makes up 1/2 of the rap group Rae Sremmurd, has been showing off his penchant for melodies and vocal touch since he debuted with Slim Jxmmi on SremmLife in 2014. The only ones who haven't noticed are the ones not paying attention.
Under Mike Will Made-It's tutelage, the rap group has charted on Billboards top 100 11 different times, even snagging the number one spot with "Black Beatles". But if you go back and listen to every single one of those chartings, from "No Flex Zone", to "Perplexing Pegasus", there is one common denominator: Swae Lee's vocals.
Half of Swae's mystique and why people don't consider him a vocalist is because his brightest moments are in the midst of hard knocking 808's and contrasted against his very rap oriented bandmate.
https://giphy.com/gifs/solange-rae-sremmurd-YWZisuJEWSS88
Think of Rae Sremmurd's "No Flex Zone". While you may dismiss Swae Lee's shriek, that high-pitched "they knoooooow better" was full of ambition and purpose. The same goes for "Come Get her", "No Type", and "This could be Us" — Swae was constantly testing his range whenever he could.
Similarly, Sremmurd's second album SremmLife 2, was even more foretelling of Swae Lee's talents.
"Swang" was otherworldly. Swae Lee hit an auto-tuned falsetto so cold that, with the right alcohol to crisis ratio, it'll make you stop and contemplate your entire life right in the middle of whichever club you're in. Never has a voice cut through so buttery in the midst of a trap song like that. Ever.
Even on "Black Beatles" — which was the number one song in America at one point — Swae Lee's near-whisper during the chorus and ad libs damn near makes the song. To have the presence of mind to put such a beautiful accent on a song as high-energy as that was Swae begging to flex his vocal creativity.
If the work on his first two albums wasn't proof enough, his features surely should have been a tell-tale sign that Swae Lee was coming for the R&B crown.
Dating back to Travis Scott's "Nightcrawler" in 2015, it was clear that "rapper" was far too constrictive of a descriptor to place on Swae Lee. 2 Chainz, Jhene Aiko, French Montana, and everyone else who featured him on their projects following seemed to agree, too.
In 2017 alone, whether he was serenading us on "Poor Fool", harmonizing on "Sativia", or going number one, again on "Unforgettable", it was clear that the kid had something magical.
He managed to fit soothing vocals in between Metro's boom and Big Sean's delivery on "Reason" and, if you still don't believe the hype, Kendrick enlisted his voice on this year's best selling album, Black Panther: The Album on the tune "The Ways" and he straight up stole the show with his angelic touch.
When you look at his body of work, Swae Lee carrying the torch for the next generation of R&B isn't far fetched at all. The 22-year-old, who is going on his fourth year in the industry, has had Billboard success, worked with the industry's best and has even developed his own craft, adding 'producer' to his resume.
He gets sound; he gets melody; and he knows his voice. His tone and approach makes him liable for a hit every time he steps to the mic, and what's most interesting is that he comes with a unique narrative — who wouldn't want to hear a rapper turned singer from Mississippi sing his heart out?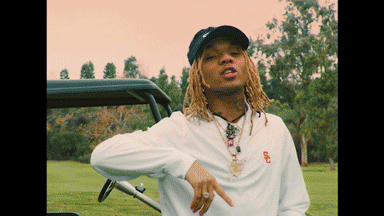 Not to mention what we consider as R&B, like the rap game, is bound to change. The Beyonces, Adeles, and Sam Smiths of the world are becoming fewer and farther between. Power ballads and straight forward pop singles are a thing of old.
Thanks to Bon Iver and James Blake (and Kanye, really), synths are as much R&B as vocal range — which is evidenced in The Weeknd, Frank Ocean, Sampha, Kelela, and others. Similarly, thanks to Bryson Tiller and 6lack (and, again, Kanye), heavy 808's, too, have become staples in what we consider R&B — a trend SZA has definitely benefitted from.
Because Swae Lee is a mix of all these elements rolled into one, it's his destiny to be on top.
Though Swae Lee hasn't confirmed a date for Swaecation, his single "Hurt to Look" should indicate that it will be released soon, and though he hasn't confirmed that it'll be an R&B album, he's already at the forefront to winning over new listeners to the genre.
This will be Swaecation Vol 1 as well as some on melodies on SremmLife 3 know I won't leave you guys hanging 💪🏽 https://t.co/codMLn2egb

— Swae Lee Lee Swae (@SwaeLee) January 18, 2018
When you look at how Swae Lee is poised on the album cover to his lead single — hair free, face obscurely covered by the sun's shadow — you can tell that the he's going for something different from what he's known for.
And whether we're ready or not, he's coming for the crown.