Suge Knight still thinks Tupac is still alive somewhere, but he ain't
Since Tupac's fatal shooting in 1996 the theory of him being alive has always been thrown around. People have come up with insane theories like the classic, "hiding in Cuba with Elvis."
The CIA has even been accused of harboring the late rapper as a witness, although they've cleared that one up.
No, we don't know where Tupac is. #twitterversary

— CIA (@CIA) July 7, 2014
Millions of fans still have a hard time accepting Pac's death. Many celebrities have egged on these theories and now we can add Suge Knight to that list. And, a couple of years ago, TMZ uploaded a clip of Suge Knight revealing to Ice-T that Tupac might still be alive.
The clip TMZ was able to get their hands on comes from an upcoming TV special called Who Shot Biggie & Tupac? The show will focus on Ice-T and Soledad O'Brien as they lead an investigation to uncover new accounts from the fateful night. Ice-T clearly took that Law and Order role to heart.
In the clip, the Death Row CEO is speaking to investigators over the phone due to his imprisonment after his 2015 hit and run incident. Knight begins his exposition with,
"When Pac died….if he really did, you know."
When asked what he meant, Suge went on to say,
"When I left that hospital me and Pac were joking… So I don't see how someone can go from doing well… to doing bad…"
I have to take this as a joke, coming from a 52-year-old facing life in prison. At this point, I'm sure he's just talking to talk as there's not much else he could do.
For years the theory that Knight set Tupac up has been one of the more prominent conspiracies by fans. After 20 plus years since Tupac's death, Knight still finds ways to use the late rapper's name for entertainment.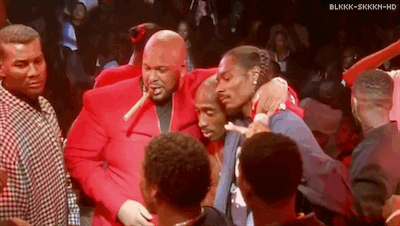 Since Biggie and Pac's death we've seen probably 100 documentaries dissecting their fates.
The question of "who killed Tupac and Biggie" has been ringed out by the media to squeeze every last drop of the situation. The world never got closure on its favorite rappers and is still looking for answers.
The special will air this Sunday, September 24 on FOX.