'Space Jam 2' just got a new director and it's about to be even more lit
After Terrance Nance dipped as director of Space Jam 2 due to different takes on the creative vision, it was announced that Malcolm D. Lee would take over for him — and it makes perfect sense for the movie.
While Nance has shown promise as a director with projects like An Oversimplification of Her Beauty and the series Random Acts of Flyness on HBO, Lee brings experience and a proven track record with studio comedies.
He directed the 2017 hit comedy Girl's Trip, that made Tiffany Haddish a household name. He then followed up with Night School, another smash comedy that paired Haddish with mega-star Kevin Hart.
Fans are already making it known that they want Haddish to appear in the Space Jam sequel. Haddish would no doubt bring a level of energy and comedic genius that could only elevate the film.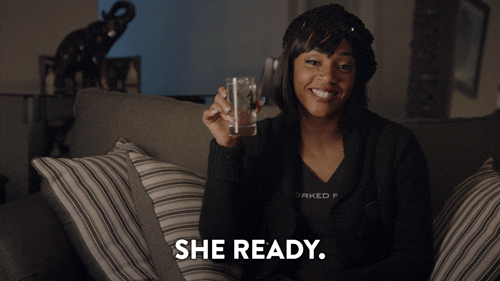 There's still a possibility that she could be recruited, as much of the cast is still unknown. One of the few actors already on board is one of the most lowkey actors of his time, Don Cheadle. It's not yet known what role Cheadle will play, but it's bound to be fire.
Cheadle will be joined by NBA and WNBA stars Klay Thompson, Anthony Davis, Diana Taurasi, Nneka Ogwumike, Chiney Ogwumike, Damian Lillard and of course LeBron James.
The only player that the film really needs is J.R. Smith — either forgetting the score of a crucial game or screaming "Henny-thing is possible!" as the credits roll. The interactions between Smith and James are already comedy gold.
James has already proven that he has some acting chops and is lowkey funny. He had a surprisingly funny role as himself in Amy Schumer's Trainwreck and has hosted SNL with great success. No matter where you stand on the Jordan vs. LeBron as G.O.A.T. discussion, we can all agree that LeBron is for sure the better actor.
The new director and cast aren't the only things making Space Jam 2 dope. The script is in the hands of Sev Ohanian (Searching) and Ryan Coogler (Black Panther and Creed). Coogler is also attached to the project as a producer.
Ryan Coogler, like Lee, brings a great track record and experience to the project. The two will definitely be bringing a level of professionalism that'll ensure success for the film. Academy Award-nominated cinematographer, Bradford Young will also be joining the Space Jam 2 squad.
View this post on Instagram
LeBron is known to surround himself on the court with people who will ensure his success and he's doing the exact same thing here with Space Jam 2.
It's safe to say he knows what it takes to meet and exceed expectations as the squad around you is crucial to achieving your goals in anything you do. Malcolm D. Lee and his crew are the perfect team to make Space Jam 2 more iconic than MJ's 1996 original.
There's still not much info out there in terms of what the plot will look like. Will the NBA and WNBA players in the flick be the new Monstars? Will there be any Monstars? What will be the stakes for King James, Bugs Bunny, and crew?
None of that matters now, and more info will definitely come out as we get closer to the release. Whatever does happen, we're hyped for it and know that it'll be the hottest movie of summer 2021.