So why did Cristiano Ronaldo leave the Real Madrid powerhouse?
Questions are stirring around the world of why Cristiano Ronaldo has left the dominant Real Madrid.  
Since first signing with Real Madrid in 2009, Ronaldo has built an empire by winning 16 titles including two La Liga titles, two Copas del Rey, four UEFA Champions League titles, two UEFA Super Cups, and three FIFA Club World Cups.
Despite only being a part of the team for 9 seasons, CR7 was able to gain the title of the all-time leading scorer with 451 goals scored.
It is obvious to say that Cristiano Ronaldo has made his mark on Real Madrid, but why would he leave after all the fame and success? Sources say that CR7 simply yearns for new challenges.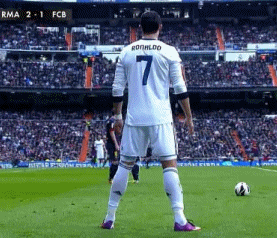 Born on the small island of Madeira, Portugal, Cristiano was the youngest of four children in a poor household. This difficult lifestyle forced him to act on his own, doing anything necessary in order to gain success.
His perseverance and genuine love for the sport propelled him into new experiences like playing with better teams and meeting more coaches. And it did not go unnoticed, especially by his family.
"He slept with his football, it never left his side."

– Godfather, Fernao Sousa
Despite the poor living conditions and being diagnosed with a racing heart at age 15, Ronaldo kept working hard and kept moving on from one team to the next.  This lifestyle of overcoming challenges is the main reason Ronaldo said he was leaving Real Madrid.
At a recent press conference when announcing his contract with Juventus, Ronaldo states, 
I don't like to stay in my comfort zone, I like to seize new challenges. After the experiences in Manchester and in Madrid, I'd like to mark the history of Juventus. I like challenges, again, and I hope everything will go very well.
Some people question why Ronaldo went to such a large team towards the end of his career.  Most soccer stars move to smaller teams to end out their career, but Cristiano Ronaldo is not like any other footballer.  
He knows that he is older, but he also knows of his capabilities. A few months back, the coaching staff of Real Madrid did a physical examination of Ronaldo and saw that he had the body type of a 23-year-old, ten years younger than he actually is.
Ronaldo's eagerness for a challenge is most likely not the only reason for moving. The fact that he made a four-year deal for € 100 million with Juventus was surely a great motivator for him.
As one of the highest paying contracts in Serie A history, this offered Ronaldo the opportunity to grow his empire in the soccer game and his entrepreneurial lifestyle. He's launched a clothing line, a footwear brand, a hotel chain, numerous smartphone apps, and more during his journey so far.
With this knowledge Ronaldo knew of his capabilities and decided to embark on his journey to a bigger team that can offer more for him.
Not only is Ronaldo trying to challenge himself by moving to Juventus, but he decided to leave for other reasons as well. Ronaldo reported that he was not content with some of the promises that were not kept by the President of Real Madrid, Florentino Perez.
There was some turmoil between the two but Ronaldo did not have any bad words about Perez during his announcement of joining Juventus. The relationship between CR7 and his past team are still great and he will always cherish the moments he shared with them.
He is physically and mentally fit for more challenges in his career and is eager for what is to come next. Ronaldo is a go-getter. He says he will not stop until he faces new challenges so that he can overcome them. Based on his career, he has proven this true and will prove it again at his new home in Turin, Italy.