SMFH: Akon had a plan to restore power in Puerto Rico but got rejected
Akon had a solution to Puerto Rico's power outage problem and could've restored electricity to the whole island in 30 days.
But the Trump administration had a different agenda and rejected the plan. According to Akon in an interview with TMZ,
"It's politics, propaganda and special interests. They didn't care about the people—if that was the case, they would have allowed us to go in and provide the solution…"
The "I'm So Paid" artist had a plan that worked in more than 14 different African countries.
Formed in 2014, Akon Lighting Africa focuses on bringing light to the darkest places by using solar power.
The clean and affordable energy has brought electricity to African villages powering a number of households, communities, schools and health centers located in rural areas for the first time.
Can you imagine not having the luxury of just plugging your phone into the wall so you could see the latest trends? Hard to envision something so absurd.
Lest we forget our first world problems and picture a life in total darkness without household lighting and street lamps.
It's like Hurricane Maria sent PR back 130 years into the past and our president doesn't "give one." Even if Akon has, like, THE BEST PLAN EVER!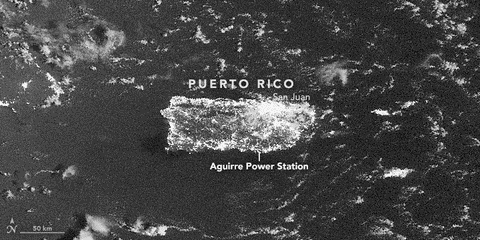 Akon told TMZ,
"We actually presented a program for Puerto Rico, and we got rejected. We have the solution for Puerto Rico…. and we could've had power back in 30 days. And they rejected us…"
Rejecting God-sent help is not a good look and karma is sure to bite back. Especially when you need the assistance.
To this day only 83.8 percent of PR's electric power has been restored on the island. Our administration is not doing enough to get these Hurricane Maria victims back on their feet.
In fact, the road to recovery on the island has been such a slow process that even commanding general of the U.S. Army Corps of Engineers, Todd Semonite, is disappointed with the current state of the US territory.
He told ABC News in an interview at the Pentagon,
"I am not satisfied that people in Puerto Rico should have to wait that much time for power… But I am telling you, there are no other knobs I can turn to go any faster."
A suggestion for Semonite and the Trump Administration — bless Akon with the right to help fully restore power in Puerto Rico.
It just doesn't make sense why any administration would allow the opportunity to restore power slip out of their hands.
Especially knowing a bunch of cryptocurrency entrepreneurs are on the island, allegedly evading taxes, and are taking advantage of the destruction of PR in order to build their rich boy playground. 
Beats me, beats Akon, and beats the people of PR. In the words of Mac Miller, "somebody do something."