Ryan Coogler could bless 'Black Panther' fans with a female spinoff
Women of Wakanda forever! Ryan Coogler killed directing Black Panther. The Marvel movie broke records and it will forever be a stamp in time. It crushed the box office with $1.3 billion in ticket sales alone.
The superhero movie was more than epic when it hit the silver screen and now the young director has revealed that he is more than open to creating a female spin-off to the blockbuster hit.
Sheesh, maybe Chadwick Boseman can finally get a break. We all know that he is so tired of throwing up Wakanda across his chest. He's been praying for this day.
The news came via Variety at this years Cannes Film Festival on Thursday afternoon. During a two-hour talk, moderator and critic Elvis Mitchell asked Coogler if the women of Black Panther were as important as the men.
You should know that his reply was worth remembering. Coogler said, "I think you could argue they are more important." Of course, they are. Without Nakia, Okoye, Shuri, and the Dora Milaje, King T'challa wouldn't be shit.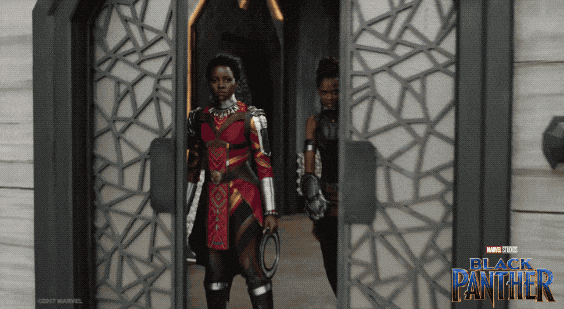 Killmonger would've easily washed Wakanda if wasn't for the beautiful, Black, and powerful #WomenofWakanda. What was one of Coogler's favorite parts of the film?
The part where T'challa was left for dead and viewers were totally just following the women. He told Variety,
"There's a whole section of the film where T'Challa is out of the movie and you're just following the women… That's one of my favorite parts of the movie when I watched it, and I didn't expect that… That part of the movie you feel like you're watching something fresh and new. That part of it was exciting. We have these actresses who could easily carry their own movie."
Let's get it! A film like this would be very dope and much needed at a time where women find themselves at the shit end of the stick in Hollywood. Especially women of color.
The film would be very empowering for girls all around the world. The spin-off would be light work to produce as Marvel did focus on the women of Wakanda in the comics. When asked about doing a spin-off Coogler was ecstatic. He told Variety,
"Oh man! That would be amazing if the opportunity came up. They did it in the comic-book version."
Hopefully, this really happens. God knows there's nothing worse than high hopes and no delivery. No pressure Marvel and Disney. Just woo us as you have been. Wakanda Forever!