Rihanna is partnering up with Techstyle on a new lingerie line for the low
Rihanna, R&B queen, philanthropist, fashionista, trend-setter, singer, actress, producer, and my personal wet dream, has teamed up Techstyle in order to launch a sexy and classy new lingerie line.
Apparently this new installment has being going on for a while now, just on the low. Both RiRi and Techstyle's team have refused to comment on the alliance, even though we now know it's going down.
Maybe the reason for the secrecy is because there's more to their collab than meets the eye?
Rihanna has been part of the technological revolution for a minute, reaching a wider audience across the globe through her acts of humanitarianism, raising and donating hundreds of millions to charitable causes.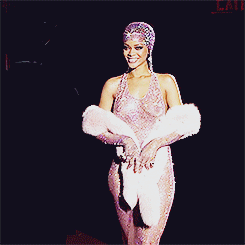 Techstyle's brand building outreach uses innovative technology to expand both the brand's product lines and the party's involved.
"TechStyle is known for its technology-focused approach to brand-building and fashion; the company is said to be able to predict sales exactly using proprietary data and personalization software."
So far, she's also partnered with Gucci, Armani, Balmain, and was even announced the creative director of Puma a couple of years back. According to a source speaking to WWD, the partnership will help escalate the company's yearly revenue.
"The line with Rihanna, the source said, is viewed as a key strategic move in TechStyle's efforts to file for an initial public offering, something executives have never shied away from discussing as a possible exit option. TechStyle's raised about $300 million to date."
Techstyle's other known brands, Fabletics, Justfab, Shoedazzle, and Fabkids aren't new to celebrity collabs in the past, even partnering with Kate Hudson on Fabletics line of athleisure workout clothing and Kim Kardashian with the femme-chic ShoeDazzle.
All that's left to do is slap a Fenty Beauty label on it and call it a day.
TBH I can't wait to see what kind of lingerie RiRi approves of and designs. Can you think of anything sexier than throwing on a negligee and pretending you're Rihanna for the night? 'Cause I can't.