Richard Sherman dipping from Seattle? How he bet on himself until the end
It looks like the Seattle Seahawks will look like a very different team than the one that appeared in Super Bowl 49 just a couple years ago.
Offensive coordinator Darrell Bevell was fired earlier this offseason and today, Michael Bennett was traded to reigning the Super Bowl champion Philadelphia Eagles.
With rumors also surfacing about Richard Sherman potentially leaving the 'Legion of Boom,' the NFL world is left to wonder what is next for the shutdown corner.
If you are looking for an official response in regards to Richard Sherman and where he's going, it starts and stops with him. As he enters the final year of his contract with the Seahawks, Sherman will be representing himself in free agency.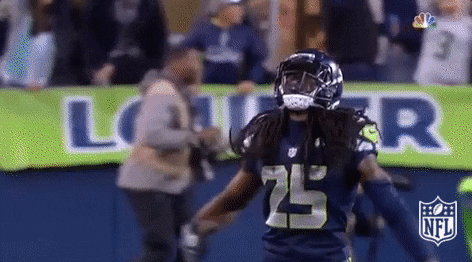 As intelligent and cerebral as Sherman is, there's no faulting him for thinking having an agent is overrated. Sherman told Business Insider,
"I didn't feel like I needed one. There's nothing that an agent could do for me that I couldn't do for myself or I couldn't hire someone to do at a smaller fee."
At this point everything is up to speculation. Ian Rapoport of NFL Network reported the All-Pro cornerback told his teammates goodbye over the past 24 hours.
That text message got my heart hurting … damn 25 was my Dawg #WhatsNext

— jeremy lane (@StayingInMyLane) March 7, 2018
Kam Chancellor went on Instagram to thank Sherman for Chancellor's special nickname: The Chancellor.
https://instagram.com/p/BgCCZsvjAkM/
After being challenged by Kobe Bryant last season to break the Seahawks single season interception record, Sherman's season came to a screeching halt.
.@RSherman_25 I challenge you to break the Seahawks single season interception record #MambaMentality pic.twitter.com/4g9kOx2YhA

— Kobe Bryant (@kobebryant) August 24, 2017
Nine games into the 2017-2018 season, Sherman ruptured his achilles, but he's not letting that hinder his negotiating process. Sherman said,
"I can have conversations with general managers and understand my value in comparison to other players in the league."
According to NFL reporter Tom Pelissero, Sherman is slated to meet with head coach Pete Carroll and GM John Schneider to discuss moving forward.
Knowing your value in a league where the money is not completely guaranteed is a blessing. Whichever teams lands Sherman in the near future is landing one of the fiercest corners in the league. But it's hard to find a cornerback with technique and football IQ like a Richard Sherman.
Not bad for a fifth-round draft pick!
Father time remains undefeated against athletes. Coming back from an achilles injury to play cornerback in the NFL is no easy task. It will be interesting to see if Richard Sherman is still capable of being elite.
As for now, we should let his resume speak for itself. Just know like Kobe, Sherman also has a Mamba Mentality. As for where Sherman will land, did you really have to guess?
#Patriots #PatriotsNation @Patriots #RichardSherman @RSherman_25 RICHARD SHERMAN TO THE PATRIOTS!!!

RICHARD SHERMAN IS COMING TO THE PATRIOTS!!!
RICHARD SHERMAN IS COMING TO THE PATRIOTS!!!
RICHARD SHERMAN IS COMING TO THE PATRIOTS!!!
RICHARD SHERMAN IS COMING TO THE PATRIOTS!!! pic.twitter.com/wp92cYR03M

— The Waco Kid (@J_BirdRamsay) March 7, 2018