Quavo has most Top 10 hits this year, but he better not be getting any ideas…
Quavo, one-third of the hip-hop trio Migos, has the most Top 10 singles on the Billboard Hot 100 this year (And he's been stuntin' like crazy).
It all started with the ubiquitous Migos track "Bad and Boujee," followed by a litany of features that have dominated the charts. With appearances on DJ Khaled's "Im The One" (peaked at number 1 on the charts), Post Malone's "Congratulations" (peaked at 8), and Drake's "Portland" (peaked at 8), Quavo's unmistakable flow has been all over hip-hop and pop radio.
Quavo's final Top 10 appearance comes this week as "Strip That Down," a collaboration with UK singer Liam Payne, has found its way onto the American charts.
Quavo has become the de facto go-to dude for a feature, regardless of genre. If you look at the selection of songs that are charting, only one of them is an actual Migos song. This all shows the crossover appeal of Quavo, and the hip-hop genre itself, which has become the most popular style of music in America.
It's pretty hilarious that Liam Payne, a former member of British boy band One Direction, enlisted Quavo for his song. "Strip That Down" is not an overly good song if we're being honest, but shouts out to Quavo for getting all the checks.
Quavo is a pop star now and for Migos stans, myself included, that have watched the group's rise over the years it's a beautiful thing to see. But I just want to go on the record as saying that despite Quavo's crossover, Migos must stay together. In these times of natural disaster and political unrest, we need Migos now more than ever.
Sir Quavo, you can do your little pop features all you want, keep getting those One Direction and DJ Khaled checks, but the North Atlanta triptych of Quavo, Offset, and Takeoff must be protected at all costs.
None of those other pop features are as good as anything off Migos' album Culture.
For what it's worth, Offset has been doing a bunch of his own features too, although for artists like Gucci Mane and Kodak Black, not Liam Payne.
While it's very important that we preserve the Migos, our generation's Beatles, there is one solo Quavo venture that I'm down for. A petition started last month called for Quavo to remix the national anthem because it's 2017 and the Star Spangled Banner could use a little livening.
Quavo responded to the petition by saying he would love to remake the national anthem and make it an inclusive song for everyone to enjoy,
"There's a lot going behind the national anthem. I would love to do it, but I wanna do like a 2017 National anthem for both people & all races. Something thats representing now. Something that representing the modern day national anthem. So I think if I got with some good musicians and just write something that's very strong & powerful."
Sounds amazing to me.
Something tells me that "Strip That Down" won't be the last Quavo song to make it to the Top 10. Everyone wants to collaborate with this dude, he's a hitmaker.
Yesterday Quavo posted a picture of himself and Travis Scott with the caption "OTW."
Any Travis Scott and Quavo collaboration album will surely have a whole bunch of hits with two of the biggest artists in hip-hop right now.
But all that other stuff is just noise. We need more Migos music. That is when Quavo is best, alongside Takeoff and Offset.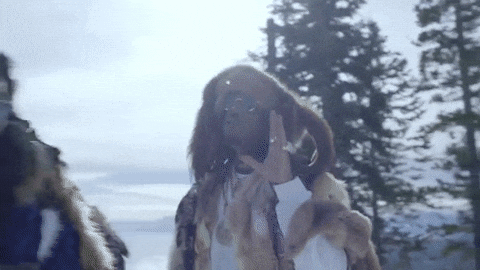 Features with One Direction guys are cool and all, but I think we can all agree we'd rather have Culture 2 than any more Quavo pop songs.