People are having work meetings on 'Red Dead Redemption 2' because f*ck Zoom
Are you tired of hopping on Zoom for these dumbass conference calls?
I mean, who really wants to put on a nice shirt and let all of your co-workers see your crib? Fortunately, there's a new solution everyone can get behind.
Rockstar's 2018 hit game Red Dead Redemption 2 is now the hot spot to take your work meetings during the 2020 pandemic.
According to Rock Paper Shotgun, one workplace has stopped using all of these other apps to brainstorm out in the wild west.
Now you don't have to worry about looking like a complete mess (especially for those morning meetings) and all you have to think about is keeping your character presentable for a work-video game setting.
Zoom sucks, we started having editorial meetings in Red Dead Redemption instead. It's nice to sit at the campfire and discuss projects, with the wolves howling out in the night

— Viviane Schwarz (@vivschwarz) May 16, 2020
Not gonna lie, this just sounds like a big excuse to play video games and I'm so widdit.
And we're not gonna act like everybody on the call didn't already have their Xbox One plugged in with this game on all day long. It sounds like everyone at this company just stopped lying to themselves.
According to employee Viviane Schwarz, the best part is after the meeting when everyone dips out on their horses to be an outlaw.
But wait, when is anyone doing work now?
A perk of this is that when you agree that the meeting is over you can all jump on your horses and do crime or justice, which is a lot less awkward than everyone smiling at the camera while they're trying to sign off

— Viviane Schwarz (@vivschwarz) May 16, 2020
One of the biggest problems they are having now, however, is people dipping mid-meeting to wild out in the game. But can you really blame them?
I mean, would you rather go out and hunt a legendary animal or talk about some decks or calendars and bullshit? It's a no-brainer.
Surely the Rockstar people never envisioned their game becoming a platform for companies to get work done. But now that they do, it would be smart of them to continue to integrate featured for this.
Just imagine of all businesses started doing this and getting into a gang fight with a rival company trying to take over your camp? That's corporate beef fr.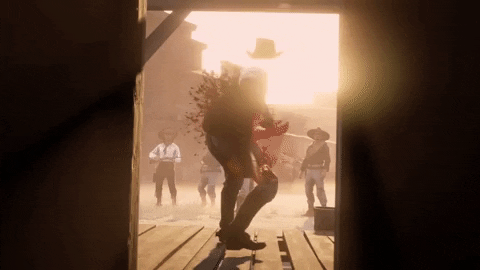 It's crazy how millions of people in this country lost their jobs because of this pandemic and the ones who still have theirs can play video games all day.
America!