Off the bench: Will the new Giants QB Danny Dimes be money?
Daniel Jones has been making moves since his rocky start in the NFL.
The clock hit triple zeros in the fourth quarter. The New England Patriots just defeated the New York Giants 35-14 on Thursday Night Football. The Patriots remained victorious through their first six games. Meanwhile, the Giants fell to a record of 2-4.
Rookie quarterback Daniel Jones on his way to the locker room stops. Even though he just lost his second game in a row, he couldn't help but be happy as he exchanged pleasantries with the G.O.A.T, Tom Brady.
For Jones, his career is just in its infancy. Nobody is going to raise an eyebrow if he was a little giddy about exchanging words with the great and ageless Tom Brady.
---
Welcome to New York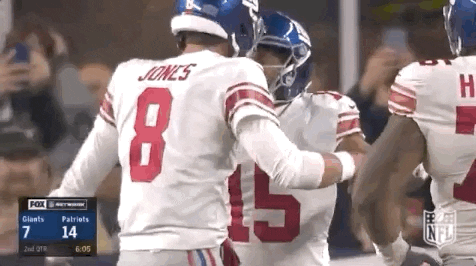 Jones was selected in this year's draft with the sixth overall pick by Giants. The dream moment Daniel Jones had worked towards his whole life– from his childhood in Charlotte to his Collegiate career at Duke– had finally arrived. For Giants fans, including yours truly, the moment felt more like a Jordan Peele nightmare.
I wondered if GM Dave Gettleman was well, was he mentally stable? Gettleman a few months before trading Odell Beckham Jr. to the Cleveland Browns basically said we just paid him $95 million in the summer and didn't pay him to trade him. Gettleman then proceeded to lose Landon Collins in free agency.
Drafting Daniel Jones in the first round as far as I was concerned was the third strike. Like many fans of the team, I wanted Gettleman out of the front office and put on Shutter Island. To Gettleman's credit, he stood firmly by his decision. Gettleman firmly believed that Jones was the best player available to him.
---
Bye Easy E! Hello Danny Dimes!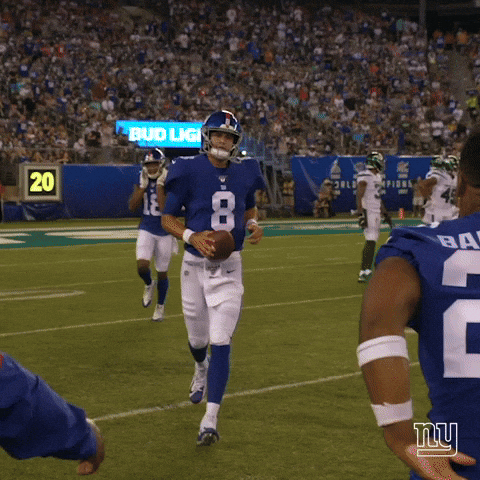 After an impressive pre-season, Daniel Jones looked like a guy who deserved to be drafted sixth overall. Many of the critics and I started to shut our mouths as we wondered; could he possibly be the starter now?
The Giants began their season with Eli Manning as the starting quarterback. The team played and lost the first two games. Eli Manning looked like a guy who would soon join his brother and father in retirement.
That's when head coach Pat Shurmur announced that Daniel Jones will be starting at quarterback on week three, against the Tampa Bay Buccaneers.
Flash forward to Thursday Night Football. Daniel Jones is now the successor to the two-time Superbowl MVP, Eli Manning. After four starts Jones is 2-2, but does his record as a starter tell the whole story!?
Here are the pros and cons Daniel Jones has shown us so far.
---
Pros
Daniel Jones' skills have surprised many Giants fans. Something Giants fans didn't see with Eli Manning is the ability to move and explode for big runs.
In four starts Daniel Jones has 15 run attempts for 86 yards and two touchdowns. He's averaging 5.7 yards per attempt. In 16 seasons with the Giants, Eli Manning has only averaged 1.8 yards.
Eli's best rushing season came in 2005 when he had 29 attempts for 80 yards in a season. Daniel Jones already has more than that in a four-game stretch and only needed half the attempts to get there.
It's unfair to both Manning and Jones to compare the two quarterbacks but it's impossible not to highlight these stats. In today's NFL, it's not only important but almost a necessity to have a mobile quarterback who can occasionally pick up a first down with his legs.
https://www.youtube.com/watch?v=2oB5pQH57Mo
But the thing that has Giants fans most excited about Jones is his accuracy. He's been on target with most of the passes to his receivers.
He puts the ball in places they can only make a play on it. Tight end Evan Engram said this to the New York Post about the rookie QB,
"He can put it on a line, he can put it on a rope that can come at you pretty quick when it has to, and then he definitely has a lot of touch and can put it to where only the receiver can get it."
When it comes to throwing deep balls downfield he is putting the ball in front of the receivers. Jones is placing the ball in between the receiver and the endzone.
The receiver never comes back to the ball which if they do would cause them to slow him down in their quest to the endzone. On those throws, only the receiver can make the catch and not a player in the defenses secondary.
https://youtu.be/XXp5XdfDbs0
On short or intermediate routes, he's hitting his receivers in stride and throwing perfect strikes despite defensive traffic.
https://youtu.be/2oB5pQH57Mo
Much like his predecessor, Jones has the respect of his teammates. Rusell Shepard told the New York Post,
"He's one of the goofiest guys on the team," Russell Shepard told The Post. "He kinda reminds me of 10 [Manning]. He knows how to be serious, but at the same time, he's [got] a very dry sense of humor."
Engram thinks the rookie is ready to take over the big stage that playing New York offers.
"You just don't see that nervousness or that timidness with him. I don't think it's gonna faze him at all".
---
Cons
Turnovers!
In the NFL when you have a quarterback that doesn't protect the football, that usually leads to a team not winning games. Daniel Jones currently has six interceptions and two lost fumbles. Eight turnovers in four starts.
If the rookie starts the rest of the season, he will be on pace for 28 turnovers. Eli only had 10 in his first 9 starts. He currently has more interceptions than touchdowns.
The turnovers might be a direct effect of Daniel Jones's next con. His pre-snap reads and decision making. Many times Jones will not recognize when a defense is coming with an all-out blitz. After he snaps the ball, he doesn't recognize where the pass rush is coming from because he is so focused downfield.
This has led to him being sacked 10 times in four starts. He's also been prone to not looking off defenders and making bad decisions down the field. There are a lot of balls that should have been intercepted but haven't because the defenders have dropped them.
---
Overall
When it comes down to it, a lot of Jones' cons will be corrected throughout the year as he gains experience. Giants fans should be patient, after all, he is only 22 years old.
There will be plenty of growing pains along with a lot of highlights, don't be quick to boo or praise him.
Only time will tell what Daniel Jones will end up being. One thing is for sure, the rookie quarterback has the fanbase that didn't want him in April, excited in October.
There is a new kind of energy and a fresh feeling of excitement to the Giants team that hasn't been seen in a while. If the fans of Big Blue are lucky, maybe in 20 years he will be shaking the hand of a rookie quarterback after a victory.
A rookie who doesn't know Tom Brady, but thinks of Jones as the G.O.A.T.