Obamas in negotiations with Netflix to produce series of shows, save us all
Former President Barack Obama, aka the greatest living American, is set to "produce a series of high-profile shows that will provide him a global platform after his departure from the White House," according to The New York Times.
The Obamas, who have kept a relatively low profile since leaving the White House last January, could see a Netflix deal as the ideal way to address issues of import to both Barack and Michelle.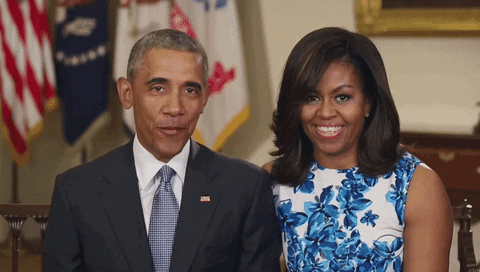 While The Times maintained that "Mr. Obama does not intend to use his Netflix shows to directly respond to President Trump or conservative critics," he could use the platform to continue to discuss the causes he championed while in office:
"In one possible show idea, Mr. Obama could moderate conversations on topics that dominated his presidency — health care, voting rights, immigration, foreign policy, climate change — and that have continued to divide a polarized American electorate during President Trump's time in office."
As for Michelle, she will also be involved, possibly producing a program on nutrition:
"Another program could feature Mrs. Obama on topics, like nutrition, that she championed in the White House. The former president and first lady could also lend their brand — and their endorsement — to documentaries or fictional programming on Netflix that align with their beliefs and values."
Eric Schultz, an adviser to Obama during his presidency, told The Times that the Obamas, who are each working on memoirs, are looking for ways to tell stories they're passionate about:
"President and Mrs. Obama have always believed in the power of storytelling to inspire. Throughout their lives, they have lifted up stories of people whose efforts to make a difference are quietly changing the world for the better. As they consider their future personal plans, they continue to explore new ways to help others tell and share their stories."
While the Obamas don't see any potential Netflix deal as a direct response to Trump and his various minions, Barack has spoken out about the spread of misinformation and the gap in narrative between the Fox News and Breitbarts of the world as opposed to an NPR or The New York Times.
In January, Obama told David Letterman as part of the former late night host's first Netflix program about the "different planets" of liberal and conservative media:
"If you watch Fox News, you are living on a different planet than you are if you are listening to NPR. If I watch Fox News, I wouldn't vote for me. I would watch it and say, 'Who is that guy?'"
Obama is just too diplomatic. But his point that liberal and conservative Americans are on "different planets" remains true. Americans' realities are completely shaped by the media they absorb, regardless of where they are on the political spectrum.
Hopefully Obama can come back and save us all. He's the hero we need right now.