NYC just got freakier: How a former Jehovah's witness started the 'Soho House of sex'
There's an exclusive sex club in NYC that allows millennials to get their freaks on judgment free. The crazy part — NSFW (New Society for Wellness) has been operating out of a townhouse in Williamsburg, BK for three years.
The members-only sex group was founded by Dylan Saynt back in 2015 and he probably would have never predicted that he would be leading the life he is now. Every day we stray further away from God's light (just kidding).
Saynt comes from a Jehova's Witness household. Yes, that same old religion that doesn't allow its patrons to celebrate birthdays and holidays, including Christmas.
Low key, Saynt was definitely that little kid getting pinched by his mom so he could stay awake in church. In fact, up until high school, he attended the house of worship with his family every Sunday.
His dissociation from the Jehova Witness religion probably came soon after he had his first homosexual experience at 13. The religion is known for its homophobic traditionalistic values.
A couple years after he would dip to Berkeley College in Manhattan against his parent's wishes for him to become a religious missionary. But it was while he was attending Berkeley, that Saynt metamorphosed into the beautiful sex butterfly he is today.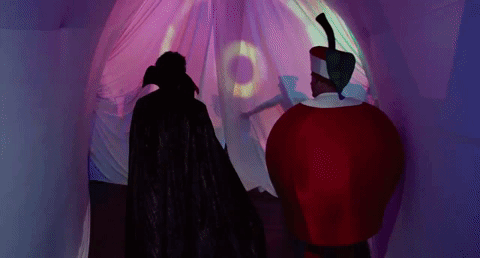 Away from his parents, he finally had the chance to experiment. He pulled up to sex parties and used Craigslist to hook up with men and women. Oh, the days before Tinder!
In a recent interview with the New York Post, he explained the troubles he had faced while growing up as a bisexual boy in a very religious household. Saynt said,
"It was very confusing and scary being in a faith that is so traditional in their approach to LGBT people, it really stuns you…" He continued, "Once I was away from home . . . I was able to be more of my own person…"
Before launching NSFW he would go on to work as a nightlife consultant, write fashion blogs and get married. A pretty happy ending but Saynt felt like he was not being true to himself and after six years of marriage, he would file for divorce after  "coming out" to his wife.
Still, the divorce would inspire his exclusive sex club and in 2015 Saynt would start accepting applications for NSFW. To date, 700 people have memberships, 300 people are on the waitlist, and there has been over 9,000 membership rejections.
Best believe it's not easy to get into NSFW and in order to be considered a member of Saynt's sex community you have to be young, socially accepted, and "hot."
Those who are already members of the "SoHo house of sex," as Saynt described his sex club in his NYP interview, enjoy BDSM, puppy play, sex classes, and promiscuous club events. All members have to pay is $96 to join and then drop up to $150 if they want to attend any exclusive sex parties.
The haters claim Saynt's parties are elitist, too selective, anti-feminist and racist as most members are models, actors, celebrities, and entrepreneurs. Still, he begs to differ. According to NSFW's code of conduct:
'NSFW is as much a private club as it is an experiment designed to challenge the norm. We embodying ideas inspired by love, freedom, new states of happiness and self-awareness. We aim to create an environment where playfulness is encouraged, free from judgment and societal restrictions. Everyone is treated equally.'
If you're looking for some stranger danger look no further.
Try your best and see if you're NSFW worthy. Who knows? You might just be nasty mother fucka they've been looking for.