#NoMoreCollabs2018: After mad joint albums in 2017, the trend needs to die
On every possibly level, from indie to major-labels and mixtape to singles, rap has seen it's most prolific year in collaborative albums.
While brilliant in theory — two rappers coming together is like a crossover episode of your two fav sitcoms or Vegeta and Goku fusing — they almost never pan out well.
Lately all these rap collab albums are super overrated and not that good to me

— LightSkinned Mamba (@TheTrollmarch) December 27, 2017
I'm over collab albums. The most anticipated collabs always end up being more underwhelming that over. I'm good on collab project for 2018

— Yung JeFe Just Pod'N💙🙏🏾 (@Just_JayyTee) December 25, 2017
https://twitter.com/cocainejordans/status/944241908041289729
The appeal of collab albums is surface level. They're almost never announced ahead of time, rarely do you see visuals for the projects and you'll be even luckier if the two artist go on tour and drop merch.
Earlier this year in May, five of the top 10 songs on the Billboard Hot 100 were rap songs for the first time ever, and in September,Vulture found that Spotify and Apple Music users streamed hip-hop and R&B tracks at nearly twice the rate as rock, it's nearest competitor (It's safe to say rock music is officially washed).
When you consider the attention span of today's consumer, their demand for content and how quickly they can attain it, why not keep your brand relevant by pairing with another artist who could mutually benefit?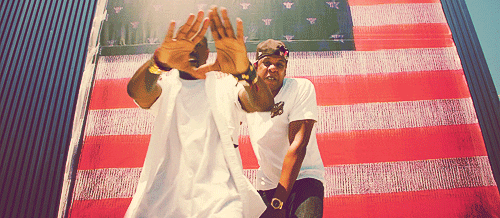 When the dust settles, out of the 13-plus collaborative projects that have come out this year, it's hard to say any will have any lasting qualities like Watch The Throne or What A Time To Be Alive. It's almost as if rappers suddenly saw that they could make the same amount of money using a lot less effort.
Metro Boomin clearly had something figured out.
This past November Forbes reported that the St. Louis native made up for 10 percent of the songs on the Billboard Hot 100 for the week of November 11 and debuted on the Billboard Top R&B/Hip-Hop chart on four different occasions throughout the year for his combined efforts with artists like Big Sean, Gucci, Nav, 21 Savage and more.
Future and Young Thug didn't do too badly either. Their October release, Super Slimey, did 75,000 units in its first week, making its debut at no. 2 on the Billboard 200.
Collab albums do well because the market is set up for them to do well.
Hip-hop and pop-culture is synonymous at this point meaning there are consumers across all kinds of demographics always in need of more content. In result, we're seeing artists find new ways to get their names on as much streamable music as possible.
If its wasn't Lil Wayne and T-Pain's T-Wayne, it's Chris Brown and Ray J's Burn My Name or Moneybagg Yo & NBA Youngboy's Fed Babys. Even Kodak and Plies found time to get together in Florida to drop F.E.M.A.
But not all collaborative albums had that thrown together feel this year.
Styles P & Talib Kweli's The Seven, Blu & Exile's In the Beginning: Before the Heavens, and Tee Grizzley & Lil Durk's Bloodas are just a couple of examples of tapes that have playback value (Fab and Jada's might've had the most classic collab of them all this year). But when everything on the radio is Metro or something inspired by Metro, quality work gets overlooked.
https://giphy.com/gifs/young-thug-gucci-mane-metro-boomin-eLmdIwfumYmxG
Whether artist are aware of it or not, consumers — aka the fans — are catching on to these quick-satisfying bodies of work. Indeed, they are exciting and we'll probably get a few club bangers out of them, but by large they were not made to last.
Coming from the era where major labels and executives always had control over features and cross branding, it's encouraging to see more artistic freedom.
But like those same labels we condemn for commercializing and trying to find quick success, artists who casually release these joint albums, with no true effort, are lying in that same bed of guilt.
As we enter 2017 I'm declaring no more more collab albums. I'm stuffed-full of how much that's out already — I got leftovers and then some!
Hip-hop has the worlds attention. Let us use it a tad more responsibly going forward.