Never limit yourself: What we can learn from Donald Glover's success
As of May 14th, 2018, Childish Gambino (aka Donald Glover) has officially dethroned Drake for the number one spot on the Billboard Hot 100 with his smash hit single, "This Is America," Gambino's first ever #1 single on the Hot 100.
In addition to "This Is America" being viewed over 120 million times (and counting) on YouTube since it debuted on May 6th, Donald's alter ego — Childish Gambino — has been strategically rolling out other works in the midst of his musical return.
May 5th through 14th has been an unprecedented run for the actor/musician/writer. Whether by design or not we'll never know, but what can be said for a fact, is that Glover has been inescapable on all fronts.
In a span of less than two weeks, "This Is America" became Glover's first career billboard number one, his show, Atlanta, aired its season finale, which happened to be the same night of the premiere of his Star Wars film, Solo, all while hosting SNL and premiering the video for "This Is America".
Donald Glover's #AtlantaFX season finale airing at the same time of his Star Wars #Solo premire where he plays Lando during the same week he hosted SNL and premiered his This Is America video. Crazy. pic.twitter.com/1WRAqqaK9a

— Matthew A. Cherry (@MatthewACherry) May 11, 2018
At first, I was offended. How dare Donald be good at so many things? I always thought we were to pick one skill set, get good at it, then retire. I never entertained the possibility of dabbling in all of my passions, let alone mastering them too. But that's because I gave myself those limits, which is something we all often do.
We all have different interests and desires in addition to our main areas of focus. Often times our day job isn't even what we want to do. For whatever reason, we dismiss the notion of juggling multiple jobs professionally and instead shelf our other talents as hobbies.
Every creative pulse that swells in us deserves attention. In each of us are talents waiting to be unlocked that, because we keep buried, never end up seeing the light of day.
I bet Donald Glover was apprehensive transitioning from the geek role on the show Community into hip-hop. The WWE is scripted, but Dwayne Johnson still had to have the confidence to believe in himself as a blockbuster Hollywood actor he is, and Kanye literally demanded respect from everyone in the fashion world.
When you look at athletes turned media analysts despite their lack of experience, actors turned directors and players turned coaches, it only suggests that we, too, have the ability to occupy more than one profession on a high level.
We're supposed to be multi-talented. The lesson from Donald Glover's success is that all of us have multiple skill sets, which only means there's even more of a demand for us to develop our perspective disciplines.
Have you ever jokingly suggested pursuing an ambition?
Laughing throw in a remark about doing standup, proclaim that you're going to put out a mixtape, or often daydream about a food blog you'd start? If yes, it's imperative we see those ambitions as certainties, not possibilities.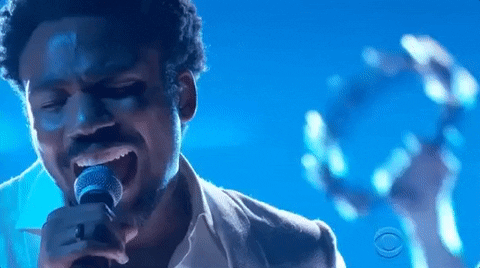 As long as we believe we deserve to be good at whatever we want to be good at and we have a realistic view of the work it'll take, then there's nothing that cannot be accomplished. We set our own limits.
You wouldn't believe the possibilities that come from having an open to what we're capable of accomplishing. With the endless amount of information at our disposal and a little intention, real results are tangible. We can truly do all we set our mind to do.
Donald Glover is supremely talented, there is no doubt about that. As is Jamie Foxx, Drake, and whoever else comes to mind when you list multitalented artist.
However, there the only difference between them and us is their belief they can actually pull it off.
A lot of us have the confidence to go after one profession we felt "called" to, but the game changes when we expand the scope of that calling.
Learn what it takes to make it in other fields as you do your primary one and watch how possible making a name for yourself will be.
Donald Glover's success is a marvel, but I believe there's some Donald in us all.