Fyre Festival was set to be the most luxurious and most exclusive tropical musical getaway. It wasn't.
Endorsed by the likes of Kendal Jenner, Hailey Baldwin, Emily Ratajkowski, Bella Hadid, and with rapper Ja Rule on board as a celebrity business partner to the music festival, evidently, expectations were high.
Scheduled to take place over two weekends starting in late April on a private island in the Bahamas, attendees spent thousands of dollars on the premise they would be flown in from Miami on a custom VIP configured Bowing 737, partying with superstars and sunbaking on idyllic white sand beaches.
Instead, when attendees arrived at the destination, they were greeted with a setup that looked more like a refugee camp than paradise.
People were left stranded, with little shelter and little food. But attendees were not the only ones to be screwed over. Employees of the festival, both local and abroad, spent months in preparation without receiving any compensation.
While the festival was pitched as a "transformative" experience, it was transformative for differing reasons. The organizer of the disastrous Fyre Festival was sentenced to 6 years behind bars and has been ordered to give over 26 million dollars for fraud.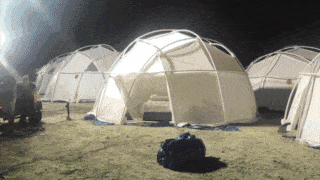 Netflix has announced Fyre, a new documentary about Fyre Festival. It's directed by Chris Smith (Jim & Andy: The Great Beyond) and produced by Vice Studios, Library Films, and Jerry Media.
According to Netflix, the new documentary "gives a first-hand look into the disastrous crash of Fyre as told by the organizers themselves." Fyre will be available on Netflix January 18, 2019.
Plus, with Hulu planning to run a docuseries about the Fyre Festival, there is some serious interest in learning about how one of the most talked about events became one of the biggest fails ever. Peep the trailer below.
Get your exclusive first look at FYRE — a revealing new doc about the insanity and rapid unraveling of Fyre Festival: the greatest party that never happened. Premieres January 18. #NetflixNewsWeek pic.twitter.com/B4iaR3UJwM

— See What's Next (@seewhatsnext) December 10, 2018