Need to save bread in 2020? Here are 6 affordable cities for creatives
Most creatives work from the comfort of their living room. Having the freedom to do what you love for a living is a true blessing.
However, income may not always be consistent if you're new to the game. You may also find yourself in an economic standstill if you haven't generated new content in a while.
If you live in New York City, you're basically paying $1500 a month to live in a refrigerator. Other towns, like Toomsboro, Georgia offer homes that equal the same amount of an NYC apartment.
We did our research and found some towns that will enhance your creative experience–in a bigger living room, for less. Check them out:
Toomsboro, GA
This new Georgia town is southeast of Atlanta and is "on the block" for what a luxury NYC apartment costs. Toomsboro has a restaurant, a syrup mill, a bank, and many other amenities. NBC New York reported potential property owners could help convert Toomsboro into a large music venue.
The town's pond includes RV connections that can make it into a camping spot, where guests can virtually feel like they're at Coachella.
The current town owners envision the town "in the hands of someone who appreciates its history and wants to preserve it." As a new town, maybe there may not be much to learn before buying.
---
Fort Collins, CO
If you love the outdoors, Fort Collins, Colorado is worth considering. The weather is great for skiing, hiking, rafting, and much more.
Just an hour's drive from the state's capital of Denver, Fort Collins simultaneously provides accessibility and an escape. You can snag a one-bedroom apartment here for about $962 per month.
If you're into trees (I would like to assume most creatives are), you already know Colorado is the place to be.
---
Philadelphia, PA

Philly, stand up!
Not only can you find a one-bedroom here for about $979 per month, but you can also freely embrace your creativity. Its Pen & Pencil Club is a legendary space where journalists gather to debate headlines.
You'll also come across a lot of street art to further influence your creative ideas.
---
New Orleans, LA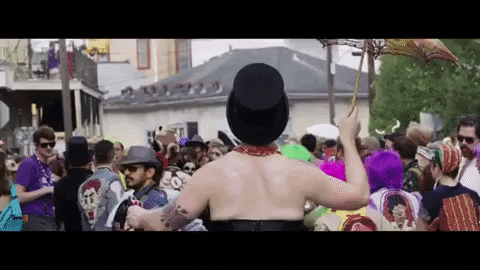 NOLA is known for its rich culture, and most importantly, Bourbon Street. Every year, tourists flock to the town to celebrate Mardi Gras.
Asides from the turn-up, NOLA has a lot to offer. You can snag a 1 BD apartment for less than $800 a month. The city's energetic vibe is more than likely to spark creativity.
---
Santa Fe, NM

Don't forget to bring your passport with you if you move to Santa Fe–the Mexican border is a few hours away via car. Santa Fe is known as the third-largest art market in the U.S.
Artspace reports Santa Fe is very welcoming to its creative community. It is also home to the Santa Fe Art Institute where you can apply for an artist residency and fellowships.
You can find a studio apartment starting at $800 per month in the area.
---
Cincinnati, OH

One-bedroom apartments starting at $570 a month?
Cincinnati may just be your next stop. The city is home to the Aronoff Center for the Arts, a performing arts center with three large performing spaces. The mid-sized city hosts the yearly Overture Awards, where creatives are scouted and awarded scholarships.
---
Seattle, WA

Seattle has a lot of diverse neighborhoods, which will make your search fun if you're considering moving here. If family is your priority, check out the town of North Admiral.
The town's home median purchase price is $551,173. For monthly rent, it's $1,087 for a home. If you're young and single, consider moving to Wedgwood.
The town is safer than 74% of Washington cities and has a $1,501 median monthly rent for a home. For buyers, it's around $543,192. Seattle is home to many places of inspiration, like creative studios.
---
Las Vegas, NV

If what happens in Vegas really stays there, then you should head on over. Las Vegas has more to offer than its casinos and bright lights.
It is home to the Contemporary Arts Center, located in the town's art district. If your passion is a craft, then you'll most likely attend their annual Harvest Festival Annual Art and Craft Show.
It is the largest indoor art craft show on the west coast. In Las Vegas' neighborhood, Beverly Green, you can snag an apartment for $804 per month. On The Strip, you'll be paying an average of $925 per apartment.
Due to the COVID-19 pandemic, moving may not be everyone's first priority right now, but it's worth planning for. Creatives: continue working at your craft, and seeking affordable opportunities to let your creative juices further flow.
---
If you're a creative of color we want to help submit for your chance to win $1000 below: