Lorene Scafaria's 'Hustlers' is the empowering flick we all need right now
Some of the biggest names in the industry– J Lo, Cardi B, Lizzo, Keke Palmer, Constance Wu ("Crazy Rich Asians") and Lili Reinhart (girl-next-door Betty Cooper in "Riverdale")– came together to make Hustlers, a movie about strippers who work together to scam slimy Wall Street guys.
It's like taking Martin Scorcese's Jordan Belfort from Wolf of Wall Street, but then replacing him with a whole pack of wolves. Still, unlike Wolf, the film was helmed by a woman, Lorene Scafaria, which makes it that much more empowering.
Not only do we get female solidarity, but body positivity: the stars' bodies, rather than being ogled by a male director (think Quentin Tarantino or Michael Bay), are instead celebrated by a woman.
Hustlers premiered at the TIFF festival less than a week ago and hits theaters this Friday. But already, critics are dubbing it the "female Goodfellas" and clamoring for an Oscar nom for J Lo, who at 50 is putting in career-best work and doing insane pole-dancing moves.
Not to mention, Hustlers creamed the box office with a $34 million debut.
The movie is based on a 2015 New Yorker article "The Hustlers at Scores" by Jessica Pressler, and the actresses are playing versions of real people. Wu's "Destiny" is based on the article's Rosie Keo, a young stripper with immense business savvy while J Lo's "Ramona" is Samantha Barbash, in her 30's when she met Rosie and known for taking younger strippers under her wing at Hustler's.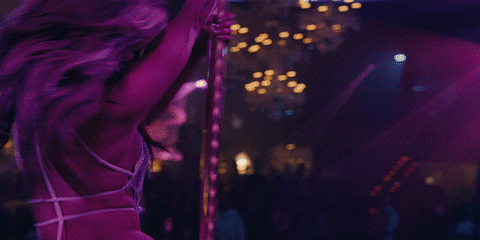 Rosie got in on Samantha's scheme, which involved calling up Hustler's clients, mainly married men, bringing them to a room and drugging them– just a dash of molly and ketamine in their drinks– to get them to rack up tabs of tens of thousands of dollars.
They justified their actions by asserting that this money was nothing to these guys, that they were bad dudes taking advantage of these women. It was a way to claim power, to turn the tables.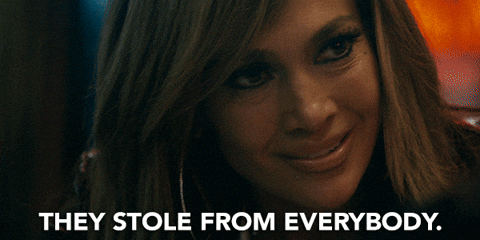 Cardi B used similar queasy methods. In a video in which she reflected on her days as a stripper, the rapper admitted to drugging and stealing from her clients. In the ensuing backlash, she defended herself, saying it was out of a need to survive.
Out of all the actresses in the film, Cardi was the only with a real stripper past. Sheesh, one can only wonder what it felt like for her to step back into that role after clawing her way out of that world.
Spoiler Alert
Anyway, the finesse operation proved to be unstable; Samantha and Rosie's relationship soured and things eventually spiraled out of control. After doctor Zyad Younan reported a $135,000 bill over four nights at Hustler's, the girls were arrested, charged with forgery, conspiracy, grand larceny, and assault.
But despite the fallout and felony charges, Rosie's fierce feelings of female solidarity remained. In the article, when asked if her employers put her up to the scheme, Rosie scoffed. No one put them up to anything, she tells Pressler:
"We are strong women who don't take shit from nobody."
Cheers to that.