Lessons from Nipsey: Don't run from change, be the change
Eleven years ago, Nipsey Hussle told us about The Marathon on the track "Keys 2 The City."  So for his first studio album, Victory Lap, it was only right of him to let us know that he still possesses the keys.
Way before the release of his debut album, Nip was ballin' as an independent artist. After being passed over by Dr. Dre, Def Jam, and Capital Atlantic, Hussle founded All Money In Records and, as he would say, the marathon continued.
Never tripping, Neighborhood Nip remained focused. Keeping his vision alive against all odds, he found himself becoming the voice of the new west coast.
With his back against the wall, Nipsey Hussle persisted on exclaiming his truths in his raps. As the years passed, the rhetoric of which Nip speaks in his raps continued to capture the hearts of listeners around the world.
Combine that with his unprecedented business acumen, it was only a matter of time until his underground success would crossover to a mainstream takeover.
Nevertheless, for Nip Hussle Tha Great, "Keyz 2 The City 2" was a statement to the city of Los Angeles. During an interview with NPR, Nipsey said,
"Everybody's celebrating what they feel is an accolade. And to me, if we want to be straight-forward, what we did in our community and what we did internally as gang members from my section, the Rollin' 60s, that's the blueprint. So every other gang in L.A. — and it's not disrespect — follow the blueprint. Link up with your team, build businesses, build enterprise, create additions for your young people to come up underneath. That's the bragging right."
Nipsey Hussle has been through the fire. After surviving shootouts, jail time, and growing up in a war zone, Nip went legit when he decided to go the music route.
Once that choice was made, he transformed what gang culture stands for in Los Angeles. Rebuilding the community, while providing a safe environment for people to live in is the new standard that the Rollin' 60's set for L.A. gang culture.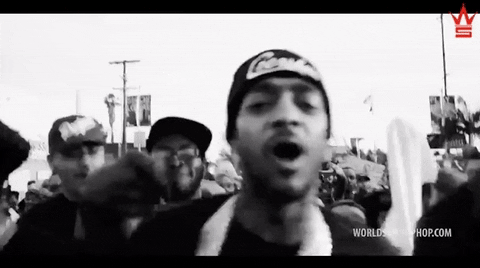 History tends to repeat itself. Nevertheless, your past doesn't define you. It's a learning tool. If you learn from your past struggles, it will motivate you to change for the better.
Once others notice your growth, they will cling to your campaign. The world is a reflection of you. Be the change that you want to see.
More Lessons from Nipsey
Lessons from Nipsey: When you're headed for greatness, everybody can't go
Lessons from Nipsey: How to stay in your own lane while bossing up
Lessons from Nipsey: Being self-made means never making any excuses
Lessons from Nipsey: You need to face adversity to create breakthroughs
Lessons from Nipsey: How long should you stay dedicated to the grind?
Lessons from Nipsey: Not everyone can walk a day in your shoes
Lessons from Nipsey: The power of knowing what you're hustling for