LeBron tied Jordan in games played, so how do they stack up against each other?
It's interesting to see how talk of the NBA's greatest player of all-time (or G.O.A.T.) has progressed and eventually changed over time.
For the longest, well, at least as far as I can remember, barbershop talk and lunchroom debates always held Jordan and Kobe as the two finalists for the GOAT. The turn-around fade, relentless work ethic, and the ring quest made the two more comparable than anyone else. Jordan himself said that Kobe stole all his moves. Who else could we name as a better successor?
At least that was the sentiment before LeBron came along.
Between going to seven straight finals, single handedly defeating the NBA's most winning regular season team, and breaking the championship drought in Cleveland, it's understandable why people are more curious to see how LeBron, not Kobe, stacks up against Jordan.
I mean, last week against the Washington Wizards, LeBron — who is in his 15th season, by the way — put up 57 and 11 IN HIS 15th SEASON!  That kind of consistency, on top of constantly breaking records, demanded that the conversation for GOAT change.
The conversation that was re-opened last night when a win over the Milwaukee Bucks marked the 1,072 game of James' career; the same number of games that Jordan played.
It makes sense: games played provides a sample size long enough where we can see, on paper, how the two legends stack up. And best believe everyone was aware of it.
.@KingJames has now played the same number of games that Michael Jordan played in his career. pic.twitter.com/DnL3qXVIYH

— NBA TV (@NBATV) November 8, 2017
Lebron, who is 33 years old, has already bypassed Jordan in rebounds, assists, and games won and still has a good chance of surpassing Jordan in the categories he currently trails (Jordan retired at 39).
And although LeBron entered the NBA straight out of high school and Jordan took a year off, you can't get mad at Bron's ability to stay healthy and dominate for all these years.
Yet, on the other side of the argument Jordan purists will claim that, even still, MJ has a formidable lead in MVPs, rings, and almost every other hardware category. LeBron may break all of Jordan's records, but will he ever be as successful and impactful as Jordan, who had two separate three-peats and went 6-0 in the finals?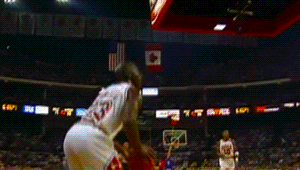 In my mind, the fact that Jordan, someone who is a decade removed from the league, who played in a completely different era, is still able to have stats that stand against the test of time, makes him the GOAT.
Jordan is still being chased. It may be by a 6'8″, 235 lb. once in a lifetime athletic specimen, but LBJ hasn't closed the ground quite yet. Until that day, it'll be fun to discuss.