LeBron apparently considering joining Warriors, would realistically be kinda chill
Last night, ESPN's Chris Haynes published a story reporting that LeBron James would entertain the prospect of joining the Golden State Warriors in free agency this summer.
Haynes wrote that LeBron has "respect" for the culture that the Warriors have implemented in recent years,
"Out of respect for the Warriors' winning culture, James would listen if Golden State explored ways to clear the necessary cap space, sources said."
But as the Warriors currently have the highest payroll in the league at $135 million, they would have to seriously adjust some contracts in order to bring on LeBron.
https://giphy.com/gifs/lebron-curry-denies-iMbYyauTYLi3m
As of now, according to Haynes, the Warriors have shown no signs of changing their wage structure to account for LeBron.
"There is no indication that Golden State is evaluating such options to acquire the Cleveland Cavaliers star at this time."
All of this points to the fact that the relationship between the Cavs and LeBron is rapidly deteriorating. The Cavs have struggled of late with Isaiah Thomas yet to reach the levels of last season, a roster of aging veterans, the worst defense in the league, and a recent hand injury to Kevin Love that will see him sidelined for an extended period.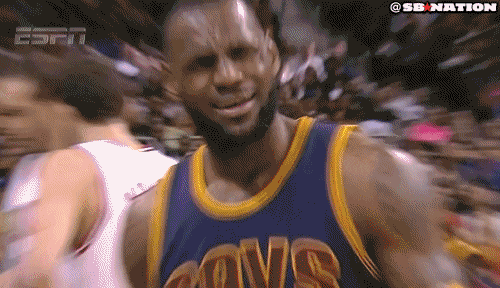 LeBron is reportedly unhappy with the Cavs front office's inability to bring in a reputable second scorer like Paul George or Eric Bledsoe last summer. It's clear that Cleveland has suffered from the departure of former General Manager David Griffin as the roster is currently an unbalanced mess of big names that don't actually fit together.
Haynes wrote that Warriors ownership is a main draw for LeBron. The Warriors have fostered a culture that has become the envy of the league and James clearly notices what's going on, especially compared to the current mess in the Cavs front office and ownership.
"James' distant relationship with Cavs owner Dan Gilbert is well-chronicled, and the instability in Cleveland's front office has been of concern to him, but the Warriors' strong organizational structure and the prospect of more championships would be an enticement that most veteran players would consider."
Regardless, this is still all extremely unlikely. The Warriors would most likely have to part with Klay Thompson, Kevin Durant would have to take a paycut, not to mention the Warriors would have to adjust to having three of the best five players in the league (to say the least) in their starting 5.
As for how the deal would possibly work, Haynes broke down the prospective sign-and-trade.
"A sign-and-trade scenario would be the most realistic way for Golden State to acquire James. The Warriors could build an offer around Klay Thompson and Andre Iguodala to match salary and tempt the Cavaliers into making a deal, according to ESPN's Kevin Pelton."
This would basically end the NBA as we know it. It would also be pretty cool to see LeBron, Steph, and KD balling together, obviously not from a parity perspective, but it would be quite the spectacle.
Naturally, Basketball Twitter had some fun with the rumor.
Lebron joining the Warriors is crazy, right up until you realize he's addicted to the vino and would be closer to wine country (and that he always takes the easy way out)

— Big Cat (@BarstoolBigCat) February 1, 2018
https://twitter.com/World_Wide_Wob/status/958976864013508610
Only fair trade if LeBron accepted lol pic.twitter.com/Im1O2zlIBj

— Tate Frazier (@tatefrazier) February 1, 2018
— LOLKNBR (@LOLKNBR) February 1, 2018
Bron goes to GS. Ends his career w/7 rings. Forcing MJ stans to fall back on a "Nah you have to take rings into context. A lot factors into championships" defense of his legacy. WHICH IS WHAT REASONABLE PEOPLE HAVE BEEN SAYING THE WHOLE DAMN TIME.

That shit would be delicious

— 🦦✨America Is Musty✨🦦 (@DragonflyJonez) February 1, 2018
The NBA is never short of storylines. Best league in the world.