The second week of the Chicago Bulls/Michael Jordan The Last Dance doc gave us an absurd amount of delicious content.
Episodes three and four carried over with energy and determination from the opening two, now shedding a light on the enigmatic Dennis Rodman, Bad Boy Detroit Pistons, and Jordan and the Bulls' pursuit of defeating their hated rivals.
JERRY ! pic.twitter.com/sgf32DNMEd

— Rob Perez (@WorldWideWob) April 27, 2020
There is no love lost between Isiah Thomas and Michael Jordan, and I'm sure that hatred carries over to large parts of the rest of those squads. Except for Rodman, a Piston when they won their two championships in '89 and '90, shifted over to the Bulls in the second half of the '90s.
Pippen and Jordan knew he could help them win, and their once hated rival became one of the hallmarks of one of the greatest teams of all time. We also got a glimpse into Phil Jackson's hiring as head coach, his zen practices, and the triangle system. Oh, and Jerry Krause got some redemption after last week.
This doc is special, shoutout, Jason Hehir. And we get 10 episodes of this stupendous '90s content. In the absence of live sports, we really could not have asked for anything better.
Now let's dive into the hottest moments from Sunday night.
---
Bad Boys Pistons
The vitriol between the Bulls and the Pistons, Isiah Thomas and Michael Jordan is well found. Allegedly in the 1985 NBA All-Star game, Thomas led a freezeout of Jordan, conniving to not allow Jordan to get the ball.
Then the Pistons soundly defeated the Bulls in '88, '89, and '90. When the Bulls finally got over the hump in '91, the Pistons walked off the court after being swept without letting time run out and without shaking the Bulls' players hands.
Did Isiah have a point? 3-time champ with the Chicago Bulls @bjarmstrong gave an interesting perspective on the Pistons' decision to walk-off when he appeared on the Post-Dance on Facebook with @SarahSpain and me.

Link to full show: https://t.co/96hwOI1eAJ pic.twitter.com/ALUz1tC4z4

— Cassidy Hubbarth (@CassidyHubbarth) April 27, 2020
Every historic great has one player or one team they need to get through before they can finally get to the top. Often it is a tireless struggle, and requires the greatest resolve that team or player will show in their entire career.
The Pistons got through the dynastic Larry-Bird-led Celtics, and were on top for two years (really three, if you just consider the East).
Jordan's mountaintop to climb was the Pistons team that brutally beat-up on him for years. "The Jordan rule," as they called it, was a set design of defensive plays to keep Jordan in check, often encouraging defenders to smack Jordan around as soon as he got into the paint.
The Pistons were such a fascinating team. The NBA had just seen a rebirth, with the '80s Celtics and Lakers, Bird vs. Magic, with all the racial undertones and beauty of both different players' skillsets abound.
Jordan crept into the league in the mid-80s, and the blueprint for the NBA was for Bird and Magic to hand over the keys to Michael.
I like how the the doc skips over the Pistons absolute annihilation of the Bulls in '88 😂

— Isaac (@WorldofIsaac) April 27, 2020

But here comes this pesky team from Detroit. They defeated the Celtics; they defeated the Lakers; they defeated the young Bulls. They weren't the sexy LA team, nor the beloved, crafty Boston squad. They were an outcast popping into the NBA's elite fraternity.
"When we showed up, it was almost like we were crashing the party," says Thomas.
Led by head coach Chuck Daly, the team was menacing in its size and physicality. Isiah Thomas was the star and floor general, Joe Dumars was his number two and a great defender. And then there was Dennis Rodman, Bill Laimbeer, Rick Mahorn manning the middle and establishing a physical presence to punish teams.
Isiah was left off the 1992 Dream Team, allegedly because Jordan said he would not join if IT was on it. The most historic team of all time was missing one of the greats in his near-prime.
IT made comments in the doc that he regretted his action of not shaking Jordan and the Bulls' hands, but Jordan doesn't believe his words are authentic.
Isaiah Thomas: "If I'm not apart of the Dream Team because of a lapse in emotion in terms of not shaking someone's hand, if that's the reason why I didn't make the Dream Team, then I am more disappointed today than I was back then when I wasn't selected." pic.twitter.com/5QQk3kmX0g

— Arash Markazi (@ArashMarkazi) April 27, 2020
"That hate carries over even to this day," says Jordan in the doc.
i'll watch hours of jordan watching isiah thomas interviews pic.twitter.com/I1TgqTM5ew

— whitney medworth (@its_whitney) April 27, 2020
The Bulls had to defeat the Pistons to become champions. Once they got to the finals in '91 and faced a depleted Lakers team, the chip was almost a formality. Getting over the hump of the "Bad Boys" was the real test, and the Bulls swept them.
Still, it is delightful to see old footage of the Pistons/Bulls matchup, and understand in context what that Detroit team was all about. They crashed the party, and defeated three of the best teams of all time. Embracing the "Bad Boys" name was the best thing they could have ever done.
---
---
Phil Jackson and his "interesting" methods
From '86 to '89, Doug Collins was the head coach of the Chicago Bulls. At this time, Jordan was on the rise, becoming a clear top-3, and then the top-1 player in the game.
Pippin was on his way up, and the Bulls were rounding out into a championship-caliber team with the help of Horace Grant, B.J. Armstrong, John Paxson, and others. Doug Collins, rocking an '80s mullet and dripping with an intensity that Jordan gravitated towards, was taking the Bulls to the next level.
That level was just not far enough.
Tex Winter, an assistant coach for the Bulls at the time, came up with the triangle offense, that has since been made famous by Phil Jackson's tenure with the Bulls and Lakers. Winter desperately tried to get Collins to adopt the system, but Collins liked drawing up plays and letting Michael go to work instead.
"I wasn't a Phil Jackson fan when he first came in. He wanted to take the ball out of my hands. Doug Collins put the ball in my hands." – Michael Jordan on the Bulls hiring the Zen Master. #TheLastDance 

— Ballislife.com (@Ballislife) April 27, 2020
The triangle would mean less of the ball in Michael's hands, less scoring titles, and individual accolades. But team success was missing, and Michael was willing to listen to a new method. Unfortunately, Collins wasn't.
Jerry Krause, the GM who was picked on a lot last week in the doc, brought everything to fruition. He identified Jackson as a heightened basketball mind, and as Winters was being ostracized by Collins, and the Bulls were fresh off a conference finals appearance in '89, Krause pulled the plug.
Collins was out, and Jackson was in.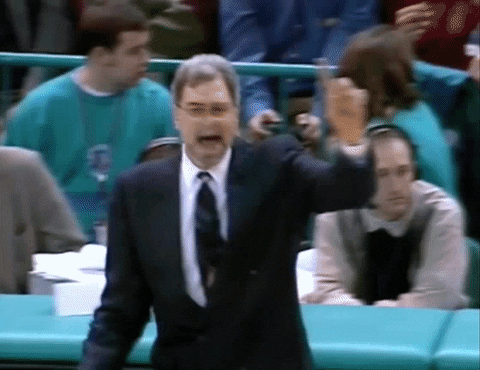 Jackson had been listening intently to Winters and about the triangle system. Once he was in, they implemented it, and that is finally when Scottie Pippen bloomed.
Pippen became the point-forward that LeBron James has optimized today. The triangle allowed him to get to his spots and work, create, score. Pippen became a top-5 player in the league, and the Bulls 3-peated in '91, '92, and '93.
are we sure Phil Jackson isn't just three kids stacked on top of each other? pic.twitter.com/9geAm0Q4P0

— Seerat Sohi (@seeratsohi) April 27, 2020
Jackson grew up in Montana and gravitated towards many Native American practices. With his first head coaching job with the Bulls, he utilized yoga, and breathing and other exercises to keep his players focused on the task at hand.
Jackson, an 11-time champ as a head coach, along with two chips as a Knick, is one of the greatest winners of all time.
---
Dennis Rodman's arrival
Rodman was drafted by Detroit in '86 as the 27th overall pick (then the second round). The Pistons noted how he was a calm, straight-laced man at that time. Oh, how things would change.
One of the greatest pictures ever pic.twitter.com/m6gmbk5MkB

— That's me and Nick Foles in my avi (@FlowsAndolini) April 27, 2020
Rodman first came off the bench for a blossoming Detroit team. They were big, they were physical, and Rodman's energy accentuated the team perfectly. He won two chips with the team, but his off-court activities and unpredictability turned a lot of teams off.
Chicago took a chance on him in '95, mainly because the locker room was set with Jordan and Pippen, and man did it pay off. Rodman was one of the best defenders in the league and probably the best rebounder in the NBA at only 6'7".
Crazy. Dennis. Rodman. Games.

0 PTS – 28 REBOUNDS
0 PTS – 25 REBOUNDS
0 PTS – 24 REBOUNDS
10 PTS – 10 AST – 21 REBOUNDS pic.twitter.com/HhtbarLsRv

— MJs GOAT (@MjsGoat) April 27, 2020
He was vital to the Bulls, so vital that, as the doc shows, Jackson and the Bulls let Rodman go to Vegas for a brief trip during the '97/'98 season, and had to drag him out of a hotel room with Carmen Electra for him to return.
His Airness Michael Jordan flew all the way to Vegas to retrieve Rodman.
if you ever question how good Rodman was at basketball just remember he had MICHAEL JORDAN running around Las Vegas looking for him like a scene from The Hangover.

— Rob Perez (@WorldWideWob) April 27, 2020
Rodman partied hard, and then played hard. When he was in something, he was all in. Under Pippen and Jordan's example, Rodman was a consummate professional with the Bulls.
If he didn't join that team and lead them to their second three-peat, who knows what would have come of him. One thing is for sure though; we will never see another player like Rodman again.
Rodman's got 5 rings and I don't think anyone has a better resumé of dudes they ran thru for their rings than Rodman. Bird & McHale, MJ & Pip, Magic & Kareem, Clyde's Blazers, Ewing's Knicks, Reggie's Pacers, Shaq and Penny, Kemp and GP, Stockton & Malone

— Aye throw that Boyz II Men on (@DragonflyJonez) April 27, 2020
This doc is special in so many senses. We take a trip down memory lane, and the nostalgia smacks like a distant smell we haven't experienced since our childhood. The cars, the fashion, the lingo that was spoken in the '80s and '90s; it is all so great to see.
This week we got more knowledge on Rodman, Jackson, and redemption for Jerry Krause. He really was the architect for the Bulls dynasty, and who knows if we would have the Kobe/Shaq dynasty either, without him pushing the buttons and getting Winter and Jackson to collaborate.
Oh, also the soundtrack of this doc is so hot. Jason Hehir is on one right now for his work in this iconic documentary. Best believe we're going to tune in this Sunday for the next round.
Thank you, friends.https://t.co/N5n0QwrzZC https://t.co/RROFkvATiA

— Rachel Nichols (@Rachel__Nichols) April 27, 2020