Kyrie Irving says Boston is 'real sports city,' takes veiled shots at Cleveland
Mmm, NBA drama.
Kyrie Irving spilled all the tea while talking about settling into his new city of Boston and comparing it to Cleveland.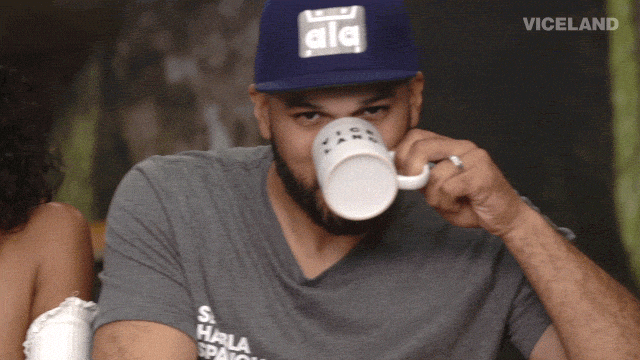 Irving, who went to high school in New Jersey and whose dad Drederick played for Boston University, told the Boston Globe during shootaround yesterday,
"It's exciting to be back on the East Coast. It's fast-paced. A lot of different cultures, food, and people. You get it all, especially in Boston. I was talking to my best friend the other day: It's a really major city."
That's legit, Kyrie is an East Coast dude and Boston has that energy, especially when it comes to sports. But the real juice in these quotes is what Kyrie had to say about Cleveland. It wasn't the most complimentary thing ever. Irving said of Cleveland,
"Coming from Cleveland, the Midwest, where the culture is different. And then you move to the East Coast — into Boston — and it's so real [and] alive. An ongoing, thriving city. Consistently. No matter what hour throughout the night."
First off, relax Kyrie stop going to the club.
But Irving pointed out that the Midwest and the East Coast are very different and that Boston is a 'real, live sports city,'
"You would go to Cleveland, and it would be at nighttime, and things would be going on, but you just see a vast difference in terms of what the Midwest is — Cleveland — and what Boston is. Boston, I'm driving in and [thinking], 'I'm really playing in a real, live sports city?' And a great city."
I'm sure Cleveland fans will take this right in stride and not take offense to Kyrie's comments whatsoever!
Realistically, this is hilarious. Kyrie didn't really say anything all that bad, but surely this will turn into a whole thing because everyone feeds off drama in the NBA. LeBron will probably say some petty shit (remember when he decided to leave Cleveland for South Beach?) and Kyrie will be (even more) vilified in Cleveland.
All of this just adds extra fuel to the fire of the budding Celtics Cavaliers rivalry, which is about to be electric as fuck this season.
Especially after Isaiah Thomas, who was traded for Irving, said that he will never forgive Boston GM Danny Ainge for what he did. Thomas told Sports Illustrated,
"Boston is going to be all love. I might not ever talk to Danny again. That might not happen. I'll talk to everybody else. But what he did, knowing everything I went through, you don't do that, bro. That's not right. I'm not saying eff you. But every team in this situation comes out a year or two later and says, 'We made a mistake.' That's what they'll say, too."
As I've said before, seeing Thomas in a Cavs uniform is gonna suck. But Kyrie Irving, along with Gordon Hayward, brings a whole new dimension to this Celtics team.
MANS NOT HOT.
OKAY THEN @KyrieIrving!!! https://t.co/CNmIgACItd

— Boston Celtics (@celtics) October 12, 2017
Peep the ball movement.
Beautiful ball movement leads to a @jaytatum0 triple 👌 https://t.co/YVYfiLAX3P

— Boston Celtics (@celtics) October 11, 2017
Oh boy, I am excited to watch this Celtics team. The Celtics and Cavs will kick off the NBA season next Tuesday and there will be so much damn narrative.
Tuesday can't come soon enough.