Kyle Kuzma trade talks are in the air: Is his lack of focus to blame?
After a promising rookie season and then sophomore campaign where he often played second fiddle to LeBron James, in his third year Kyle Kuzma aka Kuz finds himself in a small state of uncertainty.
Kuzma is a talented on-ball scorer, cutter, and has shown the ability to shoot well from the outside and defend at a high level when called upon. Taken with the No. 27 pick of the 2017 Draft by the Los Angeles Lakers, Kuzma has been just about everything the Lakers could have asked for.
Better yet, he is cool with LeBron James and has a great relationship with owner Jeanie Buss (the ultimate shot-caller).
Dwight block ➡️ Bron dime ➡️ Kuzma and-1 pic.twitter.com/gN7HLf6QVk

— Bleacher Report (@BleacherReport) January 6, 2020
Yet while Kuzma's skill set fits well with the Lakers and the team's superstars James and Anthony Davis, the holes in the Lakers squad beg for a different kind of skill set.
While a good-shooting, slashing, tall forward is great for the team, a guard who can get to the basket and an elite wing defender are both more of a necessity. This has led to the Lakers reportedly becoming willing to include Kuzma in trade talks.
Lakers are "listening" to offers for Kyle Kuzma, per @sam_amick

GM Rob Pelinka is expected to be reluctant to move the 24-year-old. pic.twitter.com/SdX5J7eGRL

— Bleacher Report NBA (@BR_NBA) January 5, 2020
This season, Kuzma has been wildly inconsistent.
While much of this can be attributed to his ankle injury keeping him out of the preseason, and needing some time to get his legs under him, Kuzma's play is inconsistent in general.
For his rookie year, Kuzma put up 16.1 points per game on 45 percent shooting and 37 percent shooting from three. Last year, Kuzma scored 18.7 points per game on 46 percent shooting and 30 percent from three.
This year, Kuzma is scoring 11.8 points per game on 42 percent shooting and 35 percent from three. Last night in a win over the Pistons, Kuz scored four points on two for eight shooting.
As the third option of a championship-contending team, that is just not going to cut it.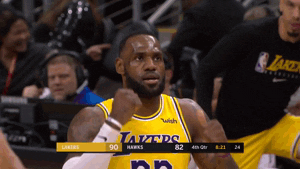 His indecisiveness game-to-game is frustrating. There will be nights where he struggles, and next to two dominating forces like James and AD it can be hard to find a rhythm. Still, there will be nights where Kuz needs to play big if the Lakers want to win it all, and so far he has not shown the world that he is a lock to do so.
All of the question marks surrounding Kuzma's status with the team were further compounded when Kuzma's trainer went on social media and called out Lebron James' lack of work ethic.
The comments came out of nowhere, and James and Kuz were forced to address the comments to the media.
Kuzma's trainer really a Bron hater. pic.twitter.com/LkCi8q9auS

— Legendary Lakers (@LegendaryLakers) December 27, 2019
Are LeBron and Kyle Kuzma good? In the wake of social media posts from Kuzma's trainer, I asked LeBron. He said they've talked about it. pic.twitter.com/dMZil6iguc

— Tania Ganguli (@taniaganguli) December 28, 2019
"Anytime someone wants to get some notoriety, they can throw my name in and people are gonna pick it up," said James.
Kuzma spoke to ESPN's Dave McMenamin about his trainer's comments, saying he told James he "can't control what another man says."
Kuz also added, "Obviously I don't feel that way. Everybody knows… me and Bron have a great relationship. And I left it at that." To be honest, it is not Kuzma's fault his trainer has a big mouth.
The Lakers star surely wants to stay on a championship-contending team and live in LA. Kuzma is a talent, but it is not crazy to say that a large chunk of his popularity comes from the fact that he plays for the Lakers.
His five-year, $20 million deal with Puma is at least in-some-part related to the franchise he plays for and the notoriety that it comes with.
Here's the moment a Lakers fan yelled "Will the real slim shady please stand up at" while Kyle Kuzma was at the free throw real line (first half is Blazers broadcast, second half Lakers broadcast/ Kuz's reaction) https://t.co/gfCYNCFFJe pic.twitter.com/j7uHHNLXu0

— Gifdsports (@gifdsports) January 2, 2020
Kuzma is on his rookie deal, and so is making less than $2 million a year. That makes it incredibly difficult for the Lakers to move him and get back equal value, along with the fact that any other contract the Lakers could pair with Kuzma would be from a player with which they do not wish to part ways.
There have been whispers of Kuz being traded since his rookie year, so he should know how to handle it and not let it affect his game. Becoming more of a consistent player and scorer should be his complete focus right now.
After all, most of what the Lakers need out of him is scoring the ball with the second unit, a role he has not yet shown he can do night-in, night-out.
The Lakers have legitimate title aspirations; in fact, they are many respected people's pick to win it all. This fact should not scare Kuzma, only excite him. As Thanos says,
"Dread it. Run from it. Destiny arrives all the same."
Don't be afraid to be a high-volume, aggressive scorer, Kuzzy, lean into it. You have the capabilities to put this team over the top, you just have to show the world you can consistently do it.
View this post on Instagram