A new year has dawned upon us and as we attempt to accomplish our goals in 2018, it's important that we take that big shot on our dreams, even if it is a fadeaway jumper.
People will call you crazy and they will tell you to keep your day job, but fuck that. All the haters can go to hell with their negativity.
In order for you to succeed in turning your wildest dreams into reality, a new kind of mindset is needed within your inner most self — a Kanye-level type of cockiness.
In recent Twitter posts, hip-hop producer 9th Wonder reflected on the days when he first met Kanye West back in the summer of 2003.
The posts detailed the struggles the Life of Pablo artist faced before his glow-up. This includes his hit songs, "Work Out Plan", "Jesus Walks", and "SpaceShips" getting turned down by several labels. He also reveals Kanye was boo'd on stage as a young artist.
After we cut the song….Kanye played us a few songs from the album that at the time….several labels had turned down…including his own…the songs he played us was "Work Out Plan", "Jesus Walks", "SpaceShips", and a song he produced for Dilated Peoples.

— 9th Wonder (@9thwonder) December 31, 2017
He came through with some dudes, one of them you all know now as Don C…to get the show done. He looks at me and says "man can I show y'all a video?" He reaches in his bag and pulls out a VHS tape with "Through The Wire" written on it.

— 9th Wonder (@9thwonder) December 31, 2017
We all thought it was dope, but again, Kanye went on and on about how BET was slow to play it…because they didn't get it. I played a few beats from my computer while him and Phonte freestyled for hours….

— 9th Wonder (@9thwonder) December 31, 2017
Order of show…Kanye went on 3rd, LB went on 4th…..Ye performed ONE song, "Through The Wire"…..to crickets….no one clapped, no one cheered…..even the dude running the music and video cut Ye's backdrop short….Ye lost it.

— 9th Wonder (@9thwonder) December 31, 2017
What would you have done if all of your creative work wasn't received with open arms? Probably cry about it, blame someone, and give up on your dreams.
Well, Kanye never quit and formed a chip on his shoulder that would define his entire career. He allowed his cockiness to manifest in a way where it took control of his artistry. Kanye made people understand him over time and now the brand is brolic.
He is the don of life music as 9th Wonder always recalled Kanye saying,
"Man people just don't get what I'm trying to do….Just life music"
To prove it, just one year later, people got it and were buying his records.
9th also shared that in 2004, at Duke University's Last Day of Class Concert while John Legend was closing his opening set, singing "Ordinary People," all the people wanted was KANYE. In fact, until Kanye came on, the crowd boo'd Legend throughout the entirety of his "Ordinary People" performance.
That same spring, Ye came to LDOC (Last Day of Class) at @DukeU. His opening act was a singer/songwriter who played piano. During his performance, the singer/songwriter asked could he perform one more song called "Ordinary People", people yelled "NO! We want Kanye".

— 9th Wonder (@9thwonder) December 31, 2017
For any artists developing their careers, an important takeaway from this is that success is attainable when you combine an absurd amount of belief in yourself (KANYE KOCKINESS), an unwavering patience, and a true dedication to your craft.
As 9th Wonder explained in a tweet, that chip on Kanye's shoulder is real AF and that people are more inclined to watch your career rather than listen to it. The only thing qualifying you is a beautiful, confident, and passionate aura.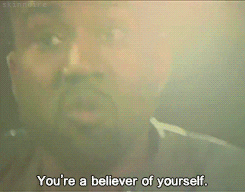 So exude a KANYE KOCKINESS on and off the stage. Let it grow within inside you and trust that your G.O.A.T. moment will come. When in doubt, do as Kanye does — shake off the haters, perfect your craft, and most importantly keep creating.
If you don't believe me, believe 9th Wonder.
https://twitter.com/9thwonder/status/947328049724514304
With tunnel vision, anything is possible.