Jeff Sessions' anti-marijuana policy is the dumbest shit ever
Last week, Attorney General Jeff Sessions outlined his intentions to crack down on states that had legalized recreational and medical cannabis use.
The move comes after California became the sixth state in the country to legalize and regulate cannabis use, while 29 states have legalized medical marijuana.
Sessions is reversing an Obama-era policy that told federal prosecutors not to prosecute marijuana businesses in cannabis-legal states. The Atty. General spoke about his decision:
"It is the mission of the Department of Justice to enforce the laws of the United States," Sessions said in a statement, and went on to claim that the previous policy "undermines the rule of law and the ability of our local, state, tribal, and federal law enforcement partners to carry out this mission."
California Atty. General Xavier Becerra responded that the state intends to uphold and defend their marijuana policy despite pressure from the federal government:
"In California, we decided it was best to regulate, not criminalize, cannabis. Unlike others, we embrace, not fear, change. After all, this is 2018 not the 20th century. At the California Department of Justice we intend to vigorously enforce our state's laws and protect our state's interests."
The step from the U.S. Atty. General's office is not to use federal resources to go after pot business, but instead leave it up to different U.S. attorneys to enforce their own policy. Basically, it's up to different Attorneys General to legally implement their own feelings on pot.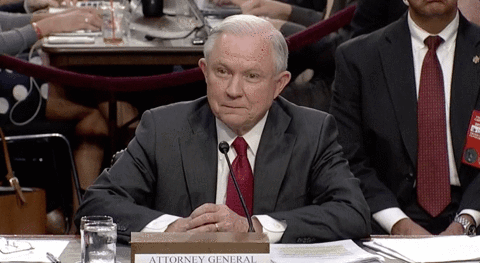 The LA Times broke down what this strategy could mean for different states,
"Sessions notably did not order federal prosecutors to begin a stepped-up assault on marijuana, instead saying he would leave the decision up to each of the country's 93 U.S. attorneys. That approach could lead to vastly different federal law enforcement from state to state or even within larger states that have several U.S. attorneys' offices. California, for example, has four."
The move highlights the inconsistency of the deeply ideological Jeff Sessions. Conservatives love states' rights, the idea that individual states can determine their own rule of law, until it comes to things like LGBT rights, legalizing medical marijuana, and abortion.
Libertarian and noted weirdo Rand Paul (R-KY) criticized Sessions move,
"This is a states' rights issue, and the federal government has better things to focus on."
Indeed, the federal government has way better things to do than cracking down on legal and medical marijuana. 29 states have approved of medical marijuana. It doesn't exactly take a political scientist to note that that number is over half of the 50 states in the country. The attitudes of the American people on pot are clear.
https://giphy.com/gifs/alison-brie-Ug847OuTP3acU
Hell, even the National Review, the crotchety old neo-conservative outlet of interventionism and FACTS NOT FEELINGS doesn't fuck with Sessions' plan.
The National Review's Veronique De Rugy wrote of the new policy:
"There are many reasons to be puzzled by the move and to disapprove of it. Oh and by the way, you don't have to be a pot user — or even approve of pot use — to be critical of the decision. Being a conservative, a free-marketer, a Republican, or a rational politician will do."
While the term 'free-marketer' made me throw up in my mouth a little bit, it's clear that this policy is deeply unpopular. There doesn't seem to be any logical reason to overturn state marijuana laws other than to OWN THE STONED LIBS.
Jeff Sessions is a little trash boy.