Jeff McNeil is more than The Flying Squirrel, he's MLB's best-kept secret
Jeff McNeil has been a bright spot for the Mets ever since his debut. He's showing some real hitting prowess as he statistically becomes one of the best pure hitters in the majors. The only problem is, no one knows it and that's why Jeff McNeil is the MLB's greatest secret.
It was July 24, 2018. It was the three-year anniversary of Michael Conforto making his major league debut. On that same day, the Mets called up the then 26-year-old second baseman Jeff McNeil. Coming up from their Minor League team in Las Vegas.
The Mets had a long string of exciting call-ups in the last seven years. Call ups that their fans were absolutely waiting for and that brought fans rushing to Flushing.
The Mets were mostly out of playoff contention for the better part of this past decade.  Despite this, all the call ups from Harvey to Alonso brought a feeling of hope to Citi Field.
McNeil gets his Call Up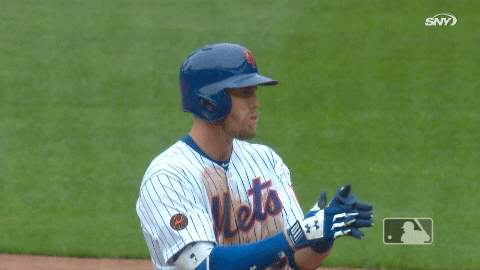 Jeff McNeil's call up was different. Chosen in the 12thround with the 356th overall pick of the 2013 Major League Baseball Draft by the Mets. The Long Beach State product went through the farm system basically unheard of by Mets fans. His talent went virtually unpublicized despite having a batting average of .292 or better in every level on the minors.
In the same farm system, however, you had the likes of pitchers Noah Syndergaard and Steven Matz. Both made their major league debut in 2015. Then outfielders Michael Conforto and Brandon Nimmo made their major league debuts in 2015 and 2016 respectively. Amed Rosario and Dominic Smith soon followed in 2017.
By 2018, Mets fans were glued to farm system reports with all their hopes poured into one player. Once again, it wasn't Jeff McNeil's high average being talked about among fans.
It was Pete Alonso who had Mets fans begging then General Manager Sandy Alderson, to call up Alonso and make what was a disastrous 2018 season, somewhat worth watching. Alderson didn't fall pressure to what the Mets fans were telling him to do and instead of Alonso, Mets fans got McNeil.
While the fans let out groans of displeasure, Jeff McNeil came up to the big leagues, saw the first pitch thrown to him as a major leaguer and notched his first major league hit. Mets fans and Mets brass saw McNeil's call up as temporary.
---
Look at that Squirrel go!
Flash-forward to September 2019. Jeff McNeil was never sent down to the minor league again besides participating in a few rehab games as he worked himself back from a hamstring injury earlier this season. McNeil hit the ground running and never looked back.
He finished the 2018 season with a batting average of .329 in 63 games.  His current 2019 season has been just as impressive if not more. As the 2019 season winds down, McNeil is hitting .318 with 22 home runs and 71 runs batted in to go along with a .388 on-base percentage.
The Mets asked him to learn how to play the outfield since they had put together an infield heavy roster during the offseason. Even on the field, he's impressive. Showing off a strong throwing arm from his new position. For most of the summer, he led all of baseball in hitting.
At the All-Star break, he had a .348 batting average. And he got a nod to being a reserve on this year's National League All-Star team.
---
Jeff, Who?
So…why aren't we talking about him more? Even with his dazzling play Jeff McNeil doesn't really get much mention around baseball, not even with the fans of the orange and blue.
Perhaps what has cursed him throughout his minor league career is now happening in the big leagues: he's being overshadowed. And it's hard to not be because his teammate and friend, Pete Alonso (oh yeah, he eventually made it to the show) is having a rookie campaign for the history books.
Shattering records left and right with his 49 home runs and 113 runs batted in with a respectable .266 batting average. Can you blame Mets fans?
Alonso has accomplished incredible homerun feats shattering the Mets record book. He holds the franchise record for single-season home run record and single-season rookie home run record. In addition, he is on set to break the National League Single-season rookie homerun record. Alonso was also the winner of the home run derby which will all likely culminate into the National League rookie of the year award for him.
So, you can't blame baseball fans and Mets fans for overlooking Jeff McNeil. But it's hard to ignore the pure talent and energy the kid from Santa Barbara brings to Flushing.
---
Why should fans care?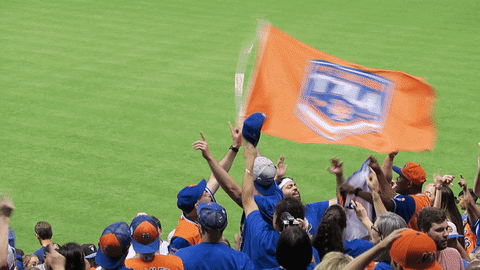 He usually wears a smile on his face even though it's not as big as Brandon Nimmo's. He's confident in his walk but not with the same confidence Conforto boosted when he hit two home runs in Game Four of the 2015 World Series less than 3 months after making his debut.
Jeff is a vocal personality in the Mets clubhouse yet not as vocal as Todd Frazier or Pete Alonso. He has a childlike innocence but not in the same way Rosario displays it. So what is he to the New York Mets?
In May of 2014 the Mets called up a young pitcher whose sole purpose was to help the bullpen but an injury forced the young right-hander to make a spot day start. That pitcher was Jacob DeGrom.  DeGrom like McNeil was 26 in his rookie season. Also like McNeil, DeGrom's debut was not highly anticipated.
That spot day start led to a rotation spot. By the end of 2014, DeGrom had won the National League Rookie of the year award. Despite this fact, when the start of the 2015 season came around Mets fans' main attention wasn't on their second-year stud. The focus was on the return of Matt Harvey from Tommy John Surgery.
For much of the season, DeGrom was considered the number two behind Matt Harvey. Then Steven Matz and Noah Syndergaard came up and had highly-anticipated debuts. Zach Wheelers' return from Tommy John surgery was also highly anticipated the next season in 2017. Out of this young pitching staff that Alderson dreamed up, each had their flashes of greatness.
In 2019 Jacob DeGrom is the best pitcher in all of baseball. After many years of being considered the steady guy behind Harvey and Syndergaard.
---
Reliable Jeff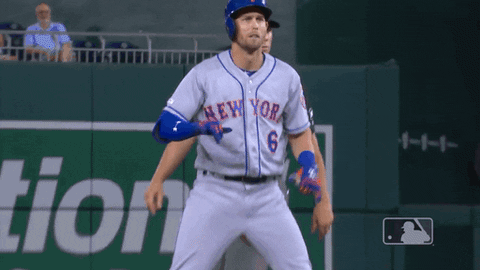 Is that what McNeil is to the new wave of young position player for the Mets? In the same way, Jacob DeGrom was a steady hand for the flux of young pitching the Mets had come up earlier this decade.
Out of the young flux everyday players to make their debut for the Mets, McNeil and Alonso have yet to show a real sign of prolonging slumps or struggles in the major league. In that same breath, fans have to take into account that the players have been in the majors the least amount of time out of the whole group. Alonso is still in his rookie season.
As baseball scouts still watch him and try to figure out his weaknesses, the book is still not out for opposing pitching staffs to attack Alonso. In his second season next year it will be interesting to see how he adjusts once the book is out on him. As a Mets fan, my hope is that he mirrors somewhat the trill of his rookie campaign.
---
Stop sleeping on the Flying Squirrel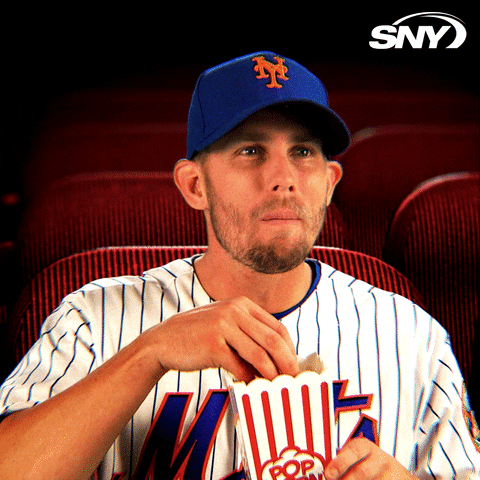 McNeil has been in the majors for over a year. The book should be out by now on what his weakness is. Yet he continues to impress albeit in kind of a throwback way.
He has a high contact percentage combined with his low strikeout rate. McNeil's stat line is not 40 plus home runs or 120 plus runs batted in, like the game's biggest stars. Nevertheless, it is impressive.
McNeil is .322 hitter to start his career. If the book isn't out on McNeil yet will it ever come out? Jeff McNeil is sneakily fast has become one of the best hitters in the majors.
Which make sense why his teammates might have given him the nickname the "Flying Squirrel." Whether he's going to be just steady the guy or the star player for the Mets. McNeil is a damn good ballplayer and should have fans in flushing excited for years to come.