Janette Beckman is the hip-hop style photographer changing the game
Janette Beckman is an extraordinary hip-hop style photographer. Her work spans decades and across continents, and thus she is an icon in the music industry.
Beckman is a legendary hip-hop style photographer who first captured hip-hop through her lens in its infancy. We take a look at who she is and some of her most iconic photographs of hip-hop royalty.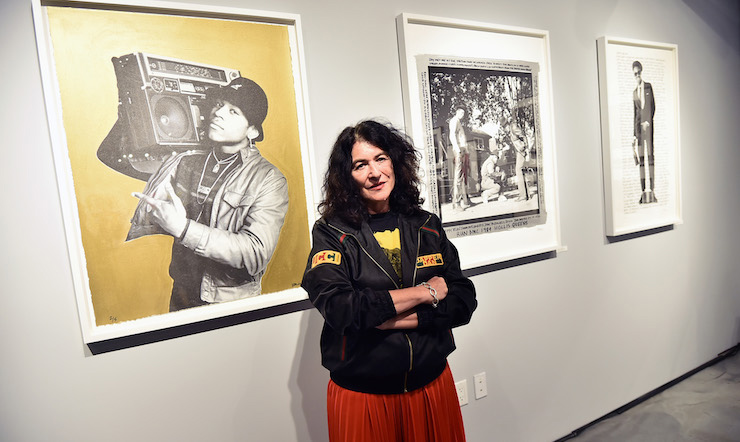 ---
Janette Beckman: From England to NYC
Beckman hails from London and first spent much of her professional time there covering the punk scene with her photography.
She worked for a variety of publications such as Sounds Magazine, The Face, and Melody Maker. Then, in 1982, she moved to New York City.
Upon arriving in NYC, Beckman sought out work to flex her photography muscles.
She presented her portfolio to a variety of record companies and publications for a chance to photograph popular artists and shoot album covers.
Almost every company turned her down due to her past working on capturing London's punk music scene.
The punk scene was gritty and grimey in its presentation and feel and much of her shots captured that. This style clashed with the glossed-up and airbrushed aesthetic of most music photography of the time.
Moving on from her rejections, Beckman discovered NYC's growing hip-hop scene. And she was intrigued by how much it mirrored London's own Punk scene.
Beckman took her talents to Def Jam where she met Lyor Cohen. And it was here that she received one of her most iconic photography assignments, photographing Queens rap legend, LL Cool J.
---
Rock the bells as a hip-hop style photographer
In music photography, you never know what shots will become iconic until they stand the test of time themselves.
Beckman's shot of LL Cool J in 1985 is still one of her most iconic photographs. It captured the 80's hip-hop essence perfectly.
It's all iconic, from the Kangaroo hat to the boombox on his shoulder and also the chains that capture the gritty New York street persona of the genre at the time.
It's defined, charismatic, and full of personality that only hip-hop artists like LL Cool J could pull off on camera.
This photo paved the way for defining what a hip-hop photoshoot could be. And it is also used as the basis for capturing hip-hop artists today. Personal and engaging with the audience to get a real glimpse into what the artists is about and what they stand for.
---
A hip-hop style photographer who has it all
In a 2020 interview for Def Jam chronicling her work, Beckman described her process in shooting her subjects as a hip-hop style photographer.
One thing she's careful of is telling her subjects how to present themselves in front of the lens. She realized that people are much more natural on camera if they can be themselves.
Thus, in a genre where individuality is key, even among groups, letting hip-hop artists be themselves and place themselves in shots only adds to the photograph. Take the iconic shot of Slick Rick for example.
This shot of Slick Rick captured by Beckman was entirely staged by Slick Rick.
Rick walked over to the staging area and dropped his bag in front of him then proceeded to grab his crotch and posed for the camera. Beckman only had to capture the image.
This approach to photography is at the core of hip-hop. Experimentation, collaboration, and also just having fun are the pillars of this genre, and artists in mass were comfortable with Beckman chronicling their rise.
As a hip-hop style photographer, you have to let your subject rock, and then be ready to capture something special at any given second.
---
Janette Beckman's staying power
One of the most impressive things about Beckman is how long she has been positioned as a mainstay in hip-hop culture.
She's photographed legendary acts from various decades such as A Tribe Called Quest, Andre 3000, Dr. Dre, and more recent artists like Joey Bada$$ and Lil Tecca.
It's clear that her stamp and influence on how hip-hop is captured and presented as a culture is important and relevant still after all these years.
There also seems to be no sign of her stopping. As long as there are artists who create, Beckman will be there to capture them every step of the way.
For more on Beckman, check out her official website here.