Is this Hov's best album? Putting Jay-Z's '4:44' under the microscope
4:44 did not disappoint.
The samples and the inspiration behind the album proved to show how much talented and forward-thinking Jay-Z and No I.D., producer of 4:44, truly are.
The duo, who have worked together before on tracks like "D.O.A." and "Holy Grail," sampled from the likes of legendary musicians like Stevie Wonder and Nina Simone.
Just to show the musical range, Tidal listed the songs that inspired No I.D. and Jay-Z, which includes Prince's "Purple Rain," Marvin Gaye's "What's Going On," and of course Playboi Carti's "Magnolia."
https://www.youtube.com/watch?v=uKJtB5ao15E
Jay-Z's 13th studio album featured his wife Beyonce, Frank Ocean, Damian Marley, and his mother, Gloria Carter. It's definitely Hov's sharpest album as he was able to touch on how he feels about race, culture, money, and gave us a look into his life, all in 10 tracks.
As you know, Jay leads a very private life, but 4:44  is one of the most transparent albums he's ever released.
Hov gives a peek into his foxhole, touching on his infidelities, his lesbian mother, his break up with Ye, and his proximity to billionaire status.
The album opens up with "Kill Jay Z."
https://www.instagram.com/p/BV7jFengL1y/?taken-by=erickaybar&hl=en
According to Jay-Z in exclusive commentary he gave to iHeartRadio, "Kill Jay Z" is not to be taken seriously,
"The first song is called 'Kill JAY Z' and obviously, it's not to be taken literal. It's really about the ego. It's about killing off the ego, so we can have this conversation in a place of vulnerability and honesty."
The song represents the beginning of a new persona. One of the telltale signs- Jay-Z put the hyphen back in his name – "Kill Jay Z" appears without the hyphen. He decided to take the hyphen out back in 2013 and decided to put it back when he dropped the Marshala Ali ad.
"Kill Jay Z," is  definitely the death of an ego:
"Kill Jay Z, they'll never love you
You'll never be enough, let's just keep it real, Jay Z
Fuck Jay Z, I mean, you shot your own brother
How can we know if we can trust Jay Z?
And you know better, nigga, I know you do
But you gotta do better, boy, you owe it to Blue
You had no father, you had the armor
But you got a daughter, gotta get softer
Die Jay Z, this ain't back in the days"
Besides voicing the death of an ego, Jay-Z also takes a shot at Kanye. I guess Jay-Z finally got in touch with 'Ye after he ranted on stage back in November. 'Ye made sure everyone was aware that he was hurt by Bey and that he and Jigga were not seeing eye to eye, financially.
"But you got hurt because you did cool by 'Ye
You gave him 20 million without blinkin'
He gave you 20 minutes on stage, fuck was he thinkin'?
'Fuck wrong with everybody?' is what you sayin'
But if everybody's crazy, you're the one that's insane"
Hovv also compared how he almost lost Beyonce over some dumb shit like Eric Bonet lost Halle Berry. Jay had time to throw in a quick jab to Future's situation with his kid too. Savage.
"You almost went Eric Benét
Let the baddest girl in the world get away
I don't even know what else to say
Nigga, never go Eric Benét!
I don't even know what you woulda done
In the Future, other niggas playin' football with your son"
Of course, Benét took that shit to heart.
Hey yo #Jayz! Just so ya know, I got the baddest girl in the world as my wife….like right now! ✌🏾

— Eric Benét (@ebenet) June 30, 2017
The second song off of the album, "The Story of OJ," is straight up business. Jay-Z raps about where black people stand in the fucked up pyramid scheme of 2017 America. Hov uses OJ Simpson as an example to depict that no matter how much money you have, no matter what status you achieve, you are still black in this country.
https://www.instagram.com/p/BWDyfbpHl2G/?tagged=imnotblack
Jay urges us to turn that success into something bigger.
Hov really looked to educate people on this one. Even in his commentary on the album he sent to iHeartRadio, he explained,
"'The Story of OJ' is really a song about we as a culture, having a plan, how we're gonna push this forward. We all make money, and then we all lose money, as artists especially. But how, when you have some type of success, to transform that into something bigger."
Peep this excerpt from the second verse:
"Financial freedom my only hope
Fuck livin' rich and dyin' broke
I bought some artwork for 1 million
2 years later, that shit worth 2 million
Few years later, that shit worth 8 million
I can't wait to give this shit to my children
Y'all think it's bougie, I'm like, it's fine
But I'm tryin' to give you a million dollars worth of game for $9.99"
How much is Tidal? Tidal is $9.99. Sheesh, that's a worthy trade.
A big shoutout to Stevie Wonder for Hov's third track off the album, "Smile." Definitely a powerful song, more like a joyful anthem, and features Hov's mother, Gloria Carter. At the end of the song Gloria opens up on her sexuality and being free.
Frank Ocean gracefully hops on "Caught Their Eyes" to make the fourth track off of 4:44 a breezy listen. Hov explains it as a track about self awareness,
"'Caught The Eye' is a song that's dealing with just being aware of your surroundings. There's a line in it, and it says, 'Your body language is all remedial, how could you see the difference between you and I?' Just being so sharp about your surroundings."
Hov also discusses his last meeting with Prince before he died and what the "Purple Rain" artist wanted to do with his music. Fuck you Londell McMillian.
"I sat down with Prince, eye to eye
He told me his wishes before he died
Now, Londell McMillan, he must be color blind
They only see green from them purple eyes"
The song I've been waiting to discuss is the self-titled "4:44." At the number five spot on the album the track serves as the perfect median. The Hannah Williams sample is an apology to Jay-Z's wife Beyonce.
Hov discusses his infidelities, the regret he holds, and how appreciative he is of Blue and his newly arrived twins. Peep the third verse from the song.
"And if my children knew, I don't even know what I would do
If they ain't look at me the same
I would prob'ly die with all the shame
'You did what with who?'
What good is a ménage à trois when you have a soulmate?
'You risked that for Blue?'
If I wasn't a superhero in your face
My heart breaks for the day I had to explain my mistakes
And the mask goes away, and Santa Claus is fake
And you go online and see
For Blue's tooth, the tooth fairy didn't pay"
He described it as one of the best songs he's ever written,
"'4:44' is a song that I wrote, and it's the crux of the album, just right in the middle of the album. And I woke up, literally, at 4:44 in the morning, 4:44 AM, to write this song. So it became the title of the album and everything. It's the title track because it's such a powerful song, and I just believe one of the best songs I've ever written."
"Family Feud" is an epic follow up to "4:44" featuring vocals from Beyonce. Hov gets a little cocky on this one and discusses what his family is really worth… priceless. Hov also touches on his rap family and how fighting within the culture is not progressive.
Hov gives a shout out to "Becky with the good hair" too,
"Yeah, I'll fuck up a good thing if you let me
Let me alone, Becky"
Remeber when Jay-Z went to Jamaica?
Bro …. fuckin JAY SAID "i cant be takin pics wit bums, u nice right?" LMAOOOOOOOOOOOOO https://t.co/dIybyTjNcy

— 🖤 (@SouthBeachSheed) June 10, 2017
He was definitely mixin it up with Damian Marley to create "Bam." The track has an island vibe and is supposed to be an ode to Damian's dad's "Jamming."
"Moonlight" was inspired by the movie. It samples the Fugees hit track "Fu-Gee- La," poking fun at the accidental Oscar awarding to La La Land.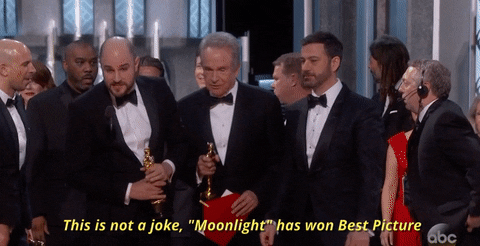 The hook says it all, "We stuck in La La Land/Even if we win, we gonna lose." According to Hov, the song is "commentary on the culture and where we're going."
"Marcy Me" takes you straight through Marcy. It's a song of hope and that you can do anything you put your mind to. You can get out of any situation you don't want to be in.
Peep this verse that gives you a picture of Hov's struggle coming up:
"Marcy me
Streets is my artery, the vein of my existence
I'm the Gotham City heartbeat
I started in lobbies, now parley with Saudis
I'm a Sufi to goofies, I could probably speak Farsi
That's poetry, reek of coca leaf in my past
Came through the bushes smellin' like roses
I need a trophy just for that"
The-Dream throws a vocal assist to close this beautiful song.
Hov closes 4:44 with "Legacy." The track starts off with his daughter Blue Ivy asking. "Daddy, what's a will?" Jay-Z hints at all the things he'll be giving his children to keep his legacy alive. This includes Roc Nation, Tidal, and Armand de Brignac.
Blue has no idea how breaded she really is.
https://giphy.com/gifs/north-west-gif-WXlUMkb84ZOh2