Is this going to be the hottest NBA season ever? What to get hype for
The NBA season is finally upon us.
This summer felt as short as any summer I can remember, while simultaneously also feeling like the longest break between NBA seasons ever. Weird.
But alas, with the championship ceremony of the Toronto Raptors last night before their game against the New Orleans Pelicans, the NBA season was underway, and for a night of only two games (the other being the LA Lakers vs. LA Clippers), it did not disappoint.
This season is one that has most fans and analysts more excited than they have been in a long time. There is no dynasty that teams need to overcome, no four-headed monster like the Golden State Warriors of the last three years.
For the first time in a while, there is real parity in the league, and not without its excitement. Superstars are on different teams, young players are entering the league or looking to make a big jump, and some of the biggest markets in the league are on the rise again.
But of course there is much more to the league than that, and this season especially has a plethora of underlying storylines spread throughout. If you're not hype yet fam, get hype. These are the main things to look forward to this season:
The dynamics in New York
New York is, and will always be a Knicks town. The Knicks are a historic franchise, and even after some inarguably miserable recent years, the old faithful fans are not going to switch over now. But after striking out hard in free agency to the team across the river, are the fans on the fence going to feel more inclined to root for the Brooklyn Nets?
The Knicks have young players to be excited about. Mitchell Robinson is a very intriguing big man prospect, Kevin Knox has a ton of upside, and R.J. Barrett was just drafted third overall.
Veterans Marcus Morris, Wayne Ellington, and Julius Randle are veterans that give this team experience and possibly more draft capital if they are traded. All hope is not lost for the Knicks, but after such grandiose talk of getting Zion Williamson, Kyrie Irving, and Kevin Durant, it's pretty easy to have a laugh at the Knicks' expense.
The Nets on the other hand, did sign Irving and Durant and have a much better front office and culture in Brooklyn. Even with Durant out for the season, the Nets are projected to be a playoff team while the Knicks are not. The Nets have young talent themselves in Caris LeVert and Jarrett Allen.
"The same people that have supported New York basketball are still here and they support the Brooklyn Nets now" – Kyrie Irving pic.twitter.com/6XGdPlgnun

— SNY (@SNYtv) October 22, 2019
How Kyrie rebounds from his poor leadership in Boston will be a big thing to look for with the Nets. This is also a team with a ton of new pieces, and it may take awhile for them to mesh.
Just as interesting as the on-court play though will be what comes off the court. New York is the hub of the Western world and the epicenter of basketball.
The Knicks are the historic brand of New York, and the Nets are the new shiny toy. Look out for if the dynamics between the two teams and fans of the team change at all this year.
---
Young stars looking to make a leap
Every year, there are young players who make big leaps. Some ascend to be quality role-players, some stars, and some even superstars. For example, last year Pascal Siakam came out of nowhere to be a legitimate star in the league and without him, the Raptors don't win the championship. So who are the Siakam's of this year?
Zion Williamson hasn't played a minute of NBA basketball yet this year. He has been listed as out for 6-8 weeks due to a meniscus injury, so we won't even see him for some time. Still, he has the talent and dominant frame to be a star in this league right away. Keep an eye out for when he comes back and what he can do.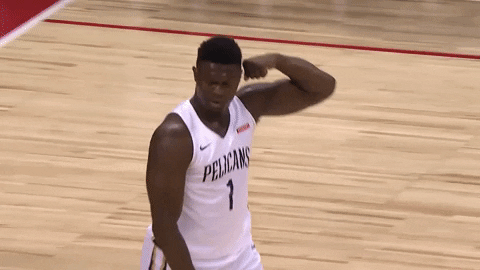 Jayson Tatum experienced a down year last season after his extremely impressive rookie season. NBA fans debate whether he has the ability to be a superstar, or is just an overrated, inefficient player without a ton of room to grow.
With Kyrie and Horford gone from the Celtics, Tatum will be asked to carry more of the workload on offense and defense. Is he capable, or will his regression continue with the pressure?
Kyle Kuzma is also injured right now, delicately recovering from an ankle injury he suffered with team USA. The Lakers played last night, and what we were able to see is that the Lakers need another playmaker, someone else besides LeBron and Anthony Davis that can create their own shot.
Kuzma has shown his ability to do this, but his defense and three-point-shooting were poor last season. He has the ability and apparently has worked very hard this offseason. It will be very interesting to see whether or not Kuzma can take a leap and give the Lakers a chance at winning another ring.
Can't wait for Kyle Kuzma to come back 🙏 pic.twitter.com/y4JbgPkFK4

— Lakers Empire (@LakersEmpire) October 23, 2019
Donovan Mitchell led his team to a first-round playoff victory his rookie season. In his sophomore season last year, he struggled out of the gate but eventually found his stride. He is the most important offensive player on the Jazz and he has been ever since he entered the league.
However, for the Jazz to truly be a finals contender, Mitchell has to improve even more. His efficiency and shot selection are two areas he can really improve in, and both should help with the new acquisition of Mike Conley. Mitchell's growth is necessary if the Jazz want to advance as far in the playoffs as they believe they are capable.
---
The Battle of LA
Lakers vs Clippers
LeBron vs Kawhi
😍😍😍😍 pic.twitter.com/NfZy6rpcoo

— First Team (@FirstTeam101) October 23, 2019
The Lakers and Clippers played each other last night, with the Clippers outlasting the Lakers 112-102. The Lakers looked very good at points and only lost by 10 in a game where LeBron was very poor offensively.
The Clippers, in turn, looked fantastic, with a hunger to win and a depth to their squad that is paramount to championship aspirations. Both these teams, if healthy, could be slated to play each other in the Western Conference finals, come this summer.
The game was a Clippers home game, but Lakers fans, as they are of far more abundance, filled the arena and booed Kawhi Leonard when he gave a pregame speech. Everyone knows LA is a Lakers town, but it was still surprising for the boos to poor down so uproariously in a Clippers home game.
Lakers fans booing Kawhi in his first Clippers game at Staples pic.twitter.com/naLfqR8PR6

— Bleacher Report (@BleacherReport) October 23, 2019
These teams may respect each other, but by season's end, it is pretty clear they won't like each other. The Clippers and Lakers may be the two best teams in the entire league, and the battle of LA is my pick for the most fascinating thing to keep an eye out for this season.
This season is littered with storylines and things to look forward to. Steph Curry is going to bomb threes and put up crazy numbers weekly again. Westbrook is on the Rockets, but can him and Harden coexist on a winning team? LeBron is facing basketball mortality, but can he reclaim his crown?
The NBA is the crown jewel of hilarious social media content and talking points. And the games are pretty fire too. Pay attention, because all signs point to this season being the best one in a long time.