Is the VMAs low key racist? After BTS snub, peep the problematic history
The VMAs released their nominations on Tuesday, and BTS' legion of devoted fans, known as the "ARMY" (not to be confused with Rihanna's "Navy") was not pleased.
Though the K-pop supergroup picked up 4 nominations — all coming for "Boy With Luv," their world-record breaking collab with Halsey — they were overlooked in the major categories including "Video of the Year."
Instead, that nomination went to mostly white artists including the Jonas Brothers, Ariana Grande, and Billie Eilish. Of course, the show recognized Taylor Swift for "You Need to Calm Down," obvious rainbow capitalism masquerading as a gay rights anthem.
Instead, BTS was nominated for the newly formed "Best K-pop" award. Though the VMAs have long had a "Best Latin" award, this new category makes little sense: why separate Korean acts from competing with Western acts? Why put them in a box?
It's weird to separate KPop from the rest of the music categories. We're supposed to breaking barriers and not creating ones at award shows

— Luke W (@lukewaltham) July 23, 2019
The hashtag #VMAsRacist soon started trending on Twitter, with ARMY claiming the snubs smacked of xenophobia. #VMAsXenophobic and #VMAsAreOverParty started circulating as well.
https://twitter.com/theyarejules/status/1153710723555610631?s=20
The lack of BTS recognition and the creation of a separate K-pop category was especially confounding since the group — long titans of the global stage — had broken through with the Western audience more this year than ever before. 
https://twitter.com/dionysuskat/status/1153712980149903360?s=20
To recap some of their accomplishments in the US this year: BTS held their first American stadium performance in October 2018, selling out Citi Field's 40,000-seat capacity. 
Their album, Love Yourself: Tear marked their third Billboard #1 album in less than a year, a feat last matched by The Beatles. They also performed on this year's Emma Stone — hosted an episode of SNL, a dream come true for any artist, and — according to an NPR author– a "genuine tipping point" in their "quest for world domination." 
But this isn't the first time the VMAs have been problematic, shutting out artists of color from its major categories and bestowing its awards on white artists. Here are some more examples:
1. Nicki Minaj for "Anaconda"
In 2014, Nicki Minaj released "Anaconda," racking up 19.6 million views in 24 hours.
Despite the song's massive success and cultural impact, it failed to get nominated for Video of the Year, instead of receiving nominations in various Hip-Hop categories (Swift was once again nominated for VOTY that year.) Minaj quickly took to Twitter to voice her dissatisfaction.
If I was a different "kind" of artist, Anaconda would be nominated for best choreo and vid of the year as well. 😊😊😊

— Nicki Minaj (@NICKIMINAJ) July 21, 2015
U couldn't go on social media w/o seeing ppl doing the cover art, choreo, outfits for Halloween…an impact like that & no VOTY nomination?

— Nicki Minaj (@NICKIMINAJ) July 21, 2015
Of course, Swift took one of Minaj's tweets arguing that the awards show recognized "women with very slim bodies" to be about herself. She briefly feuded with Minaj — entirely missing the larger statement about the music industry that Minaj was making.
---
2. M.I.A. for "Borders"
In 2016, M.I.A. called out the awards show for not nominating her song "Borders," her self-directed video depicting the refugee crisis.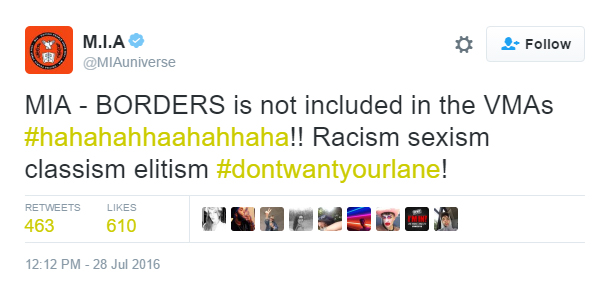 She also raised the point about what "voices" the VMA's value.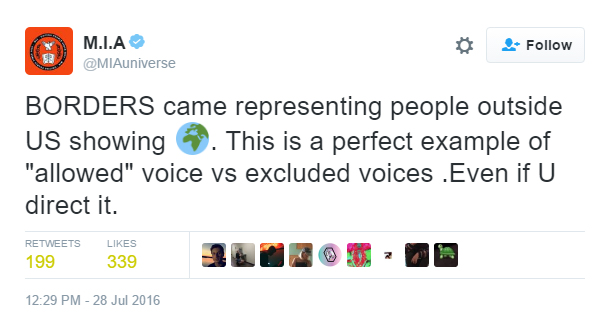 ---
3.  Michael Jackson for "Thriller"
It might be hard to believe, but the iconic video for "Thriller" lost out for Video of the Year back in 1984. The Car's "You Might Think" took home the award that year.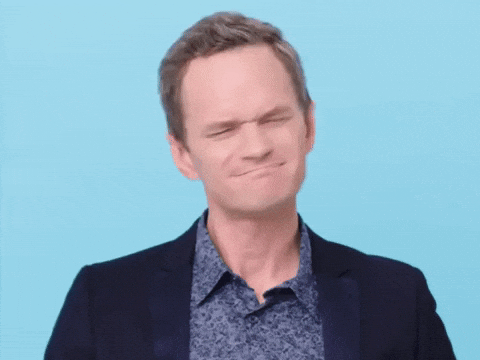 ---
4.  Luis Fonsi and Yankee Daddy for "Despacito"
The song boasts more than 6.3 billion views on YouTube — the most-viewed video of all time on the platform. The song, a permanent fixture on the radio in summer 2017, was a huge moment for Spanish songs conquering the American charts.
According to Billboard, "Despacito" was the first mostly Spanish song to top the Hot 100 since Los del Rio's "Macarena" in 1996. It spent 16 weeks at number #1 on Billboard, tying it for most weeks at #1 with Mariah Carey and Boyz II Men for their 1995 song "One Sweet Day." ("Old Town Road" recently matched this number of weeks at #1).
But that year only the song, and not the record-breaking video, received recognition — and it was for "song of the summer," which it lost.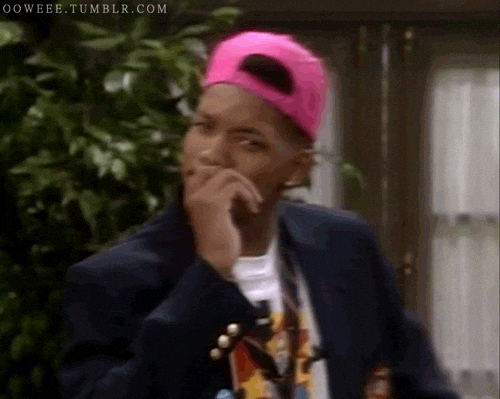 ---
(Dis)honorable Mentions:
The VMAs have had other racially problematic moments, from Miley Cyrus sporting dreads during her hosting job in 2015 to her saying "mammy" in one of that year's skits. Chance and Pose's Janet Mock quickly took her to the task.
"Mammy" pic.twitter.com/kuwgo2lsNm

— Chance The Rapper (@chancetherapper) August 31, 2015
Miley…before she left for tonight's #VMAs where she evoked #Mammy for the masses. http://t.co/DoPizjlGOv

— Janet Mock (@janetmock) August 31, 2015
That year, Rebel Wilson also joked about police brutality, sporting a shirt saying "Fuck tha Stripper Police" while presenting the award for "Best Hip-Hop Video," of all things.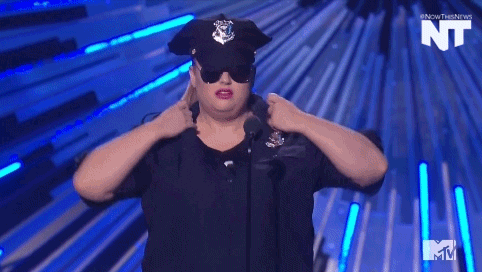 Nicki Minaj actually won that award for "Anaconda," and called out Cyrus not for her racial insensitivity but for Cyrus's disparaging comments about the rapper, recently published in a NY Times interview (Who can forget Minaj saying "Miley, what's good?").
It's time to recognize the VMAs for the tone-deaf show it is. VMAs, what's good?