Is my drip enough? How to stay stylishly confident during Fashion Week
New York Fashion Week is still here and the streets are littered with influencers and fashion's elite, as well as fashion enthusiast from all over the world. And if you're a bit intimidated – it's ok!
Admit it, you want to go to the shows and wear the clothes from the runway or if you're bold enough, show off your style. But if you're not into it – Fashion Week – chances are you're still into fashion.
So is your drip enough? Do you think you need to be the most fly and the freshest?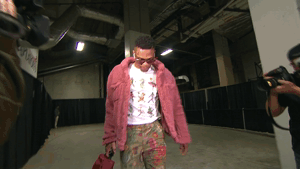 I can attest to the feeling of inadequacy in a room of people who are woke when it comes to fashion and always dress with impeccable style. Sometimes standing next to certain individuals will cause insecurities of your own.
But what you should understand is that your anxiety is normal and there is still a human being under all those layers of fashion perceived elitism.
For the average person, fashion is an afterthought, if that. Getting dressed in the morning is normal for most cultures around the world. In New York City, though, it may be structured a bit differently.
---
Roots in Fashion
Black mothers on their child's first day back to school 😭😭 They LOVE that Facebook post 😭 pic.twitter.com/CY7bolD2Wj

— KYLE 🖕🏽 (@thekillakay_) August 9, 2019
Growing up in Brooklyn, my mom would always tell me to "hurry up and get dressed before you're late; you're going to school, not a fashion show."
Little did she know, fashion was the main reason for a lot of us to go to school each day. I completely understand if high school wasn't as fashionable due to studies, athletics, or economic situations. When we care about something more than fashion that can play into our insecurities and anxieties when it comes to testing our drip.
Coming up a new pair of Jordans came out each week, while premium Japanese denim and Prada sneakers were at the peak of our classmates' attention. The auditorium was the runway, where everyone hung out, complementing the styles of friends and rivals. It was always a competition amongst our friend groups to be the most stylish.
---
Fantasy Fashion League
The fashion world is something fantastic, isn't it? Whether you think it's attainable or not, it allows for allure and an aura that is empowering.
In a way it enriches one's character. Your drip makes you feel smarter, stronger, and plain old better. If you're older, it makes you feel younger, if your younger – more mature.
Plus, most of the time, if you feel insecure then fashion is your armor. Fashion can be and is your daily amour. As we see the runway shows from afar, it tantalizes our senses and we yearn to be there and to wear those clothes.
To be invited to a show is the ultimate acceptance into the fashion industry – celebs, athletes, and important people in businesses related to fashion are some who tend to be invited. Yet, as Social Media grew, so did the number of invites.
Shows are more open and inclusive today then they were in, say, the 90s. Shows in New York City, are tending to cater to the masses who flock the city in search of Fashion shows to get content for their social media pages.
As with the traditional media, social influencers present opportunities for brands to broaden their visibility to niche markets. It's a mutually beneficial agreement. But it remains a question — "this is what you want?"
Influencers are enthusiast just like most people who enjoy shopping. For the average social media user, to be at a fashion show during fashion week would essentially be something you would have to want to attend. Whether you spend tons of money on one brand or have a friend in fashion who can offer a +1.
---
More Than Enough

As fashion adjusts to the influx and opportunity for new costumers, they have adapted through collective efforts by venues, brands, showrooms, and agencies to make shows more friendly to public viewing. Offering standing room at most shows allows for more exposures for brands directly to consumers.
The amount of brands as well as the amount of shows has grown. So to attend a show is more of a possibility. Keep in mind there are shows all over New York. Also, let's recall the infamous Fashion's Night Out – which has been "canceled" – where fashion lovers, who were encouraged to shop during an economic recession, would roam the streets of NYC in search of fashion parties.
---
Know Yourself
Attending the shows and interacting with your surroundings, at the point in which you are exposed to Fashion Week, can afford you great understanding in the nuances of the industry. It's intimidating for anyone to find their own style, and finding your way around the room would help.
As some may be wearing more elaborate and expensive clothes, it'd be better, not to compete unless your goal is to be the loudest dresser in the room. Then, yes, you are subject to critique as an adornment of the event.
The main takeaway is to be smart about your kit, and about how it fits. Stay true to what you feel is comfortable on you and always know that evolution is something your style can go through overtime by elevating your drip and defining your style.
Who knows? Maybe you'll get noticed for just being you and get invited to a show.