Hussle and Motivate: 5 Nipsey Hussle lyrics that will push you to be great
Having strong enemies is a blessing.
It's been less than six months since the passing of Crenshaw's Nipsey Hussle and to say his presence is still felt would be an understatement.
Not a day goes by without an "I miss you Nip" post on social media or a mural popping up (there's been over 50 in LA alone) or a rapper paying homage via tattoo or chain.
His Marathon Clothing Store has grossed more than $10 million in sales over the last few months. Los Angeles even named an intersection after him and he won a BET award just last weekend.
You only get that kind of love when you're gone, if the work you did while here was meaningful, which is exactly what you can say about Nipsey.
His lyrics matched his body of work in real life — it was all about hustling, maintaining and preserving. It's what the Marathon emblem is all about and it was embedded in his music.
There are plenty of people that listened to Nipsey before he died and thousands after, but whether you're a new fan or old, the response is always that Nip's music pushes you to that next level.
At a time where it seems like everyone is desperately seeking motivation from anywhere they can get it, I decided to pull up 10 of my fav Nip lyrics to hopefully give you that boost you need.
1. "Blue Laces 2" reminds us we're never in it alone
"Ones that hate us, handcuff us and mace us/Call us dumb niggas 'cause our culture is contagious/Third generation, South Central gang bangers/That lived long enough to see it changing/Think it's time we make arrangements/Finally wiggle out they mazes, find me out in different places/'I'm the spook by the door,' this the infiltration, double back, dressed in blue laces"
What made Nipsey's music so powerful was his ability to convey that no matter who you were or where you were from, that you're not the only one facing the obstacles you were facing.
When I hear these lyrics, I can immediately relate to the feeling of going through the maze of life and facing obstacles and systems way bigger than I. So It feels good hearing Nip confidently rap about overcoming them.
---
2. "I Don't Give a Fucc" g-checks us about staying authentic
"I gotta hustle, momma I'ma move the white/If I died came back I'd do it twice/Brain washed by the block it consumed my life/Cool nigga but a killa when the mood is right/Bullets have the dogs howling at the moon at night/Momma it's cold outside/Ain't no hope outside"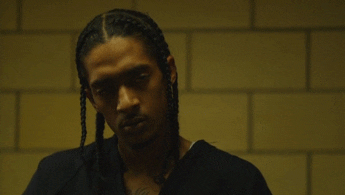 Authenticity is something undeniable about Nipsey music and his song "I Don't Give a Fucc" is a perfect example of such.
Here he's being real with his mom, and himself, about his condition and the environment that's made him this way. Not to glorify it either, but to acknowledge it was something he had to intentionally become aware of to break from.
---
3. "Status Symbol 3" keeps us opening doors
"Wanna change the game, never chase a message/Never stop grindin', cherish no possessions/We ain't get accepted, we just reinvested"
Nip's music always has a story of finding a way after one way is closed and when you hear that kind of message behind some blaring 808's, some mornings it's better than coffee.
---
4. "
Ocean Views" motivates us to always believe in leveling up
"Look, from fucking hood rats to fucking stars/Spending all cash, to sliding cards/It's the definition of living large/Smoking top flight in the biggest cars/Told you '08 this shit was ours/Getting this cake, yeah nigga then getting more/Look at this world young nigga, this really yours/Nigga this really mine, my niggas is really for it, them buildings is really high"
One of the most effective ways to spark inspiration in someone is just showing them that what they envision is possible. That's what Nip's music did and this bar's masterclass ranking proves it.
Here he gives a mini-testimonial, showing people where he's from that you can level up, just as he has.
---
5. "Hussle and Motivate" suggests we should remember how valuable our time is on this earth
"F— livin' basic, I'm takin' risks/F— what they sayin', I'm sayin' this/ Don't waste your time, it don't make you rich."
"Don't waste your time, it don't make you rich" is a bar I wish everyone lived by. Recognizing how valuable, short and privileged we are to have life is something many of us lack, but it's what Nip was clearly aware of in this bar.
Be about your business and do the work instead of the talk.
Long live Nip and may the marathon continue.