How rising solar artist Shala is quietly redefining influence and art
Think about a time where complexity was simplified right before your eyes.
For me, I recalled a time in my middle school science class where we were learning about the flow of electricity. We were performing a class activity where we took wires, a battery, a switch, and a light bulb and arranged them in a way where we produced light.
The arrangement was quite simple. Connect one wire from the negative side of the battery to the switch, then connect that to the light bulb. Take another wire from the light bulb and connect it to the positive side of the battery and, "Voilà!"
With a flick of the switch: let there be light.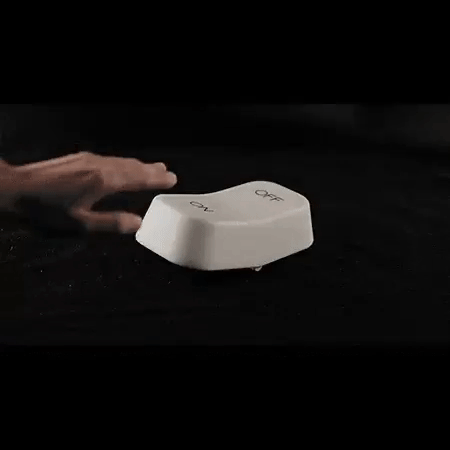 This experience profoundly took something that was way over my head and simplified it through an art activity. It was as if art had explained the design, engineering, and science of electricity.
Science, Engineering, Design, and Art are fundamental elements for the progression of society. Each influences the other and we see it all the time. Star Wars shaping the space industry, Black Mirror expanding our ideas of social technologies, and Smart House laying the foundation for living with Artificial Intelligence.
These thoughts sparked a series of questions for me: Can we make sustainability and renewable energy cool? How can we use the influence of art to create more cultural acceptance and understanding around sustainability? I investigated thoroughly and may have found an answer.
---
Enter Shala.
By way of Chicago, Olusola "Shala." Akintunde is a Nigerian-American contemporary artist and pioneer in the medium of Solar Art. This newfound discipline seamlessly merges art and solar technology that can be seen in one of his prominent pieces: Shala's The Bronzeville Solar Pyramid.
The art piece is a translucent pyramid with a solar-powered lighting system that shines through a system of hieroglyphics Shala created with kids from various schools in Chicago. The public installation is located in the historic Bronzeville neighborhood of Chicago's South Side.
Shala intentionally chose to build the pyramid with students of color, and in the Bronzeville neighborhood, because he wanted to be an example of what it is to create economic development within his own community. In his own words,
I took on solar (panels) because painting murals out in the cold (I live in Chicago) no longer seemed like it was worth my time. Painting a pretty picture for people to post or double-tap was no longer fulfilling. If I can do that on a solar panel, supply energy to the host building, and earn the added promotion that comes with a good piece, then that's what I'm supposed to be doing as a creative. I'm a social impact artist.

– Shala
The symbolism of a pyramid is not lost on Shala. Shala's Bronzeville Solar Pyramid is a gaze-locking art piece that provides cultural prominence to the neighborhood and awareness of renewable energy technologies. Furthermore, it provides equity in the community that will last for years to come.
---
Social Impact Artist
An investment in solar panels comes at a premium price. However, the panels start to pay for themselves from day one and eventually start generating revenue after a few years. Shala has taken this concept and applied it to his art. He explains further,
I make sculptures and paintings that pay for themselves. Not only through value over time, but actually through real money because it's generating electricity. Eventually, my decorated power generators become a source of income for those neighborhoods. Oftentimes I give the neighborhood equity in the piece so that when it does clear and make money, the neighborhood can actually generate money they can then use to improve their community.
Shala's Solar Art provides value on several fronts. Not only does the art make the place better, it increases the value of a property. Furthermore, his art is adding cultural relevance to renewable energy and creating a natural income source in and for underserved communities. He dives deeper, saying
My job, as a creator, is to use my work to promote solutions to social problems and translate those solutions into something people can get. Create art that inspires people to adopt progressive ideas long enough for those ideas to become cultural norms.
All this is happening while his Solar Art is generating electricity for the neighborhood and selling the excess back to the power provider. Talk about having an impact on your community.
---
Solar Art
To be the first in any field, one must be willing to accept great risk for a great reward. Shala has accepted these terms as his Solar Art pieces are one of the firsts of its kind.
His creativity draws from his discomfort of staying in a lane. He doesn't sit comfortably in art, engineering, or academics particularly well. He's a hybrid of it all. He described creativity in his own words,
As a creative. Your job is to create. It's not to put yourself in a box and As a creative. Your job is to create. It's not to put yourself in a box and stay within those limiting barriers in order to prove that because you are able to create something within those limitations you should be considered a genius. No. You're still limited. Creativity has no limits. The discipline is not about putting limits on yourself and then working within those limits and saying, 'You're the best because you got the most out of those limits.' Who cares?! That's not what it's about. It's about being limitless. It's about knocking the walls down.
It is this mentality that is paving the way for Solar Art. His persistence is what is driving this medium forward. He emphatically explained to me what Solar Art means to him
It's going to be a whole discipline. Solar Art is going to explode. I know it. And I will be one of the forefathers of the art form. The explosion of Solar Art will lead to a reinvention of the technology. The technology is going to get adopted so quickly.
Excellence happens through experimentation and sheer persistence. Taking nothings into somethings is the name of Shala's game and he has the experience to back his claims.
---
Words from the Wise
We live in a world where copycats seem to be receiving more attention than the actual originators. Mediocrity is celebrated and the number of people that can see through the corniness seems to be shrinking.
There seems to be a growing movement of kids aspiring to do more than "bounce a basketball, be fly, rap, start a clothing line, or be a model." Shala reverberates these thoughts with his own mission statement,
I want to make a difference, man. Otherwise, why am I taking in air? I'm not here to just take in air, sell shit, have some kids, and drop dead. I have to do something!
Solar Art is his way of making a difference. Shala is building a model where the next generation of creatives can be inspired by his work and create change. He simplifies this thought saying,
You want to be rich? Make people rich. You want power? Empower. You want to be different? Make a difference. I'm not the greatest artist in the world. My cheatcode is I just make my ideas happen. Don't tell anybody.
Change does not come immediately. It is cultivated through time, determination, and foresight. Shala has been working Solar Art for a while and left me with this gem that helped him get to where he is today:
Make persistence a habit. It'll drive you where you don't want to try. It's like autopilot. My persistence is just a habit. I don't always want to do it. The force of habit pushes me through hard times. Even when I think I suck, which happens a lot, it's now just a habit for me to keep going, regardless.
Show up every day and show out. That's how change happens. Whether if it's within yourself or amongst the masses, constant pressure over time leads to a breakthrough.
And when that breakthrough happens, it will feel like a spark of electricity jolting through a light bulb.