How blockchain could level the playing field for people investing in art
The cryptocurrency craze could be the solution to opening the gates of the art world to those who otherwise would've never been exposed.
Last week, Eleesa Dadiani made history holding the first blockchain art auction. She auctioned off 49 percent of Andy Warhol's 1980 silkscreen called 14 Small Electric Chairs.
With 51 percent of the artwork still under her possession successful bidders received digital certificates of ownership for 49 percent of the $5.6 million painting.
The digital certificates of the work were purchased using Bitcoin (BTC), Ethereum (ETC), and ART a cryptocurrency created by Maecanas Fine Art, according to Quartz.
The later blockchain platform states that it is, "The first open blockchain platform that democratizes access to Fine Art."
This is huge as art lovers who wouldn't ordinarily be able to afford the multi-million dollar price tag on an artwork are now able to buy shares in the work using cryptocurrency.
Thus, opening the pool to more diverse investors. In the words of Warhol, "Making money is art and working is art and good business is the best art."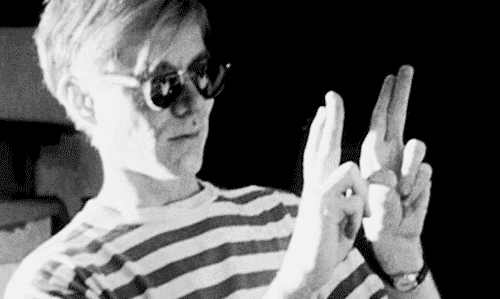 Although the crypto art auction was historic it isn't the first time an artwork has been purchased using a digital currency. The Warhol was just one of many sold for the highest price at the highest profile.
This past January, Art Stage Singapore sold four paintings swapping each piece for cryptocurrencies. Plus the "Cryptoqueen," Dadiani, has also accepted cryptocurrency for art purchases before.
Dadiani explained the ultimate goal of the recent crypto art auction to Forbes. She said,
"We aim to render the future of fine art investments to global reach. The cryptocurrency will broaden the market, bringing a new type of buyer to art and luxury."
So, how do you make guap on an investment like this?
https://giphy.com/gifs/cash-Q2tqKJctBvEFW
Platforms like Maecenas Fine Art allows owners and galleries to use the blockchain platform to raise guap for new purchases. This is done instead of taking out a high-interest art loan.
Purchasing the shares would ultimately allow the investor access to the lustrous art world without taking out a second mortgage on the crib. The artwork would also appreciate in value over time consequently raising the value of the shares too.
In addition to coming up off of throwing some of your cryptos into an art auction, the blockchain technology these currencies run on will make it easier for collectors to verify the provenance of each piece they invest in.
Another platform doing it up for people with mad amounts of cryptocurrency in the bank is Masterworks. Just like Maecenas, the platform allows "investors to purchase and trade fractional interests using the blockchain."
We suggest you take a look at this new trend. Who knows? You could own a fraction of a historical painting one day. Imagine being able to say – "I own 4% of a Basquiat!" Insane.