Here's 5 people who deserve to be Time Magazine's 2017 Person of the Year
For as long as I can remember TIME Magazine's Person of the Year has been just as an indicator of the year's end as Christmas and New Year's Eve.
The honor, which serves as a refresher to what figures has had the most influence the past year, is determined by the magazine's unofficial public poll, where pretty much anyone is allowed to vote in who they believe is worthy.
Past winners have ranged from groups of people to specific movements and is not exclusive to candidates who've only had a positive influence. In fact, Donald Trump won the award in 2016, but took exception after the issue went to publication with the unflattering cover title: "PRESIDENT OF THE DIVIDED STATES OF AMERICA."
With Thanksgiving being over it seems that we've found ourselves at that time of year again. The Poll, which closes December 3rd, has had the web contemplating and debating who they believe should be voted in or who was left off as a candidate.
Ironically enough, just yesterday, Trump decided he wanted part of the conversation tweeting that he "took a pass" at the this years title after the magazine reached out to him, because he didn't want to follow through with the process proceeding his victory.
Time Magazine called to say that I was PROBABLY going to be named "Man (Person) of the Year," like last year, but I would have to agree to an interview and a major photo shoot. I said probably is no good and took a pass. Thanks anyway!

— Donald J. Trump (@realDonaldTrump) November 24, 2017
Of course this wasn't true. Sadly, the President of the United States of America lying to the general public is sort of the norm now. TIME magazine swiftly came to correct the Head of State, stating that his claims were "incorrect."
The President is incorrect about how we choose Person of the Year. TIME does not comment on our choice until publication, which is December 6.

— TIME (@TIME) November 25, 2017
What is true is that Trump currently tied for third place at 5% with "The Dreamers" and the hashtag "#MeToo," but all three trail Prince Mohammed bin Salman of Saudi Arabia, who is ranked No. 1 with 21% of the vote.
#MeToo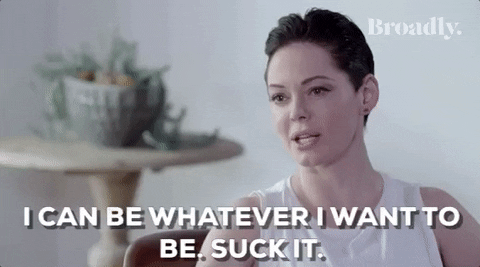 The viral hashtag that means so much more than a trend stems from the recent wave of sexual harassment allegations which surfaced in various industries following the fall of long-time Hollywood filmmaker Harvey Weinstein.
We're talking names like Kevin Spacey and Louis C.K to Republican State Senate hopeful Roy Moore any many more who all have had allegations of sexual harassment brought up against them.
The more women came forward the more empowered woman across the world felt. In result, one by one, incidences from decades surfaced, shedding light on we learned has been a plight for women for years.
What became abundantly clear, is that there is an ugly issue of sexism and, like racism, must be addressed and uprooted.
Given that the voting is closing soon, I figured I take a stab at narrowing the open field down to the top five candidates of who I think is most deserving of TIME's person of the year (spoiler alert: it won't be Trump).
---
Jemele Hill
https://giphy.com/gifs/3ohs7T2drHyrBn9x96
Jemele Hill  is an anchor who co-host ESPN's six o'clock flagship program The Six. 
Brought over with co-host Michael Smith from their very successful program on ESPN 2, His and Her's, it was a big deal when both of the anchors got the promotion to take over the iconic news program's hottest slot.  
But earlier this year Jemele found herself in trouble when her tweets about Donald Trump gained some traction, even causing causing the President to call her out. Though mostly accurate and not at all inappropriate, ESPN suspended her for two weeks in response.
Donald Trump is a white supremacist who has largely surrounded himself w/ other white supremacists.

— Jemele Hill (@jemelehill) September 11, 2017
With Jemele Hill at the mike, it is no wonder ESPN ratings have "tanked," in fact, tanked so badly it is the talk of the industry!

— Donald J. Trump (@realDonaldTrump) October 10, 2017
Jemele's courage to stand for what's right what matters in the midst of having a politically diverse viewership caused a massive stand of solidarity in her stead.
Even in her return, though mindful of her limitations, Jemele remains a voice for oppressed voices in a space where it's not encouraged — a space that desperately needs it.
---
Colin Kaepernick
Coloin Kaepernick 's planted seeds in 2016 have been prospering and disrupting all sorts of shit up in 2017.
His choice to kneel last year was done to peacefully bring attention to the killing of unarmed black men by police in America. This year, though he is not on an active roster,  players on teams across the league — and even coaches at one point — put their knee on the ground.
Ultimately, this has caused choas in the league. With players saying Kaepernick deserves a roster spot, sponsors saying they're losing money and the President calling for player's ousting, Kaepernick has done more in one gesture than anyone in recent memory.
Now Colin has filed a grievance against NFL owners on accounts of collusion. Depending on the ruling and if he indeed gets back in the league and succeeds, it would be hard to argue who had a more impactful year.
---
Elon Musk
I would say that Elon Musk has had one of the quietest successful years in a while but you would have to had been under a rock not to at least tune in to one of his groundbreaking discoveries this year.
Where do you even begin? Previewing models of SpaceX's space suit, his research venture training an AI to teach itself and publishing his revised plans to colonize Mars don't even scratch the surface the innovations he's had his fingertips on this year.
https://kulturehub.com/elon-musk-spacex-mars/
Steve Jobs may be gone but there is every bit of genius in Musk that can provide innovation that matters still.
---
Cardi B
My vote for person of the year is Bronx rapper/actress Cardi B.
The former social media sensation has managed to move from a reality television star to having the highest-charting song by a solo female rapper since Nicki Minaj's to getting engaged to Offset from Migos all in a years time.
She's graced the cover of Rolling Stone, The New Yorker and has performed for Jimmy Kimmel — her accent to mainstream has been unparalleled.
The fact that she has done all this while being completely herself is a message to anyone who thinks what they have is "not enough" to make it.
I'm not sure who will win, but whoever does usually comes with a just reason. The poll ends Dec 3.