Grading the Jimmy Butler trade: What it means for the NBA
The Timberwolves made one of the biggest trades of the year when they gave up All-Star Jimmy Butler and forward Justin Patton to Philadelphia for forwards Robert Covington and Dario Saric, Jerryd Bayless and a 2022 second-round pick.
Robert Covington and Dario Saric are decent role players in the regular season, however, in the 2017 playoffs, they fell short offensively and defensively. It was time for Philly to make a statement and Butler officially puts them over the top.
The 76ers new starting lineup of Jimmy Butler, JJ Reddick, Joel Embiid, Ben Simmons, and Markelle Fultz will be dynamite. Most teams do not rely on their bench in the playoffs and only play seven players deep.
Therefore, the 76ers losing depth should not hurt them too much in the playoffs.
The Good
Jimmy Butler will bring solid veteran leadership to the 76ers. This will significantly complement and help the growth of Joel Embiid. This is what supposedly LeBron was to supposed to bring the 76ers before they fell short of successfully recruiting him. The Sixers with Jimmy Butler might make a serious run this offseason.
Likely, the 76ers will have to face the Raptors at some point in the playoffs where  Butler and Kawhi Leonard will make a solid match-up in the offseason.
Last time the 76ers played the Raptors this season, they got demolished, and they had no answer for Kawhi Leonard. Kawhi dropped 31 points in 34 minutes and shut-down Robert Covington.
https://www.youtube.com/watch?v=GGima_GI9oA
Jimmy Butler is an outstanding defender, and he can help to decelerate Kahwi on the offensive side of the floor. Moreover, Jimmy Butler is a stalworth offensive player and will make Kawhi play defense. This will help to tire him out.
Last year, the 76ers got routed and almost swept by the Boston Celtics. They had no answer for Jalen Brown or Jayson Tatum; however, neither did any other team. Jimmy Butler is a good enough defender to help the 76ers stop these two juggernauts.
Jimmy Butler is such a dynamic player that he can fit into any offensive and defensive system. The 76ers are top 4 in the league in the number of assists per game, and their offense seems to revolve around moving the basketball.
In addition to being a great scorer, Jimmy Butler is a good passer as well and can help move the ball around. Moreover, having another scorer on the floor means that opponents will not be able to double team Joel Embiid or Ben Simmons as easily; creating more scoring opportunities for them.
---
The Bad
Jimmy Butler's health has been called into question by some teams and he is aging. Whether or not Butler will be able to perform the way he did in past seasons remains to be seen.
If the 76ers want to retain Jimmy Buckets, they are going to have to give him a max deal this offseason, making it difficult for them to sign other marquee free agents in the future. Moreover, Robert Covington and Dario Saric are young players and are still developing.
There could have been vital assets for the 76ers moving forward. However, Robert Covington and Dario Saric are now playing in the Western Conference and not for a rival team! Therefore, the 76ers will not have to face them in the playoffs.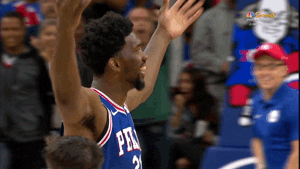 This deal, however, is a big step forward for Philly. They now have the components to keep up with the Celtics and the Raptors. And if Jimmy Butler does not perform well, they have a movable piece that they can use to get other talented players this offseason.
In reality, the 76ers have added an extremely attractive piece to their arsenal. And Jimmy Butler is known for his competitive spirit and wanting to win; this should be an interesting season!