ESPN has officially lost all credibility for playing Melo like this
Slandering Carmelo Anthony seems to be the new trend these days as everyone impatiently waits for him to finally accept a trade and leave NY. Even Phil Jackson had beef with him but all the disrespect he's endured is nothing compared to what ESPN did yesterday.
ESPN is releasing their annual top 100 NBA player rankings and the list is interesting to say the least.
Dwyane Wade being left off the list as well as putting Lonzo Ball (who hasn't even played an official NBA game) over players like Tristan Thompson and Serge Ibaka has NBA fans in a frenzy but the most damning thing has to be how they played my son Carmelo Anthony.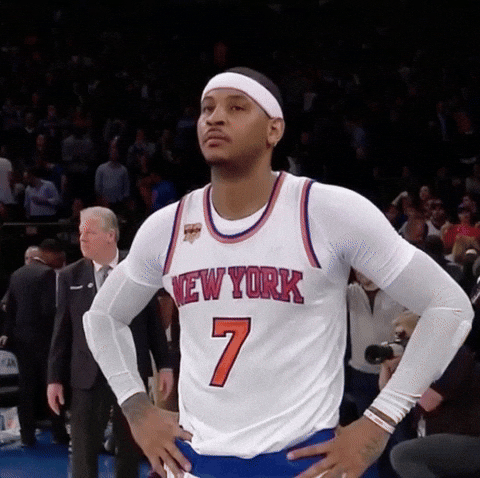 It's no secret that the Knicks have been trash for years, as a Knicks fan I've come to peace with that fact. That being said, I still recognize (as well as many others) Carmelo Anthony as being one of the top NBA players in the league.
At 33 years old Melo has a career average of 24.8 points per game proving his ability to be an elite scorer no matter the circumstances.
ESPN apparently doesn't feel the same way as I do as Melo is ranked number 64 on their most recent NBA player rankings. Lonzo Ball — a kid who has yet to even debut in the NBA — is ranked above Melo, taking the number 63 spot.
I don't know what the fuck the folks over at ESPN based this list on but it's obvious this was at least partially for attention's sake.
https://giphy.com/gifs/carmelo-anthony-lzqJzosCxR3hK
Melo clearly isn't the scrub this list makes him out to be so here's a few players who ranked above him in ESPN's rankings that can't hold a candle to him (statistically speaking).
I'll put Melo's stats first for clear comparison and the numbers each player was ranked next to their name.
Carmelo Anthony – #64
---
Eric Gordon – #62
---
Danny Green – #59
---
Danilo Gallinari – #54
---
Harrison Barnes – #58
Melo's stats clearly trump everyone who was placed above him. I can't even be mad at ESPN for their rankings though… this is their business model.
Making a purposely controversial list gives them topics for their on-air personalities to yell about, it's a never ending cycle.
Regardless of how you feel about the Knicks Carmelo Anthony is still one of the greatest basketball players in the world. After the list broke Melo quickly took to Instagram to air out his feelings on his ranking.
Can't Make Sense Out Of Non Sense!
"A certain darkness is needed to see the stars."@espn Don't be so Blatant with the disrespect#LineEmUp pic.twitter.com/NIWiwL1RMj

— Carmelo Anthony (@carmeloanthony) September 12, 2017
Melo wasn't the only one with a response though as Twitter, in usual Twitter fashion, went in on ESPN and their dumb ass list.
When they rank Lonzo Ball higher than Carmelo Anthony 😭 pic.twitter.com/aII8CxVSBc

— JODY 🖤 (@Chewy2x) September 12, 2017
---
Espn: Coming in at #64 of our NBA rankings we have Carmelo Anthony

Me: pic.twitter.com/RcJ8LX3OQ7

— Sam Yeezy (@samstaydipped) September 12, 2017
---
https://twitter.com/CountOnVic/status/907706179933097987
---
https://twitter.com/CountOnVic/status/907708260827922432
---
To whoever in ESPN that made the ranking of Eric Gordon, Danny Green, Malcolm Brogdon & Robert Covington above Melo pic.twitter.com/EF50enJUFT

— Young Steph Curry (@DaLightSkinGoat) September 12, 2017