Dulcé Sloan's 'That Blackass Show' highlights iconic Black characters
Sharp comedienne and beloved Daily Show correspondent Dulcé Sloan has us tuning in to her podcast THAT BLACKASS SHOW.
TBAS blesses us with great interviews, fun topics, and educational discussions on TV culture and history. We discussed Blackness on TV with Dulce, including her the top three Black TV characters that had an influential role in her life.
THAT BLACKASS SHOW begins
Dulcé Sloan started talks with Starburns in December 2019 to start her podcast exploring themes on TV. Sloan credits producer Judith Kargbo with the idea of the show. Sloan was excited about interviewing creatives, actors, and comics in the industry and discussing Black TV in the past and present.

While recordings started before the stay-at-home orders reshaped our realities, they're being released during a time where content is being consumed more than ever. And what better way to take a break from your traditional entertainment in the form of series and movies, than a light conversational podcast on your favorite Black TV and films?
I asked Dulcé Sloan about some iconic Black characters that influenced her while growing up. She explained their impact in true TBAS fashion, with historical context, personal connection, and overall importance to Black television and culture.
---
Iconic Black TV characters
Nell Carter in Gimme a Break!
Nell Carter played the lead role of Nell Harper in the 1980s sitcom Gimme a Break!. The series was an NBC hit and aired from 1981 to 1987. Her portrayal of a no-nonsense housekeeper and nanny earned her Golden Globe and Emmy nominations.
"The most significant thing to me was that I saw a woman who looked like me on television."
Dulcé explained that seeing Nell Carter, a full-figured woman as the star of a TV show left an impression on her as a child. Sloan knew at just six-years-old that she wanted to be an actor, but until Gimme a Break! there weren't many examples of a full-figured Black woman as the lead on TV or in film.
"I saw her and I was like, 'Okay, this is a feasible thing.' I can actually do this. Because a woman that looks like me and the women in my family can star on a television show."
Hey friends! I'm launching a new podcast 4/22 on @starburnsaudio "That Blackass Show". I'm talking to black creatives about their favorite black media. You'll love our segment "Blackass Confession". Like, follow and subscribe on @spotify, @itunes follow us @BlackassShow pic.twitter.com/KgAW0g5l4J

— Dulcé Sloan (@dulcesloan) April 15, 2020
Dulcé emphasized that despite the role of Nell Harper being a housekeeper on the show, the impact she had as a Black female lead was huge. Her role was also familiar to many Black families, including Sloan's.
"It was something that was familiar to me, a woman taking care of a family."
The small difference here was that Nell Harper was taking care of a white family, but this didn't phase Dulcé as a child. Dulcé emphasized that she would later learn about the history of domestic workers and the many Black women that took care of and still take care of families.
That knowledge only amplified the importance of seeing such a role on television for Sloan.
"She's a woman taking care of a family. She doesn't look like this family, but a family is a family. So for me, it was like, Oh, yeah, families can look like anything. It's a pretty powerful image to see as a child."
---
Khadija James portrayed by Queen Latifah in Living Single
Dulcé remembers the iconic characters from living single fondly. Each having their own impact on her view of Black female TV portrayals. Regine's (Kim Feilds) fashion sense reminded her of her mom dressing her in little suits for school. Synclaire's (Kim Coles) kooky personality showed her that being different could be accepted as is.
Another portrayal Dulcé recounts as being significant while growing up was Queen Latifah's character Khadija James on Living Single.
"This is a woman who looks like me, who is you know, being pursued by men. She has a healthy luxurious life and she runs her own business."
Dulcé identified with Khadija because she too was an entrepreneur at a very young age. Coming from a family of business owners, young Dulcé saw her mother who had a clothing business, and hair business and wanted to create her own. Her mother was supportive of the idea.
At nine-years-old, Sloan's mother took her to a wholesale vendor.
"My mother got me a bunch of these toys. She got me a receipt book, and gave me some cash. And she put inventory numbers on all the toys. And so I had to give people receipts I had to keep track of my sales. I had to keep up with my money."
Sloan learned how to run a business quite young, and seeing Khadija start her own business and be successful at it was both a point of identification and inspiration.
"I was able to understand. Her starting her own magazine and something that she was passionate about. And to see a professional black woman who was successful with her own business, and to see her friends that were successful."
Sloan discusses Living Single with comedienne, actress, and Daily Show writer X Mayo in a recent episode of THAT BLACKASS SHOW.
---
Whitely Gilbert portrayed by Jasmine Guy on A Different World.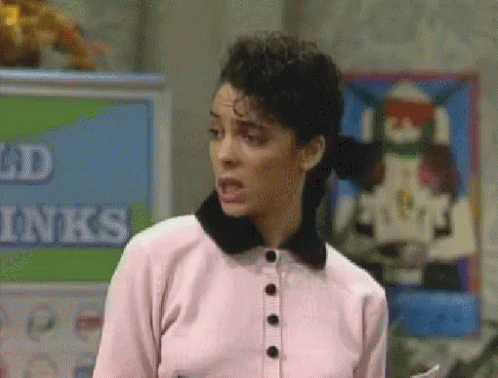 Dulcé Sloan's third character on the list is Whitely Gilbert from A Different World. The show aired from 1987 to 1993, as a spinoff of The Cosby Show. Gilbert, portrayed by Jasmine Guy is introduced as a spoiled Southern belle, who's character develops to a lovable career-driven young woman.
Dulcé explained her connection to the character being tied to her economic and regional demographic.
"She was southern and rich. It was me seeing southern Black people on TV. All of the Black people I knew had southern accents and didn't divide the fact of where they were from with who they were as people."
Southern Black characters were few and far between at the time. Southern accents on television often belonged to white actors and characters. The number of the upper class and wealthy Black characters at the time were also very limited.
"We would see Black people on TV and they were scraping and surviving and were struggling. But she was smart and she was always dressed impeccably and she came from money and from both sides she came from money."
Whitley would later become an art curator and have several jobs in the art industry. Her ambitions and her family's prestige and professional achievements meant a lot to Dulcé.
"For me, I grew up in Atlanta so I'd always seen professional Black people. It was being able to see a Black person on TV who not only had a good upbringing and came from money, but also their parents came from money and their grandparents came from money. So it was seeing generations of Black people that were successful."
---
THAT BLACKASS SHOW is a discussion you won't want to miss
Dulcé Sloan's perspective on Black TV and knowledge of history is invaluable to the discussion on Black culture in media. THAT BLACKASS SHOW not only explores topics and shows in-depth, but also brings in industry professionals to participate in those conversations. And of course, the show is full of humor and real-life anecdotes.
"My favorite segment we do is That Blackass Confession. So I asked the guests is there like an iconic black TV show or movie or, you know, play that they haven't seen or is there a popular thing in Black culture that they can't do. So, you know, I always say that I've never seen the movie Baby boy and people go Oh, shocking!"

Sloan has discussed staples in Black TV like the show Martin, with Derek Gaines or the network UPN during the late 80s and 90s, with fellow comedian Roy Wood Jr on the show. Other guests include actress and writer Thea Vidale and fellow actor and comedian Jamar Neighbors.
The show's got plenty more episodes and topics on the books, from 90's classics like the Fresh Prince of Bel-Air to modern shows like Insecure and Atlanta. You've got nothin' but time so make sure to tune in!
---
THAT BLACKASS SHOW is available to stream on Starburns Radio and most podcast platforms including Spotify with a new episode dropping every Wednesday.