Drake officially becomes 'ChampagnePapi' with Mod Sélection deal
Drake has often referred to himself as 'ChampagnePapi,' even securing the handle for himself on Instagram.
Now the OVO captain can officially own the moniker after partnering up with the champagne brand, Mod Sélection.
View this post on Instagram
Drake's team will be made up of much of the same cast that oversaw the unveiling of his whiskey, Virginia Black, of which includes award-winning spirits specialist Brent Hocking, who will assume a role as executive project manager.
In a recent interview with Southern Glazer's Wine & Spirits, Drake spoke on the collaboration, saying:
"The product is great, the presentation is great, and hopefully the representation is great as well. We'll enjoy this run. It should be a long one and a strong one."
Drake speaking on Mod Selection Champagne with @SGWineSpirits 🍾 pic.twitter.com/adKRaIzOon

— Word On Road (@WordOnRd) December 6, 2018
Say what you want about Drake but Canada's very own knows how to stay ahead and on top. Music or not, the Scorpion artist knows how to dominate, stay relevant and win.
He was the most-streamed artist in the U.S. last year, according to Nielsen Music, his business portfolio is as thick as they come, most notably partnering with the Toronto Raptors and landing a shoe deal with Nike.
With the liquor experts manning the business side and Drake the marketing, there's no reason why Mod Sélection wouldn't at least see the success of Virginia Black.
Back in 2017, the company launched a series of teasers for the commercial titled, "The Realest Dude Ever," that went viral after release on Drake's Instagram receiving over 20 million in the blink of an eye.
Drake's 110 million followers on social media now give Mod Sélection —  like Virginia Black —  the opportunity to cross-market segments, unlike any other spirit brand.
With bottles currently priced at $300 and $400 respectively, Drake is obviously catering to the more affluent crowd. The 750ml options in Reserve and Rosé accents just the type of vibe Drake is going for.
Drake now joins to likes of Jay-Z who is owner the champagne Ace of Spades Armand de Brignac Champagne, which he bought in November 2014. Like Jigga, he now owns a whiskey and a bubbly brand, and, like Hov, hopes to profit as well.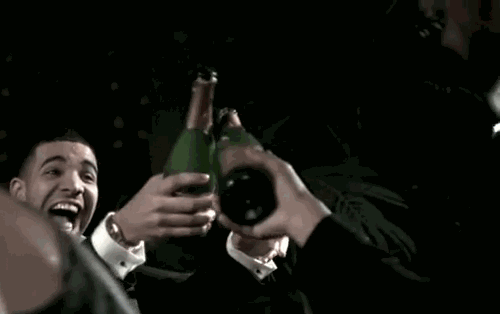 Other rappers like 50 Cent and Diddy have shown how partnerships with spirit brands can bring in a whole new realm of money and adds to the trend of rappers finding ways to make money outside of music sales.
Drake and Mod Sélection hopes to add magnums( 1.5L) and jeroboams(4.5L) to the assembly as well as additional flavor infusions, like single Vineyard, Vintage, and Blanc de Blanc. The champagne has not yet been made available but is expected to be released this year.
https://giphy.com/gifs/drake-gif-dreezy-9Cywv3GlwXgly
Drake may always find himself in the middle of things, but it clearly doesn't keep him distracted from his pathway to mogul status.
Only 32-year of age and worth $100 million, he's on his way to establishing an empire that will far outlive him. For all of the beef, rumors, and drama, that's not to bad.
In 2019 we've already seen Drake on his business tip, maybe this is indicative of how his music will go this year, too. Only time will tell.